GetYourGuide Tours Activities: a guide and e-ticket one-stop-shop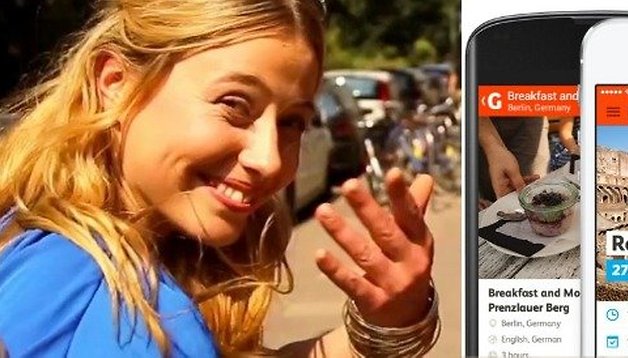 I discovered the app GetYourGuide Tours Activities much too later this summer, after I had spent too much time scrolling through unorganized travel websites in the hopes that they would have some sort of online tickets for various tourist attractions. This app would have been a god-send in my hand, making my life a lot easier. What this app has to offer and whether the advertized Best Price Guarantee really is what they promise will all be revealed in today's app test review.
Good
✓

comfortable smartphone tickets

✓

tickets and access to attractions in the palm of your hand

✓

a nice and clear design
Bad
✕

limited choice of payment methods

✕

most attractions on the app are one or two dollars than on the actual attraction site
| | | | | | |
| --- | --- | --- | --- | --- | --- |
| Reviewed on | Android version | Root | Modifications | Reviewed version | Latest version |
| Google Galaxy Nexus | 4.3 | No | | 1.0.8 | 2.53.3 |
Features & Use
As soon as you open the app, you're brought to the search area with a list of the nearest cities which can be accessed via the pull-out menu on the left: here you will be brought to the following categories:
Home: the overview
Bookings: all the attractions you've booked so far
Wishlist: everything you have marked as favorites
Help: contact possibilities
Settings: currency configurations and user controls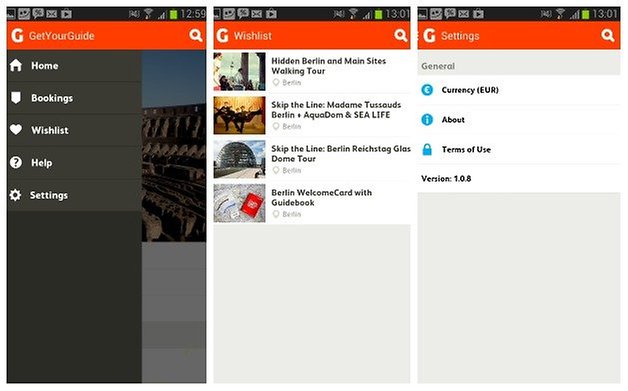 If you can't find what you are looking for by browsing through the categories above, there's also the option of searching for whatever it is you need by pressing on the search icon. This will offer a few options from the get-go. Otherwise you can type in something like Berlin Madame Tussauds to quickly find the wax museum or even just the name of the city to find all listed available attractions in that specific city. The service is available in 1,260 travel destinations and there's a total of 23,000 different activities to look through. That's quite a lot!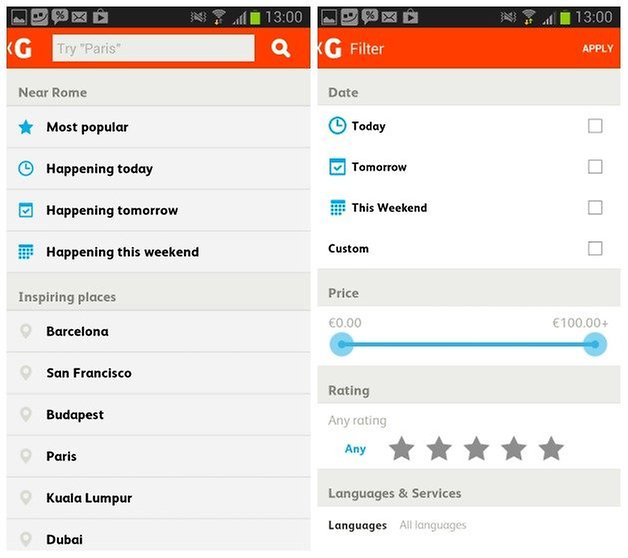 Whether you have chosen a tour, a trip outside of the city or a visit, you can see a detailed view next to the location on the map of the spoken languages, the approximate duration, past client reviews and ratings, the price and a description. It's also interesting to point out, especially in comparison with other services, the fact that you can simply enter your opinion as soon as you've booked that specific activity.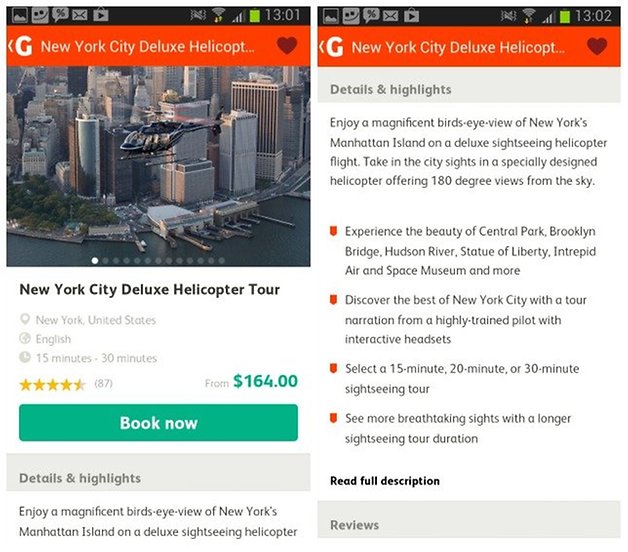 What also stood out to me in a negative way were some of the incorrectly shown locations of certain attractions: if you are a tourist and aren't very familiar with a city, you'll be looking on the wrong page for quite some time and find yourself in the wrong street until you've realized that you are completely lost! It's exactly this kind of thing that you need to watch out for since the app's target groups don't know exactly where their destination is!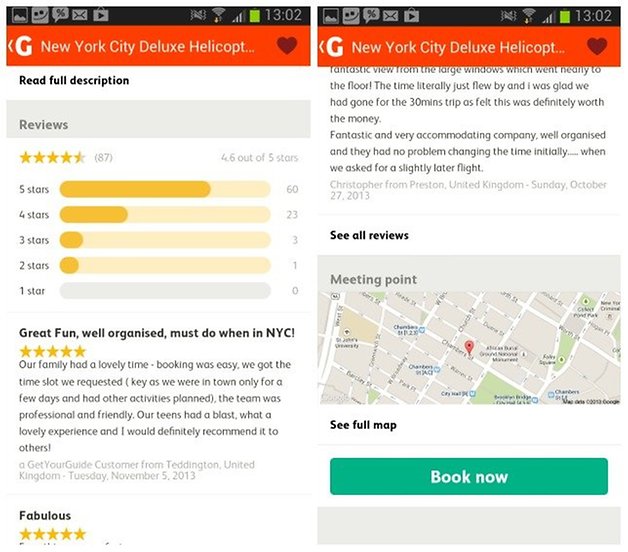 Further on in the bookings portion you will be presented with a few options, like various categories of entry tickets for example, where you can also choose the day in question. Then, you are brought to the number ticket portion: how many tickets for children and adults. Last but not least, you can also change the language and pay by filling out the necessary name and credit card details. Depending on the attraction, there are a few payment possibilities, but unfortunately most of the time only credit cards or direct debit are accepted.
The paid booking will then show up in the menu which works as an e-ticket too. With the code you can gain access to the attractions and also receive a summary of your booking.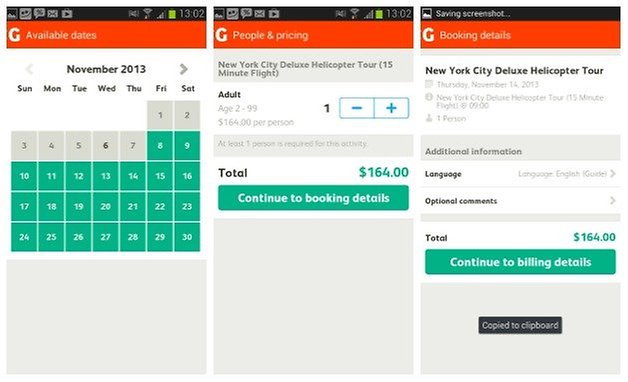 Screen & Controls
GetYourGuide Tours Activities is a friendly bright orange color and thanks to its clear overview is quite intuitive. The many pictures of attractions give tourists a first glance of where they are going and an uncomplicated booking process ensures for a seamless trip planning.
Speed & Stability
In terms of speed and stability, there was nothing to complain about with the GetYourGuide Tours Activities. Everything worked really well.
Price/Performance Ratio
The GetYourGuide Tours Activities is available for free and without direct advertisement, in which case I don't have anything to complain about in this section.
Final verdict
GetYourGuide Tours Activities is an interesting service which greatly facilitates booking many tourist attractions, tours and visit. Thanks to the e-tickets on your smartphone and a clear overview, you would no longer need to mess around with tons of bits of paper and therefore save yourself a lot of stress.
Unfortunately there are only limited ways to pay, so adding PayPal, for example, would've been quite clever. When comparing the price on the app to that on the attraction's websites, it seems that the price is always a couple of dollars more expensive. For example, the entry for the wax museum in Berlin normally costs 18.90 Euros, while on the app it was 19.90 Euros. But for that extra amount you can have the ticket and booking information hassle-free right on your smartphone. It's up to individual users to decide if it is really worth the extra dollar.
The 23,000 different attractions makes up a huge choice and thanks to the search and filters you can find what you are looking for quite quickly.