 [Video] Toshiba Tablet Or Table? Hands On With Toshiba AT330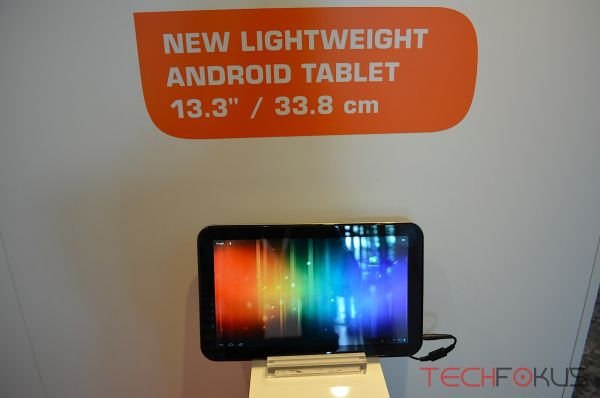 Samsung turned heads when it's Galaxy Note dared the world to ask if a smartphone can really be too big. Now Toshiba is following suit with it's AT330– a 13.3" Android 4.0 tablet complete with TV tuner. Ever thought of replacing your TV with an Android tablet? I hadn't either but Toshiba seems to be banking on consumers doing just that. And looking at this beast of an Android tab, Toshiba might just be on to something.
A13.3 inch display? Now we're really getting into the realm of the superlative. But if you're going to be replacing a home entertainment system with a tablet, you're going to want the biggest now aren't you? Besides the massive display, the Toshiba AT330 will be powered by a Tegra 3 quad-core chip set and sport 5 MP / 1.3 MP back and front cameras, 32 GB of internal memory and both SD/HDMI connectivity.
If you want a better idea of what this giant android tablet can do, check out this short hands-on video the nice guys over at Techfokus were kind enough to put together!
Hands On With The Toshiba AT330