The 10 Lucky Winners of AndroidPIT's Epic Giveaway!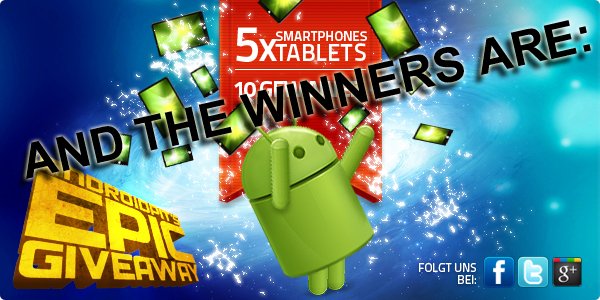 It's been a long and grueling journey, but AndroidPIT's Epic Giveaway has finally come to an end. You've been introduced to everyone on the lovely AndroidPIT squad, you've been teased and taunted by pictures and status updates. Enough is enough. After testing the patience of our fans, we're ready to announce our 10 lucky winners. I know you're all dying of antticipation, so let the curtain be raised!
And the winners are:
The Motorola XOOM goes to: Maria Zilda Rodrigues Matias
The Motorola RAZR goes to: Herminio Sanchez Sanjuan
The Acer Iconia A200 goes to: Katie Cantale
The ASUS Eee Pad Transformer Prime goes to: Marlon Milligan
The Samsung Galaxy Note goes to: Conrad Pueyo Rodriguez
The Samsung Galaxy S2 goes to: Максим @vzmmax
The HTC Sensation goes to: Marc Feichter
The Samsung Galaxy Tab 10.1 goes to: Fabian Uhlenbrock
The Sony S tablet goes to: Guillaume Livron
The Samsung Galaxy Nexus goes to: Julia Werner
Congratulations to all the winners!
We'll be contacting each winner individually so they can claim their rightfully earned prize!
Thank you!
We know it's been one rollacoaster ride of a giveaway, so now you can all breathe a sign of relief. Thanks to everyone for participating in AndroidPIT's Epic Giveaway and we really appreciate all the comments and feedback.
Please continue to follow us on Twitter, Facebook and Google+ to receive fun and exciting news from the lovely and energetic AndroidPIT team.
And be sure to keep your eyes peeled because you never know when AndroidPIT will be throwing another epic contest. Only time can tell!