Glass Winner Denied Prize for Saying He'd Use It to "Cut a B*tch"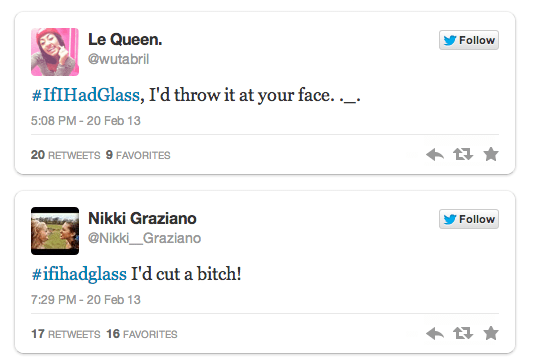 Many of the winners of Google Glass's Explorer competition had very wholesome ideas when it came to what they wanted to do with Google's futuristic wearable technology. One winner wanted to use Google's Glasses to improve firefighter safety by providing live feeds from inside burning buildings while another wanted to film the world's first "truly first person" action flick.
However, it seems Google didn't vet all the Twitter entries from their Project Glass competition or they would have realized that a few of their winners had treated it like an epic joke. How else to explain how the entries above ended up in the winner's bucket?
Google recently released a statement saying that while they appreciate the "honest feedback" from people who are "skeptical and critical" of Project Glass, a few applicants don't jibe well with the program's terms.
"With #ifihadglass we set out to find a truly diverse group of Explorers, and that's certainly what we've gotten. We need honest feedback from people who are not only enthralled and excited by Glass, but also people who are skeptical and critical of it. That said, it's become clear that a few applications that don't comply with our terms have slipped through the cracks, and we're going to have to disqualify applications like these. As for the rest of you, please keep that feedback coming – it's all in the Explorer program spirit!"
The winners definitely seem to contradict with Google's guidelines that no entries be "derogatory, offensive, threatening, defamatory, disparaging, libelous or contain any content that is inappropriate, indecent, sexual, profane, indecent, tortuous, slanderous, discriminatory in any way, or that promotes hatred or harm against any group or person, or otherwise does not comply with the theme and spirit of #ifihadglass."
The story is funny on the surface, but given how many people created very thoughtful entries, it's disappointing to realize that Google probably never even read the winner's ideas before doling out the prizes.