Goodbye 2016, hello 2017! Thoughts on the old and the new year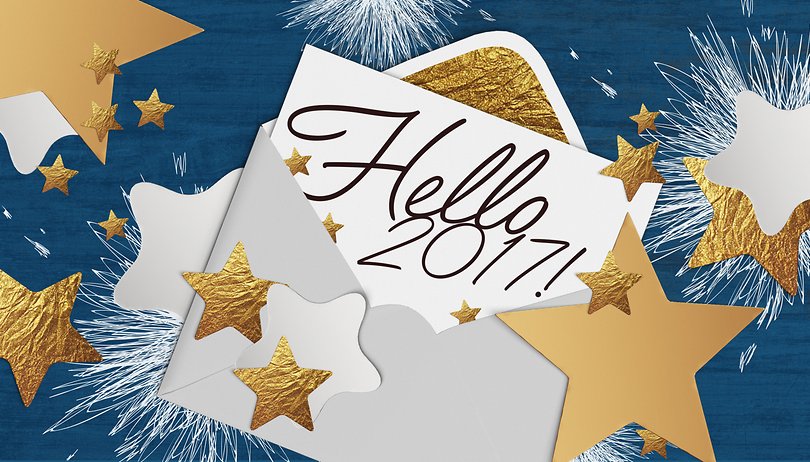 The year 2016 has come to an end, and in a few minutes 2017 will be upon us - much to the relief of many people. The last 366 days (leap year) were not much liked on social media. Whether we were hearing news about the war in Syria, the political turmoil around the world or various attacks, the past year will definitely leave a negative mark in the minds of many people.
AndroidPIT also saw a year full of challenges. Changes stood in the forefront. For example, we decided to move away from a localized editorial structure to adopt a much more global one, which I will elaborate on later in this article. We also started a new endeavor by delivering a brand new product for our website's content, which also proved to be a long and laborious process. We also had to say goodbye to some familiar faces.
That being said, we also welcomed some new faces into the team. That's the way it goes through; one door closes, another one opens. And we have yet to open the door to 2017, with no clue whether it will be a good or a bad year. Nevertheless, whatever the next 365 days will bring, the most important thing is to make the most of it and use every day to the fullest. And even despite the struggles we saw in 2016, there are many awesome things to look back on too. Problems also only seem half as bad in retrospect.
2017 will be an exciting time for AndroidPIT. Our colleagues won't be the only ones to talk about their new year's resolutions of either quitting smoking or losing 20 pounds. In fact, AndroidPIT also has some plans for the coming year.
What would these be? Here's a sneak peek of what's to come:
We're going to build up our community (again)
A few years ago, if you had asked me what sets our tech site apart from the rest, I would have told you about our awesome community. Nowadays, when I take a look at some comments in the forum, I can clearly see that we dropped the ball here and weren't listening the needs of our users enough.
Our community is very important to us and there's still a lot to do, a fact that is clear to us. In order to foster more transparency, we are going to tell users in the forum about all about the features we are currently working on. However, we won't be able to create everything users wish for because either it won't make sense for the site or it's just not feasible, plus we won't be able to do everything right away. Rome wasn't built in a day. What's most important for us though is that we work together, which is the whole purpose of a community.
We also want to provide talented bloggers with the opportunity to collaborate with AndroidPIT. We were already doing this a few years ago, where some of our talented tech bloggers broke through from amateur to professional, becoming tech writers themselves.
Community Blog
There is a lot of hidden talent in our worldwide communities, this being a firm belief of ours. These folks often offer relevant knowledge that we don't yet have or that we didn't cover adequately. Thanks to this savvy group of people, we find out about new products that we had yet to uncover, ones that are definitely worth reporting about in our magazine. AndroidPIT has more than 20 million readers each month for all of our language domains. That's 2.5 times the size of New York. It would be truly a wonder if, among so many people, we did not find the next hidden and undiscovered top tech blogger / journalist.
If you think this could be something for you, get in touch with me via a private message.
Community blogs and bloggers have a special label so that we can quickly recognize if a text is written by one our our editors or by an AndroidPIT blogger.
More videos
We want to be more visible. Starting in January, we will be commencing a brand new video format that will allow our viewers to get to know us better and provide us with a new platform, aside from written articles, to deliver important news and to entertain you. Visual components can really enhance our written articles and we want to make the most of this. With a regular visual presence in video, we will combine news and entertainment.
That being said, videos will have a lot more importance starting in January, and for that we will need to be reinforced with new talent to help us shine by creating brand new video formats for reviews, opinions etc.
...and better quality
Upon returning to AndroidPIT as the Global Head of Content, I had promised our readers more quality. In the last months though, we got feedback from some of you who have expressed that this hasn't always been the case. The articles that we often update also seemed to bother some readers. Also, a good variety of articles seemed to be missing, such as ones on privacy, so we hope to fill these gaps in 2017 as well.
Though I bring this up, I don't want to start a discussion regarding the way we update articles. The fact of the matter is that many readers find that these updates are very informative, though our returning readers often find them to be bothersome. That is why we are currently working on a few new variations that will bring the needs of both of these groups under one hat and we hope to see the results in a few months.
About the topic of privacy and security in the online world: there are many topic areas that we cannot cover because of time constraints and also because a lack of knowledge in this area. This is also a reason why we decided to start community blogs. As mentioned above, we want to invite people to share their knowledge with AndroidPIT. This doesn't mean that articles will have to be regularly submitted though. In fact, we are rather inviting you to share topics that we might have missed and should be talking more about. In theory and from experience, those who share their own knowledge will inspire others to do the same.
In this manner, we will all learn more and that is, for me, a true sign of quality!
Conclusion
An eventful year comes to a close. While I write this article, I also feel a certain dreariness from the last tiresome 366 days. But it wasn't completely a bad year either. Many great and important things have happened all around the world that we often forget about.
Enough about politics, let's get back to tech. A lot went down in 2016 and we are quite sure that many new and exciting things will happen in the months to come: new advancements in artificial intelligence from the likes of Google, Amazon and even Apple, that will render life in the future easier, self-driving cars, Tesla's solar mirror, these are just a few of the thrilling topics that we will encounter in 2017.
Whatever happens in 2017 though, rest assured that it will be exciting! And we are going to make the most of it. I also hope that those who have suffered in the past year will see brighter days in the coming year.
Thank you, dear AndroidPIT community, for a great 2016. Let's get 2017 started!