Google Adds Pinch To Zoom and Swipe to Delete in Gmail for Android In an update released late yesterday, a couple of new features were added to Gmail, which make email browsing and organization that much easier to do via mobile devices and tablets. Unfortunately, you'll need to at least be running Ice Cream Sandwich to take advantage of them.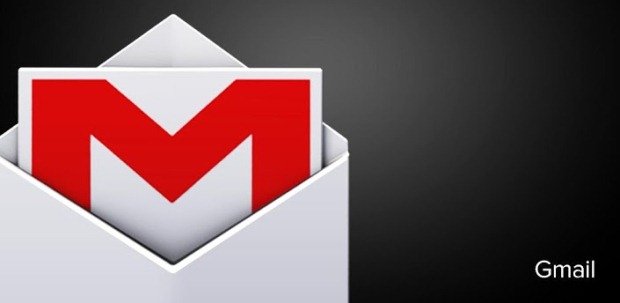 The new features include the following:
Auto-fit messages to screen and message zooming
Swipe messages to archive or delete
Attach photos and videos from within Gmail
Larger photo previews and gallery view for photo attachments
Bug fixes and performance improvements
The two biggest features implemented in this update are the swipe to archive or delete, and the pinch to zoom functions. They are not enabled by default, which means you have to navigate to your Gmail settings and activate them. Don't worry I'm going to show you how.
Swipe to Delete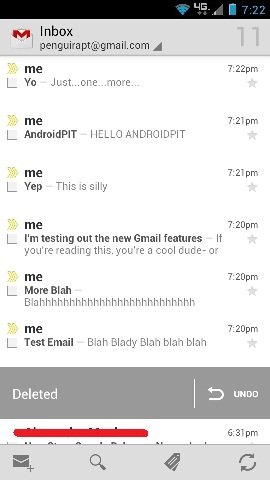 This handy little feature allows you to swipe across the screen within the Gmail app in order to remove, or archive the selected message. Believe me when I say it's so much easier to get rid of all the unnecessary crap in your inbox now. It's so easy, in fact that I found myself wishing for more spam so I could gleefully swipe it away. Strangely, I chuckle like a maniac every time I do it too. I'm not kidding. I actually end up creeping myself out.
It's relatively simple to enable the swipe to delete feature:
Open Gmail on your Phone or Tablet (obviously)
Tap the Android menu button
Select "Settings" from the popup list
Choose "General Settings" on the next screen
Choose which action you want Gmail to perform after a swipe gesture
Back out of the settings menu and wallah, you're good to go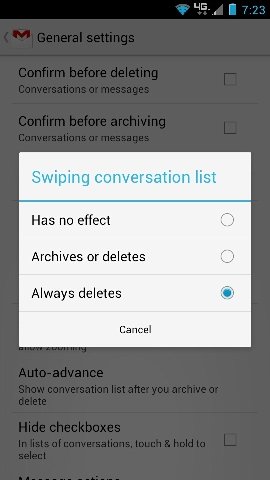 Swipe, swipe, swipe to your heart's content! Oh wow, "Swiper no swiping" just popped into my head. I'm a little ashamed.
Pinch to Zoom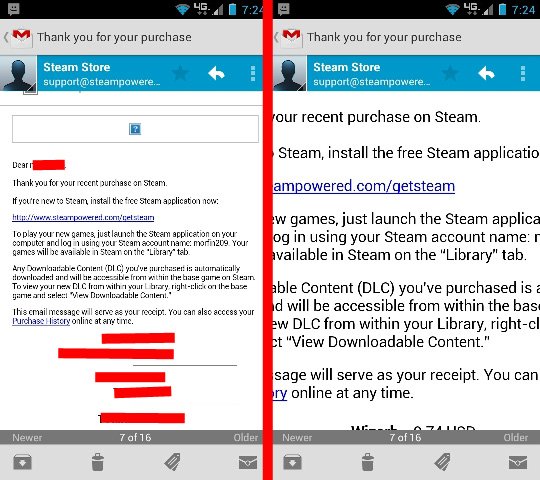 Just like the swipe to delete function, pinch to zoom needs to be enabled in the Gmail app settings. I don't seriously believe for one second that I have to explain this new feature to you in full detail because it speaks for itself, but I will anyway. With pinch to zoom enabled, you can pinch your fingers on the screen to zoom in and out.
Open Gmail on your Phone or Tablet (Double duh)
Tap the Android menu button (Déjà vu)
Select "Settings" from the popup list and choose "General Settings" again (holy déjà vu)
Scroll down the menu page and tap the "Auto-fit messages" option
Now you can pinch away, just don't give your screen any bruises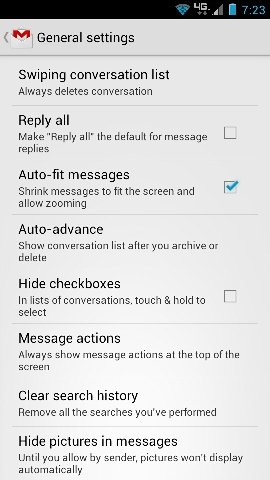 Pinch, pinch, pinch to your hearts content! Okay, for this one I've got nothing witty to say.
Attach Photos Directly Within Gmail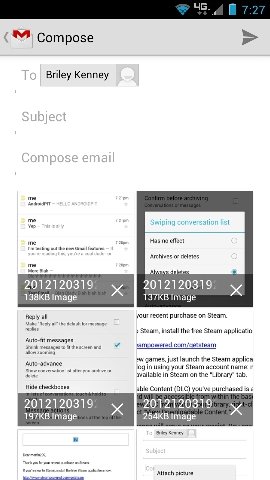 This new option works almost exactly like the old attachment function. While composing an email, you can simply hit the Android menu button and a sub-menu will appear on the screen. The main difference is that now the menu lists the following two options:
Attach picture
Attach video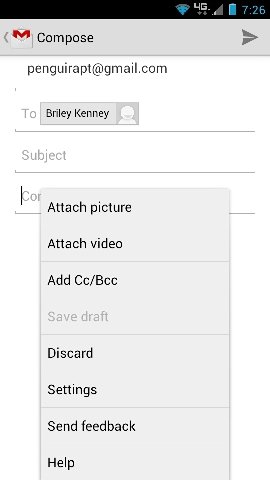 Before the update, the alternative option was just called attachments. Essentially, this doesn't do anything different besides separate the two attachment types. However, when the preview for the attachment shows up in the body of the email, it's much larger. Also, when you select an attachment, namely an image, it's displayed in gallery view.
That's All She Wrote
Well, there you have it folks. Those are pretty much all the new features in the latest update of Gmail for Android. You can get the update the old fashioned way by navigating to Google Play, or you can wait for the notification to pop up alerting you there's an update.
Right, now that's over I can go back to swiping like a nut.