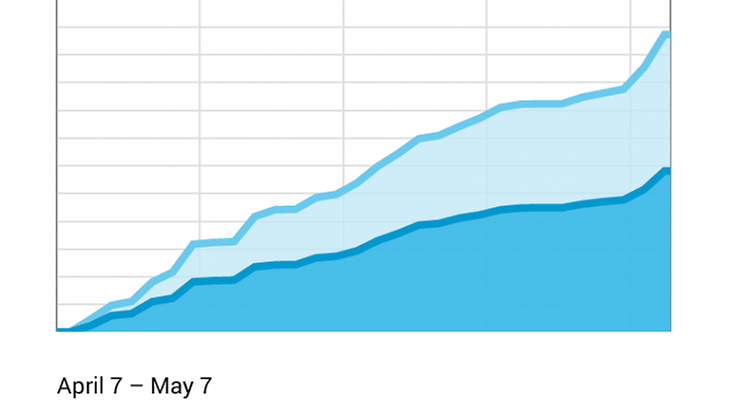 Google Chrome 28: the new Android beta is here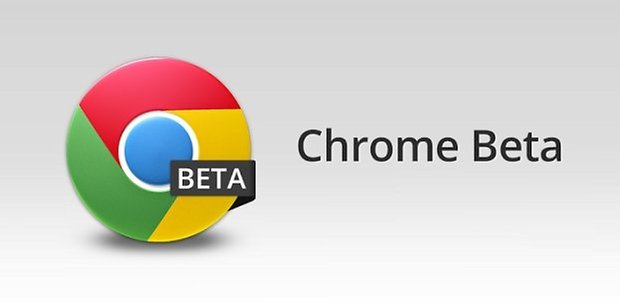 Still, the new Chrome beta stutters fairly often, in other words, the scrolling is just not fluid and smooth. But then again, that's why it's a beta and not final, stable version. For people who are not as multi-lingual, Google has now integrated the translator in its mobile browser. And I was amazed at how "good" this makes this mobile browser work.
As an example, I went to our AndroidPIT.com mobile page to try out this new feature and I wanted to have it translated into German. Within a second or two, if the webpage isn't written in the same language as your phone or tablet, a translation bar will pop up asking if you'd like to translate it. In this case, we went from English to German. You're also able to choose different languages, if you're so inclined to do so, just like you are able to do on the desktop versions of Chrome.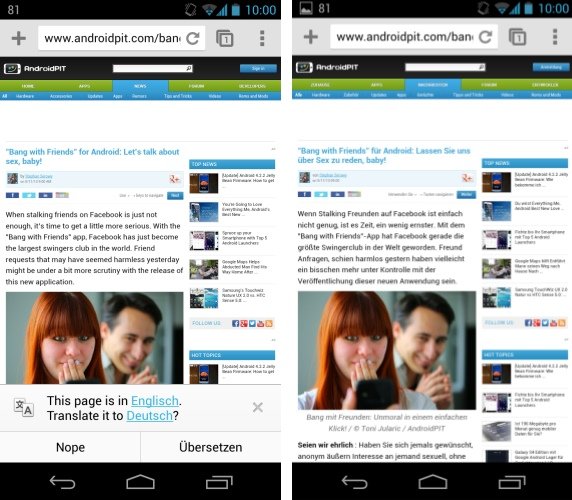 Tabs, tabs, tabs.
Previously it Google Chrome mobile required two clicks of your fingers in order to open a new tab. This has been reduced by a whopping 50 percent and now only requires one click of a newly added "plus" button, once again syncing the ease of the desktop version to the mobile version. This may sound a little sarcastic, but in fact, it makes the opening process of a tab so much more simple and fast. A very welcome change!
Data saving option
Finally, there is also now a savings function to relieve your data volume, much like Opera's "off-mode". This really isn't that new of a feature, as it was accessible indirectly through the browser menu. Now, this option has a separate area in the settings and provides a graphs so you can see your data consumption/how much you've saved as per the screenshots bellow. Tablet users can also enjoy looking at the full-screen mode, which Google introduced with the version 27 update to mobile Chrome. That is, the navigation bar disappears for a more seamless browsing experience.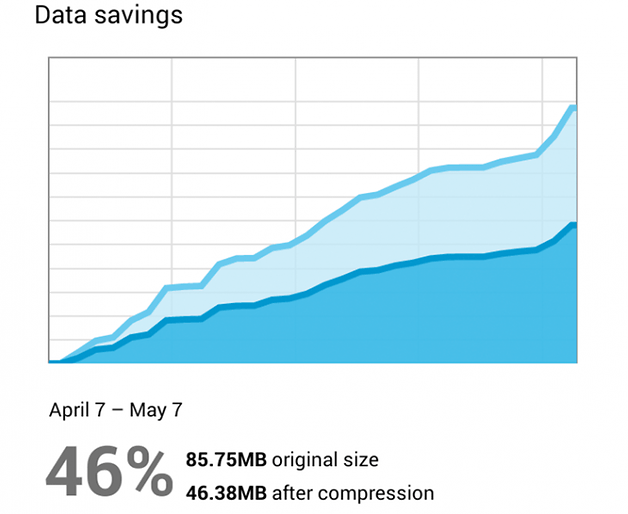 All in all, the Chrome 28 beta only provides some minimal changes. But do take note, this is still in beta and some users may have some wonky issues until it's been rolled out to an official update. If you're the adventurous type and wants to try out the latest beta, follow this link to the Play Store to try out the beta.