Chrome for Android tips and tricks
Google Chrome is now one of the most used browsers in the world on both computers and smartphones, especially those running Android. It's not just popular, it's also one of the best options for available for anyone looking for speed on the mobile web. With this in mind, here are a few tips and tricks to help take your Chrome experience to the next level.
Key questions about Chrome for Android
Is there an ad blocker?
Yes, Google has integrated an ad-blocker and it's enabled by default. The fact that you still see occasional ads, however, is related to advertising under the so-called Better Ads Standards. As long as advertising does not cover content or make the smartphone vibrate, Google waves it through and displays it in Chrome for Android. We've still got a tip for you though.
However, if you want to use a more aggressive ad-blocker or even the open-source uBlock Origin, you need to grab an alternative browser instead of Chrome for Android. Brave, for example, is also based on Chromium and integrates a rigorous ad blocker. The makers behind Brave want to replace conventional advertising with a blockchain-based compensation system.
For uBlock Origin, you would need to get Firefox for Android and install the add-on there.
Can I install extensions?
No, Chrome for Android unfortunately does not support add-ons. This is especially annoying if you wanted to sync Chrome extensions from the desktop version to your Chrome mobile app. The trick here can be found in other browsers. For example, Mozilla Firefox, as we've already mentioned above, has extensions like ublock Origin.
How do I export bookmarks?
The magic word is cloud synchronization, as is often the case with Google. Right from the first time you open the app, the Chrome browser will allow you to sync passwords and bookmarks with your Google Account. There are many convenient benefits to using Chrome on other devices such as your PC or laptop. Many log-ins are faster, and when you type in URLs, the browsers each of the different platforms then make suggestions for you and save you a lot of time.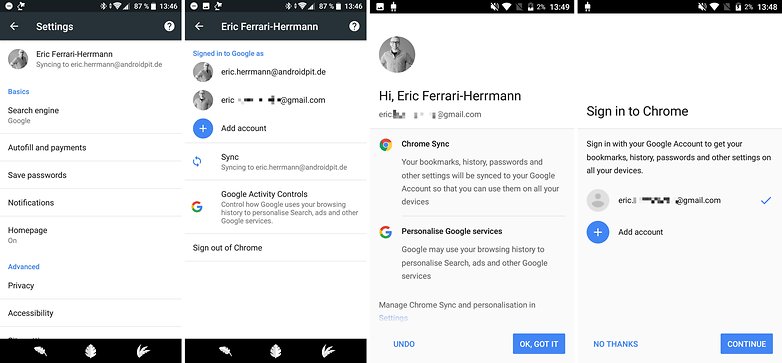 If you're already syncing bookmarks, all you have to do is find the ones from your phone in the desktop browser. The bookmarks created in Chrome for Android are stored in the Mobile Bookmarks folder, whose contents are automatically copied to all your other devices.
How do I manage notifications?
Since Andorid 7 Nougat, Android has supported Notification Channels. As a Google app, Chrome is obviously one of the first to use the new Android feature. In the app settings, under Notifications, you can find all the sites that send push notifications.
Mute individual websites completely or choose how they may notify you. Maybe the LED is enough, while vibration or sound are turned off.
Hidden features in Chrome for Android
Chrome has many features that can be unlocked using the built-in flags list. In the address bar, type in "about:flags" and Chrome will show the list. One of the things you'll discover about the following hidden features in Chrome for Android is the search feature.
Show address bar at top or bottom
Chrome is experimenting with a new layout. The address bar moves from top to bottom, but is extendable. Below the address are then bookmarks and suggestions. The whole thing is a bit like the Pixel Launcher. Chrome Home is already active on some Android One devices by default, and others can be activated manually.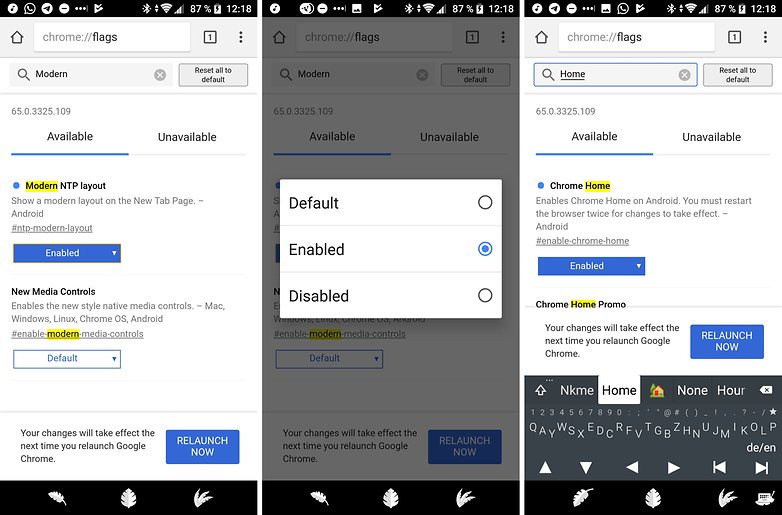 If you want to use the new Chrome layout with the address bar at the bottom, search in the flags for Modern and Home and enable one of them there. Restart Chrome and enjoy the new layout. If you want the address bar in Chrome for Android to be on top, disable the layouts in the same way.
Reader mode
Occasionally, Chrome will pop up with an offer to make a page easier to read. If you tap on the button, fonts are enlarged and the design of the website is changed so that you can read the text easier. Want it for every website? Today's your lucky day!
Look for reader in the Chrome flags just like we showed you above and enable reader mode to be always on. Then you can read every article in simple, plain black and white.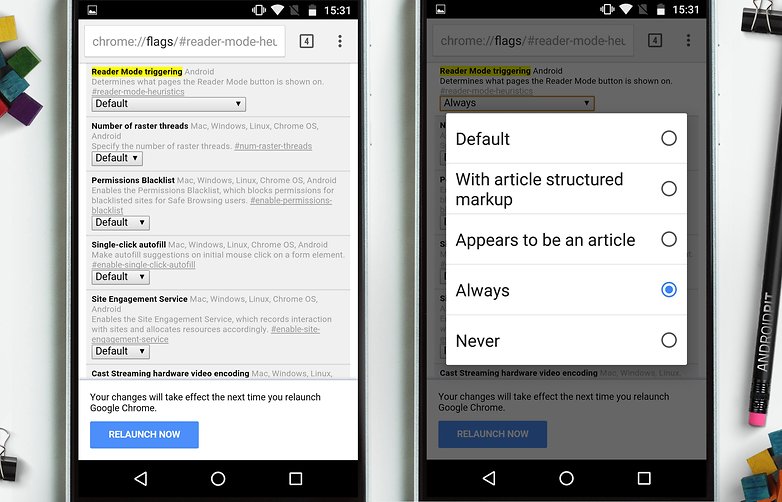 Your tips?
Do you use Chrome on Android already? What features do you use that aren't obvious? Share your tips in the comments below!