Google Drive for Android tips and tricks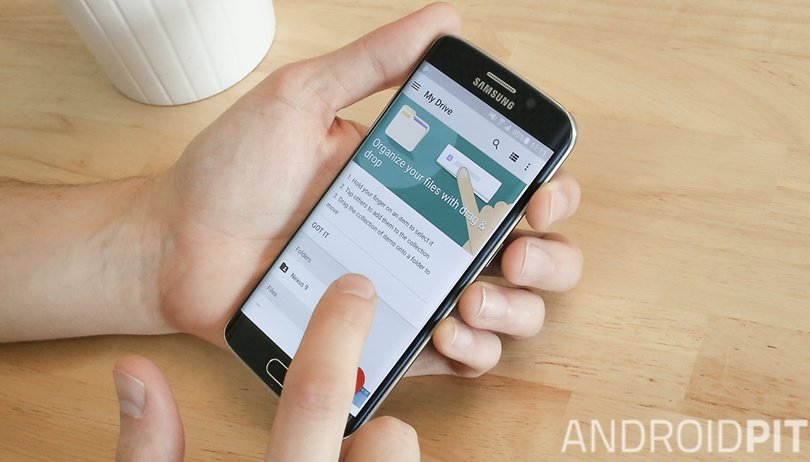 Google Drive is everywhere. Its triangular logo, the shaded version of which could have come straight out of an Escher painting, is instantly recognizeable. And with good reason, because Google's cloud storage service is one of the most useful and important pieces of software in recent memory. But it can be even better thanks to our list of Google Drive for Android tips and tricks
Add an image from your camera roll to documents
A recent update to Google Drive finally added the option to add images to Google Drive documents directly from your phone's gallery or camera. This long-awaited update finally lets you get more creative with the things you're working on in Drive. Here's how to do it:
Open a Docs or Slides file in Google Drive, then tap the blue Edit bubble at the bottom right.
Tap the '+' icon at the top right, Image, then choose whether you want to insert an image From photos or From camera.
Select the photo you want, or take a photo, and it'll instantly be added to to the document.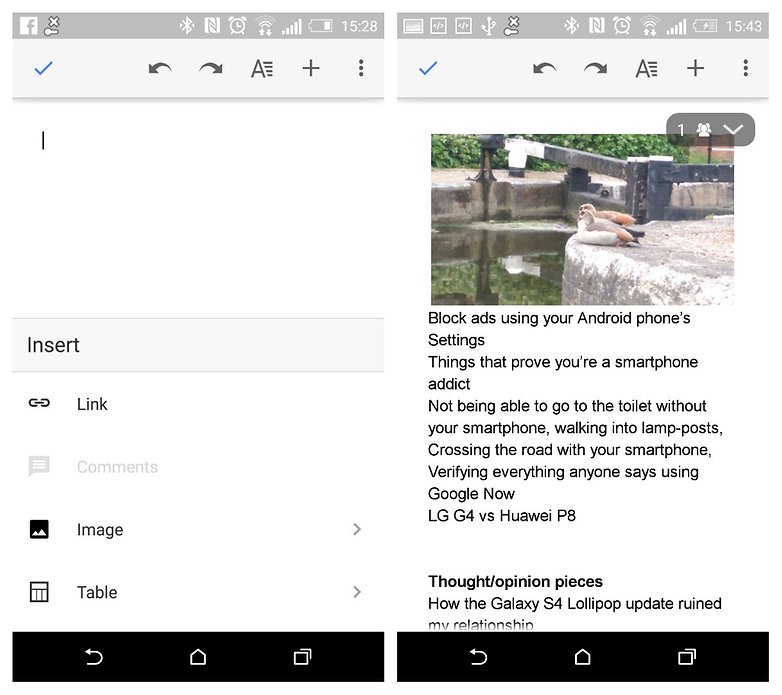 Save Google Drive files to your device storage
Google Drive is first and foremost a cloud storage service, whose main benefit is not burdening your device with locally stored files using up all your internal storage. But there are some files worth saving to your device if, for example, you want to work on them when you're offline, then sync them back online when you're connected again. To do this:
In Google Drive, long-tap a file, then tap the pin icon that appears. This device is now saved to your device. Repeat for every device you want to use offline.
Open the left-hand 'hamburger menu' or navigation pane, then tap On device to view the file(s) you saved.
To remove a file from your device, long-tap it on the On device screen, then tap the pin icon.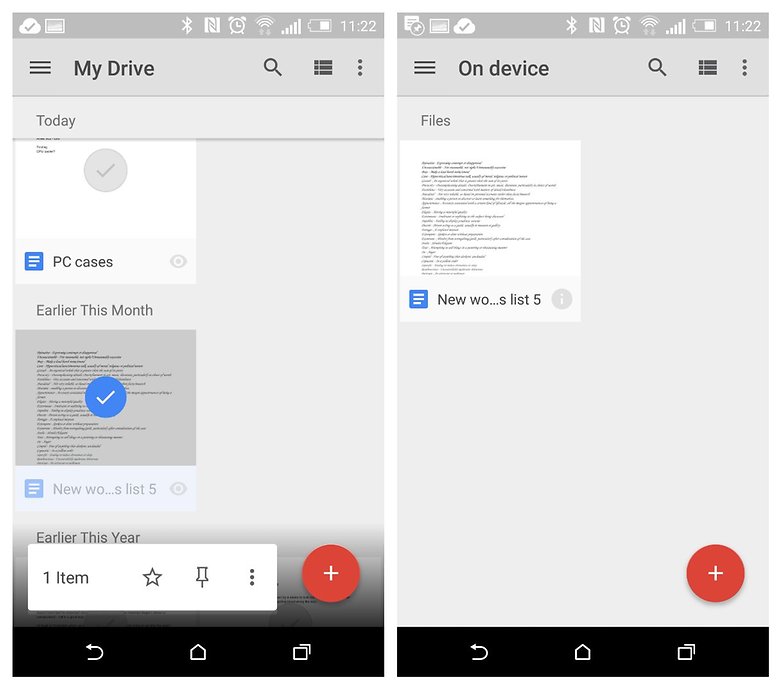 Send a Drive document via email
You don't need to stay within the realm of Google Drive to share your documents. You can also do it using the Gmail app for your Android device. To do this:
Compose a message using the Gmail Android app, tap the paper clip icon at the top right, then Insert from Drive.
Pick the Google Drive document you want to send, then tap the Send button.
In the Sharing options window, you can choose the level of permission the person you're sending it to has (edit or view), and whether the document is viewable to Anyone with the link or only Recipients of this email. When you've selected these things, tap Send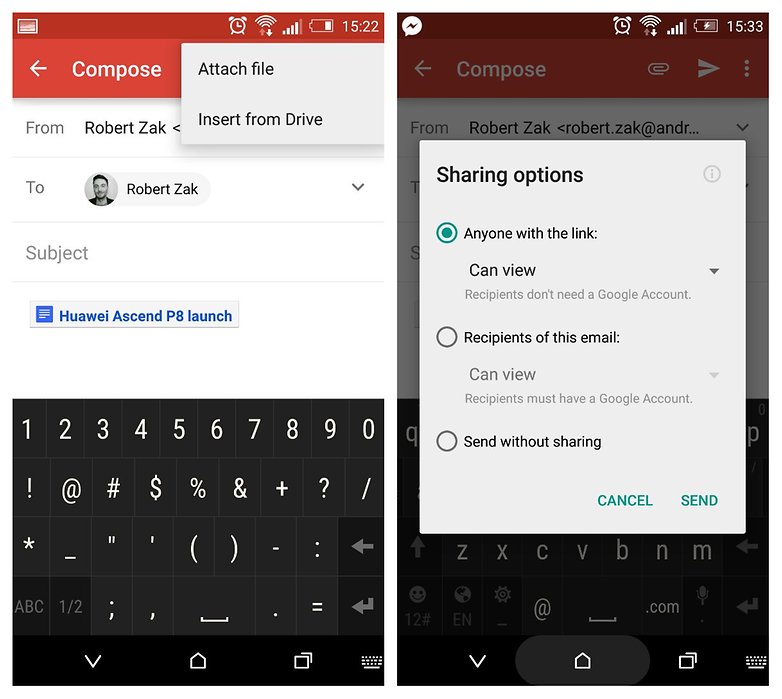 Track recent activity on your Google Drive files
If you're constantly in Google Drive editing documents and collaborating on them with other people, then it's important that you can see who has been making changes to which documents, and when. To track activity with your Google Drive documents, just tap the menu icon at the top right, then Details.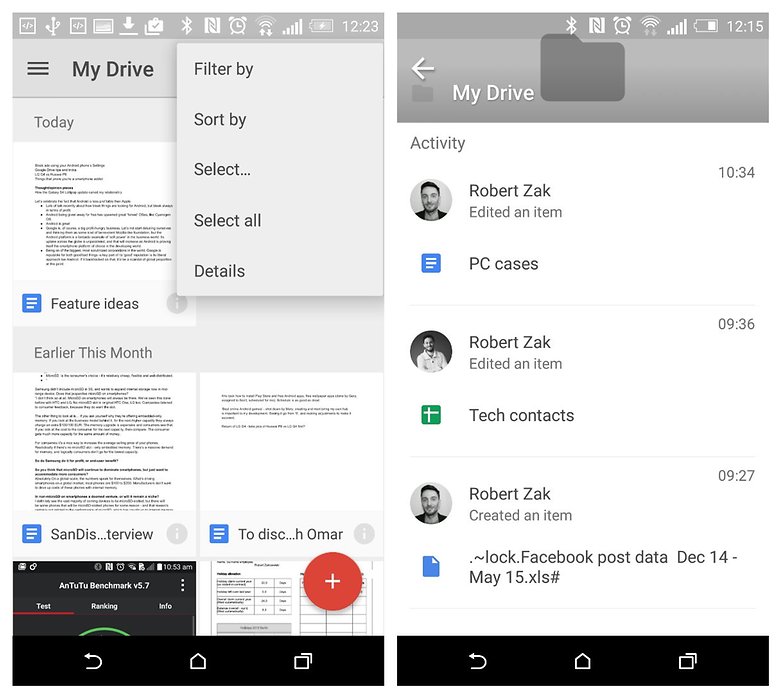 Automatically back up photos to Google Drive
As of March 2015, if you use the 'auto-backup' feature in Google's Photos app, it also makes the photos viewable in Google Drive. Good news, as you don't need to view your photos in the awkward Google+ any more.
Navigate to the Google Photos app (called 'Photos'), then tap TURN ON if Auto-backup is set to Off. Photos automatically stores pictures you take using your device, and as soon as you turn on Auto-backup it will begin syncing them to Google Drive.
Each picture you take from now on will automatically sync to your Google Drive account, and be viewable on any device with Google Drive. To view them in Google Drive, just click or tap Google Photos in the left-hand pane of Google Drive.
You can tweak the auto-backup settings by tapping the menu button at the top right of Google Photos, Settings > Auto-Backup then scrolling down to Backup Settings.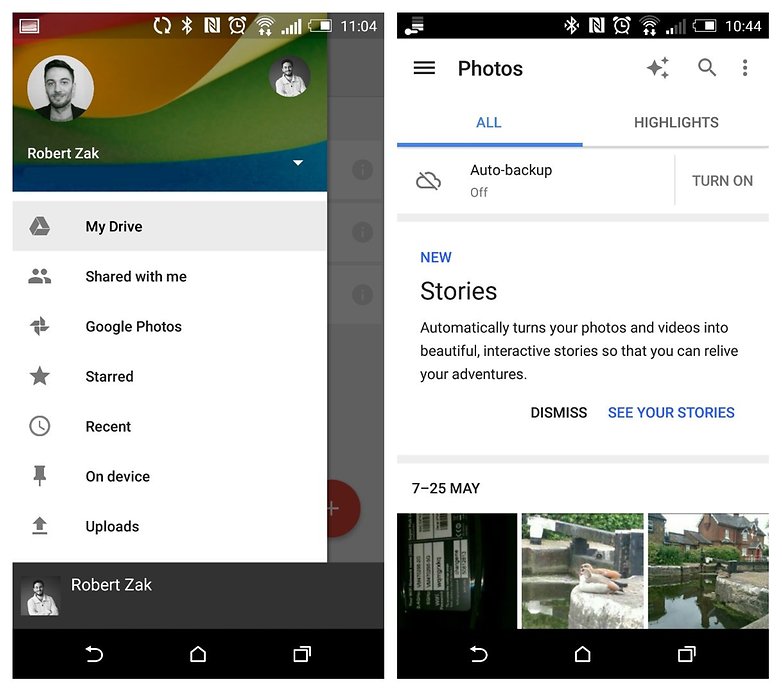 Have you got any Google Drive for Android tips and tricks? If you think you do (and especially if you have some even better ones!), let us know in the comments.