Google's New Field Trip App Looks Amazing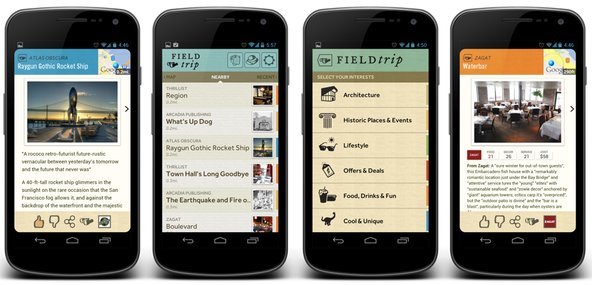 Just like a real tour guide, Google's new Field Trip app will tell you detailed, interesting information about your environment, before you ask for it.
The app runs in the background of your phone and alerts you when you're near something interesting – like a monument, a park or a restaurant. But it goes beyond apps like Foursquare by actually offering you little history lessons or obscure facts along with its recommendations.
"The idea behind the app was to build something that would help people connect with the real, physical world around them," according to John Hanke, who helped develop it. "It's always running in the background, so it knows where you are and is always looking to see if something interesting is in your immediate environment."
The app pulls its information from websites like Thrillist, Eater, Cool Hunting, Inhabitant, Zagat, Atlas Obscura, Songkick and more. The data, as well as Google's own data, gets assigned to seven different categories: architecture, historic places and events, lifestyle, offers, food and drink, cool and unique, and outdoor art. Each category gets its own color for easy organization and you can also tell the app to shut up about outdoor art if what you're really into is architecture.
Like many of Google's apps, Field Trip will also read you the information over your headphones if you'd like to focus on looking around. The biggest bummer is that Field Trip is only available to folks in the U.S., but Google is promising to have an international version of the app ready soon. If you're in the States, you can download the app here.
(Top photo: NYTimes.com)