Google+ Gets a Nifty Little Feature A nifty little feature just arrived for Google+ yesterday. Links to an app in Google Play will now contain a direct install button. When promoting an app through Google+, the title and description still appear, and the preview looks the same as before. Essentially, all that's changed is the new button.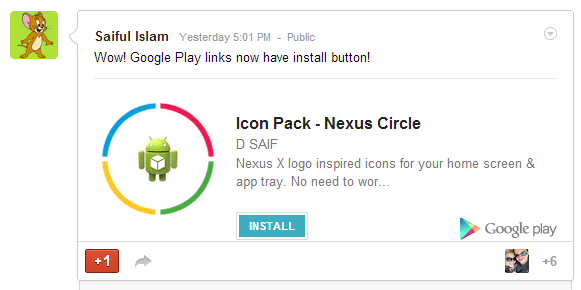 While such a feature may not be worthy of a lengthy post, it's certainly worthy of a mention.
It is features like this that help to streamline media sharing through Googles services and on devices running the Android OS. Imagine posting a short blurb on Grandma's page, alluding to an app she should be using, which will allow her to click on the included button and quickly install the relevant app to her device. There are going to be lots of happy Grandmas this holiday season! The future is here folks!
Okay, so maybe there are bigger tech advancements happening out there, but you can't deny the practical uses of this new feature.
We've included a preview of the new button (in the image above), but if you want to see it in working order just head over to the source link.