Google Glass Porn Apps Banned By Google It was just last week when we mentioned that Google Glass will be receiving its very first porn app soon, but I guess man may plan, but Google disposes. After all, it is their ecosystem that we are talking about here, and it makes perfect sense for Google to be consistent with Apple by laying the banhammer down on porn apps over at the Google Play Store, as with the Apple App Store.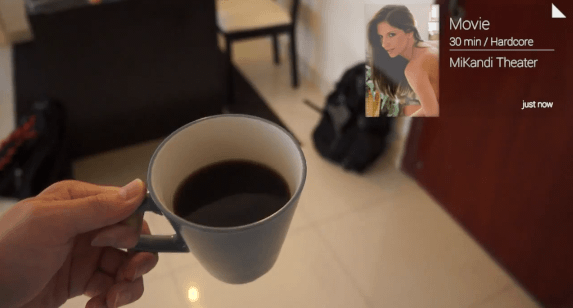 Party Pooper
Some might say that Google is playing the role of being a party pooper here, but that is a rather weak claim when you think about it, since Apple themselves too have ensured that no porn apps or anything adult oriented which is too graphic will receive the nod of approval, for obvious reasons, and the App Store has done pretty well at the very least, don't you think so? Of course, others might say that Apple could have done even better by approving porn apps, but that argument remains moot until Apple actually does so, and we have the necessary metrics to make sense of the whole situation.
Needless to say, the first casualty from Google's stand regarding porn apps on Google Glass would be "Tits & Glass" that hails from the people over at MiKandi, where this app would be accompanied by porn videos as well as images (Photoshopped ones, obviously) that have that been optimized for Google Glass wearers. The eventual idea of this particular MiKandi app is to have folks filming their behind-the-doors exploits with the Google Glass, but I guess this idea will have to be put on the backburner for the moment.
In fact, Google also ensured that their developer policy has been updated in order to reflect the ban on explicit content, where it now reads, "Sexually Explicit Material: We don't allow Glassware content that contains nudity, graphic sex acts, or sexually explicit material. Google has a zero-tolerance policy against child pornography. If we become aware of content with child pornography, we will report it to the appropriate authorities and delete the Google Accounts of those involved with the distribution."
What next?
MiKandi wants to continue the good fight, so to speak, with MiKandi CEO Jesse Adams saying, "Although the app is still live and people are using it, at this point we must make changes to the app in order to comply with the new policies. Expect to see changes to the application tomorrow."
Do you think that the ban of porn apps on Google Glass would not allow the hardware to develop or proliferate as fast as Google wants to? The thing is, is Google Glass even a suitable platform for one to enjoy porn apps? After all, the digital age has seen folks holed up in their room and getting some behind closed doors, so to watch porn on Google Glass might be a wee bit unnerving. I guess it is somewhat akin to the experience of sending over what you see through a different hardware like a Contour ActionCam or a webcam over to your mate with a decent connection in place. I would like to think that Google took the more logical decision here, as there are other more viable and lucrative platforms where porn apps can be disseminated. Of course, I would love to hear from your take on the situation, and whether you agree with Google's move or not.