Google+ Hangouts on Air Goes Global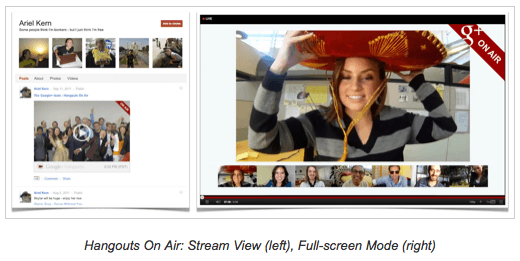 A Google+ feature that allows users to share streaming video with other Google+ users is now available in 40 other countries. The feature, called Hangouts on Air, allows users to broadcast to a ginormous audience.
You can also monitor how many people are watching you as you broadcast, as well as take questions and chat with fans. Once you're finished filming, Google will upload a recording of your prodcast to your Google+ account and YouTube channel so more folks can check it out. It's that simple.
It bears mentioning that Facebook has NOTHING like this on their site. Not that I'm a Google+ partisan, but this is a pretty unique feature.
Hangouts on Air is now available in the following countries:
Argentina, Morocco, Australia, Netherlands, Brazil, New Zealand, Canada, Nigeria, Chile, Peru, Colombia, Poland, Czech Republic, Portugal, Egypt, Russian Federation, France, Saudi Arabia, Hong Kong, Singapore, India, South Africa, Indonesia, Spain, Ireland, Sweden, Israel, Switzerland, Italy, Taiwan, Japan, Turkey, Kenya, Ukraine, Republic of Korea, United Arab Emirates, Malaysia, United Kingdom, Mexico and United States
Check out a how-to video below: