Google+ integrates recommendations for mobile sites Ahead of its I/O, Google has already released a few updates and tid-bits. Live as of today, Google+ and Google Search now work together to suggest content from your mobile site.
As noted in the preview above with Forbes.com, you can discover new and related articles based on Search Authorship, another recent release from Google that allows authors to link their content to their Google Profile. An unobtrusive pop up from the bottom pops up, letting the user know about relative content and pages and doesn't redirect unless the user specifies that they want to.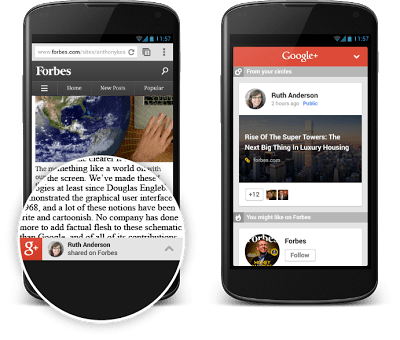 These new recommendations can be used whether or not you're signed into Google+, however, with being signed in, you can view more information in regards to whether the content has been shared within your circles.
To give features a test drive, head on over to any article page on Forbes.com your Android or iOS device. As time goes on, Google is expected to announce more partner companies willing to integrate this option into their mobile site.
What do you think about this latest addition? Welcome update to discover content or another sneaky way to get more views in on mobile sites?