Google I/O 2018 location confirmed, ticketing starts Feb 22
Every year major platform developers, engineers and executives gather at Google I/O to discuss all the Android goodies of the year. After Google's Developers Twitter account teased us with an interactive online puzzle game, the date and location of this year's event has been officially confirmed.
Where will Google I/O 2018 be held?
Google Developers Twitter account teased details of the I/O event via a mysterious tweet that led to a puzzle game based on Google Maps, but it didn't take all that long for the Internet hive mind to figure it out.
Thanks to the collective efforts of enthusiasts and journalists working to crack Google's coded messages, we now know the date and location of the next Google I/O: May 8-10 2018, Shoreline Amphitheater in Mountain View, California.
Yes, #io18 is happening May 8-10 at Shoreline Amphitheatre in Mountain View, CA. Note to team: we might have to make the puzzle a bit harder next year:) Hope to see you there! pic.twitter.com/P2C3UlWmYp

— Sundar Pichai (@sundarpichai) January 24, 2018
Yes, despite all the mysterious teasing, this will be the third year in a row that Google has chosen to hold the event at the Shoreline Amphitheater right next to the Googleplex.
How can I get a ticket?
The ticketing process is also the same as in recent years. Starting Feburary 22 at 10AM, interested attendees can submit an application stating which Google products they are interested in knowing more about.
You nailed it. #io18 will be held May 8-10 @ Shoreline Amphitheatre! Apply to purchase a ticket from 2/22, 10AM PST to 2/27, 5PM PST. pic.twitter.com/yfRC949fee

— Google Developers (@googledevs) January 24, 2018
The application closes on February 27, after which Google will announce general and academic ticket recipients. After the initial selection, the company usually sends out some more tickets to those that have been put on a waiting list.
Android Pineapple?
Although the main puzzle has been solved, you can still play around at google.com/io to explore Google's puzzle game for secrets and Easter eggs.
The site shows a Google Maps page with a message that offers to take you behind the scenes of I/O 2018. From here afterward, you're involved in a puzzle game based in Google Maps that is strewn with clues as to details of this year's event, complete with mysterious ambient music.
One of the more intriguing items in this room is a pineapple cake. Could this be a clue as to the next sweet-themed name of Android P? And I was guessing Pez, or Popsicle.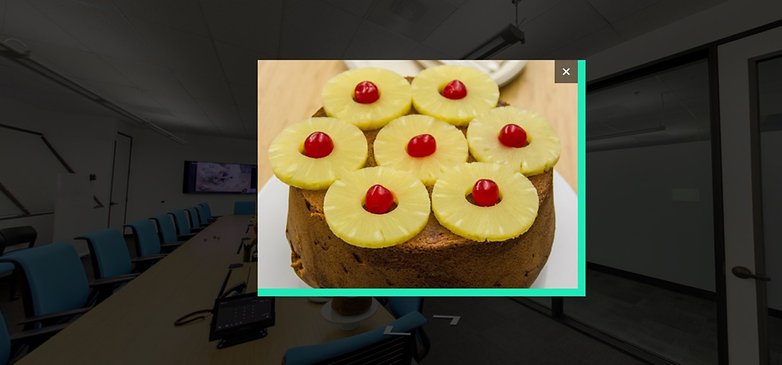 Google definitely knows how to get our attention.
What do you think?
Are you excited for I/O 2018? Have you spotted any extra secrets in Google's puzzle?