Unofficial Google Music Desktop Player For Windows = WIN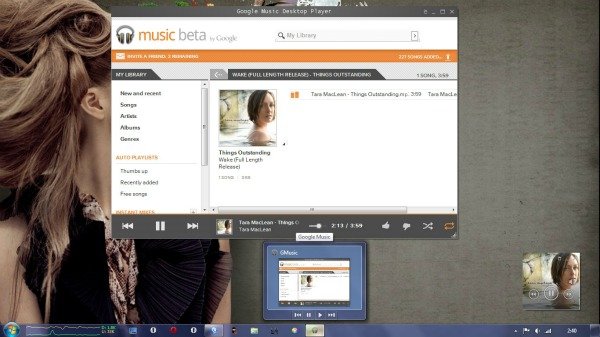 I really really really like the Google Play Music app, and although I live in Europe and can't access most of it's features (without a workaround anyway), I really think it's booming with potential. What of course would naturally be perfect would be a desktop version of Google Music to stick it to Apple and iTunes, and I've often wondered why Google hasn't released such an application yet. Well, as with all things that are Android, if you don't see an official version of something, an unofficial version will most likely come along that's often a lot better than the official one. Fortunately for us, that's exactly what has happened thanks to a DeviantArt user named Vhanla, who has successfully created a Google Music desktop application. And the best thing about it...it works oh so beautifully well.
After installing the app and signing into your Gmail account, you will have access and control over music stored in Google's cloud. This is accomplished via a keyboard, sidebar widget, or from taskbar buttons within the program. Here's a short feature list of the desktop player::
Current features:
- A notification splashform
- LastFM Scrobbling
- Free RAM after song end
- Uses Webkit Engine
- Supports Multimedia Keys [PlayPause, Stop, Previous and Next]
- Windows 7 Taskbar support [Buttons for: Play/Pause Previous and Next]
- MiniPlayer
- Metro UI Like with Aero Snap support (it was kinda difficult to make a windows' form with Metro design like from scratch)
New
- Since the music stored in Google Music online service is of our own, I added a download entry on
popup menu to get back our music as mp3 download
- Fixed bugs about popup window
- Multimonitor support
- Updated WebKit engine
And there you have it! I'm hearing very good things about the player, and after using a workaround to access my music from Europe, I can also report that the application works amazingly well. If you want to give it a shot on your Windows PC, you can download it from DeviantArt here.
Let us know in the comments how it's working for you!
Picture credits: DeviantArt.com