 Google Nexus 9 vs Samsung Galaxy Tab S 10.5
We like big tablets and we cannot lie - so we've been pretty impressed with Samsung's mighty Galaxy Tab S. But there's a new tablet challenger in town, the Google-branded and slightly smaller Nexus 9. Is the bigger tablet better?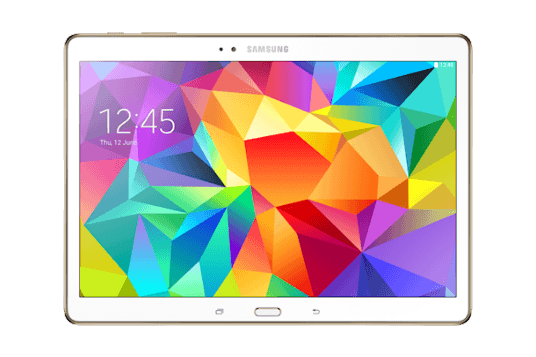 Nexus 9 vs Galaxy Tab S: display and screen
The Nexus 9 has an 8.9-inch, 2,048 x 1,536 resolution display with a density of 287 ppi. The Galaxy's screen is bigger at 10.5 inches, and it's more dense too by a microscopic margin: its 2,560 x 1,600 resolution is 288 ppi. If you looked really, really closely you'd see that the Samsung is very slightly lower resolution, but we defy you to tell the difference without a microscope.
Nexus 9 vs Galaxy Tab S: design and build quality
The Samsung is a lovely thing, super thin and reassuringly tough - although it does have a tendency to heat up when you run it hard. The Nexus appears to be more functional than funky: it's not ugly, but you wouldn't put it in a beauty contest either.
Nexus 9 vs Galaxy Tab S: processor and RAM
The processor inside the Nexus 9 is a dual-core Nvidia Tegra K1, a 64-bit processor with 2 GB of RAM. The Samsung comes in two versions: one with an 8-core Exynos 5 Octa clocked at 1.9 GHz, and one with a quad-core Snapdragon 800 at 2.3 GHz. The Samsung has 3 GB of RAM.

Nexus 9 vs Galaxy Tab S: operating system
In its role as Android's flagship device, the Nexus 9 will run Android L 5.0, aka Android Lollipop. The Galaxy Tab S runs Android KitKat, although an Android L 5.0 update will no doubt arrive fairly quickly.
Nexus 9 vs Galaxy Tab S: camera
The Nexus 9 has a 1.6 MP front-facing camera and an 8 MP rear-facing camera with optical image stabilization. The Samsung has a 2.1 MP front camera and an 8 MP rear camera.
Nexus 9 vs Galaxy Tab S: battery
The Nexus 9 battery delivers 6,700 mAh, but the Samsung has more power: the Samsung Tab S has a 7,900 mAh battery.
Nexus 9 vs Galaxy Tab S: tech specs
Nexus 9
Galaxy Tab S 10.5
OS
Android 5.0 L
Android KitKat
Display
8.9-inch, 2,048 x 1,536 (287 ppi)
10.5-inch, 2560 x 1600 pixels (288 ppi)
Dimensions
153.68 x 228.25 x 7.95 mm

177.3 x 247.3 x 6.6 mm

Weight
425 g (Wi-Fi), 436 g (LTE)
465 g
Battery
6,700 mAh
7,900 mAh
Camera
8 MP with OIS
8 MP
Processor
Dual-core Nvidia Tegra K1

Samsung Exynos 5 Octa
Qualcomm Snapdragon 800

RAM
2 GB
3 GB
Internal Storage
16 / 32 GB
16 / 32 GB
Connectivity
Quad-band GSM, CDMA, Penta-band HSPA, LTE, 802.11ac (MIMO), Bluetooth 4.1, NFC
HSPA, LTE, Bluetooth 4.0
Price
399 USD
499.99 USD
Nexus 9 vs Galaxy Tab S: early verdict
Does size matter? That's the big difference between the two tablets, with the Samsung offering a 10.5-inch screen and the Nexus 8.9 inches. That means the Samsung is the better tablet for gaming, video and generally slouching around on the sofa while the Nexus is more portable. You're unlikely to be disappointed with either device, and we suspect that for many purchasers it'll come down to a simple question of price - in which case the Nexus is an easy sell.
What do you think? Would you pay more for an extra inch?