Nexus Tablet To Run Android Jelly Bean Out Of The Box?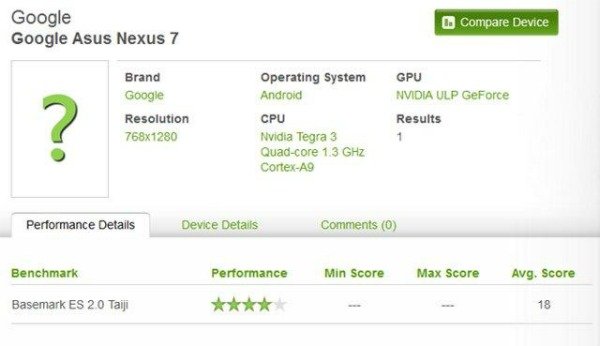 Multiple sources are reporting on a soon to be released Asus Nexus tablet that will apparently be unveiled at Google I/O, and it seems the device has also been recently spotted in benchmark tests under the name "Nexus 7". While we don't believe this is the final name of the device, it does seem that Asus will be debuting the first Nexus tablet, which is confusing considering that we also have reliable reports of a Samsung Nexus tablet in the making that would showcase their new Exynos 5250 2Ghz dual core chipset. What's very interesting about the Asus tablet is that its software is apparently Android version 4.1 (labeled JRN51B), which seems to be an indicator that this could be the very first device to run Android Jelly Bean.
What's still not clear at this point is if every OEM will also be making a Nexus tablet, as Google is apparently changing their strategy with the Nexus by allowing multiple OEMs to carry a Nexus device. Many also speculate that Android 4.1 might just be a minor update that's only meant for tablets.
Considering the low amount of devices running Ice Cream Sandwich, it certainly wouldn't surprise me if the update was more geared towards tablets. Asus making the tablet is also great news, as I can personally vouch for how happy I am with my new Transformer Prime. Whether the Nexus Tablet comes from Asus or from Samsung, consumers will have a great option when it comes to getting their hands on a high end Android tablet for a good price.
There's still lots of speculation regarding who's making what and when it will debut, but the good news is that we won't have to wait long to find out about the Asus tablet, as Google I/O is just around the corner.
Picture credits: Ubergizmo