Google Now Is Much More Than a Siri Competitor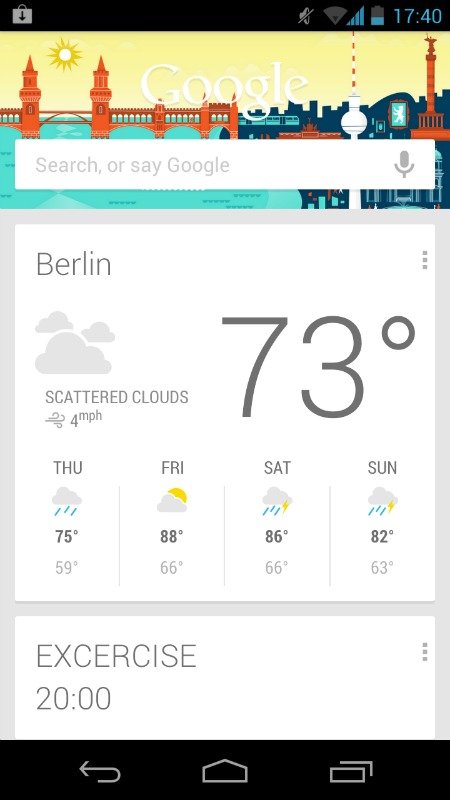 I've been playing around with Google Now all afternoon, and I have to say I'm amazed. It is already fast becoming my favorite Android Jelly Bean feature, and I think it has the potential to beat Siri in a number of areas. Not only is it beautifully designed but it brings a level of intuitive functionality I've always found to be missing in Android.
It's More Than Just Voice
Google Now predicts what you want and when you want it. Standing outside a subway station? Google Now will tell you when the next train is. Just landed in Shanghai? Google Now will tell you how to say "Hi" in Chinese. Siri only works via voice and never predicts what you want to say to her.
It's Beautifully Personalized
I was shocked to realize that my Google Now page presented me with a gorgeous graphic of the city in which I live – Berlin – at the top of the screen. Not only that, but the background to the cityscape changes depending on what time it is. Siri only shows the image of a microphone.
It Tells You What You Want, When You Want It
Because Google Now analyzes your searches, it knows when you're traveling and will give you flight information on your day of travel. It knows if you're standing near a subway stop and will tell you how long until the next train. It'll even recommend to you nearby restaurants if you're in a new area of town. Siri doesn't know how to do such things.
The Possibilites Are Truly Endless
The possible ways Google Now may evolve baffle my brain. I think it will become "THE" must-have feature on new Android devices. Imagine the service bringing you tourist tips when you're in a new city or telling you the movie times when you pass by a theater. Google Now represents one of the bigger threats to the iPhone and I can't wait to see how Google develops it further.