Google Now Widget Leaked, Possible Android 5.0 Key Lime Pie Arrival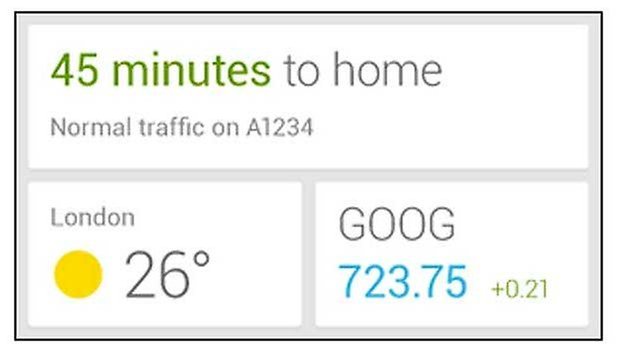 The Google Now widget has been leaked, which means the Google Now app ought to see an update very soon, where you will be able to obtain useful information updates that will be pushed directly to your Android device's homescreen. The thing is, will this leaked Google Now widget arrive as an update in the near future before Google I/O this May, or will it be part of the Android 5.0 Key Lime Pie update?
What you see above is a screenshot of the Google Now widget that has appeared on one of Android's support pages. Needless to say, the page is no longer available online, but at least someone has already snagged a screenshot of it.
It looks minimalist in nature, and yet retains a functional look in a manner that is similar to the full blown app, allowing you to get a hold of all the relevant information in the fastest manner possible.
This makes plenty of sense for Google, as Google Now was introduced in Android 4.1 Jelly Bean, and since then has proved itself to be an excellent feature in existing Android builds as it does wonders for the overall search experience, in addition to voice control functionality, mapping and location services amongst others.
With this widget in existence, such functionality will be pushed to the forefront of Android smartphones and tablets, giving folks the ability to enjoy far quicker and easier access to the more useful items where the Android operating system is concerned. Hopefully additional details can be revealed in due time, and we intend to bring you word on any more Key Lime Pie or Google Now leaks.