Google Pixel 3 hands-on: the best smartphone camera just got better
The Google Pixel 3 is one of the few Android smartphones to offer the latest hardware in a handy size. But is that enough to make it stand out from the competition? We've tested Google's new device in our hands-on.
Have you ever heard of OSIRIS?
Choose "Yes, I have!" or "Never heard of it.".
Oops! Seems like something went wrong. Reloading might help.

Oops! Seems like something went wrong. Reloading might help.
Google Pixel 3 release date and price
Like its predecessor, the Pixel 3 is available in two memory variants. For $799 you can get the model with 64 GB of storage, and for $899 you can get the device with 128 GB of storage. There is a choice of three colors, Just Black, Clearly White and Not Pink. You can order the new Pixel 3 on the Google Store right now. It will be available in the US on October 18th on Verizon. It will launch in the UK and India at the start of November.
Handy size without a notch
On the outside, the Pixel 3 looks like a shrunken Pixel 2 XL at first glance. The bezels above and below the 5.5-inch display have slimmed considerably , but still offer enough space for the two front-facing stereo speakers. The design isn't super modern, but it looks less outdated than the Pixel 2. Instead of a metal body with an embedded glass pane, the whole of the back is made of glass and features a matte finish for the first time.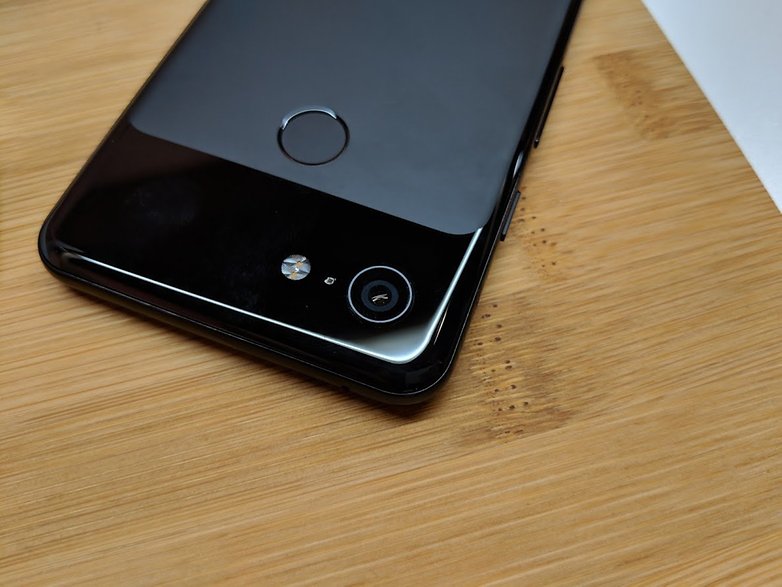 Nevertheless, Google optically separates the upper quarter of the back from the rest and thus again offers that instantly recognizable design of its Pixel phones. Everything is well made, the device sits nicely in the hand and upon picking it up, it's really fun to once again hold a phone in your hand that can be operated with one hand without any problems.
The notch is not mandatory
The Pixel 3 features a 5.5-inch 18:9 display, which has a FHD+ resolution of 2160 x 1080 pixels. Despite the flexible OLED panel, the colors don't look quite as bright as on a Samsung, for example. In addition to SRGB, the display also covers the DCI-P3 color space used in cinemas.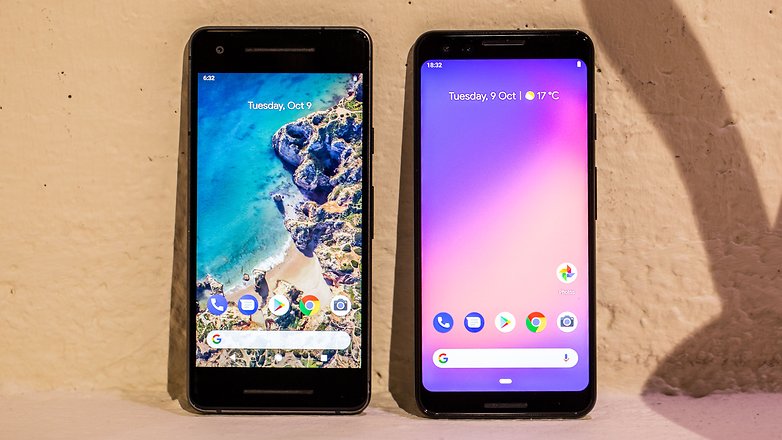 The display leaves a good first impression and we were able to adjust the brightness high enough that the content could also be easily read under the bright lighting of the event location. Of course, the Pixel 3 also supports the playback of HDR content.
Active Edge calls the Google Assistant
Also on board again this year is the Active Edge feature , which can be used to either trigger the Google Assistant or mute an incoming call by pressing the edge of the frame. The sensitivity can still be adjusted manually, but other functions cannot, apparently, be assigned.
Software without major unique selling points
The Google Pixel 3 launches, naturally, with the latest Android version 9.0 Pie and provides that pure Android feeling. Apart from the fact that the swipe gesture navigation is turned on by default here, there is no difference to Android Pie on a Pixel 2 at first glance.
Of course, this also means that features like Always Listening mode for Now Playing, Google's automatic music recognition system, and Google Lens are deeply integrated into the system. Otherwise, only the new live backgrounds are noticeable, which I already liked with on the Pixel 2. There also a cool "flip to shhh" feature that will block all notifications if you place your phone face down on a table or flat surface.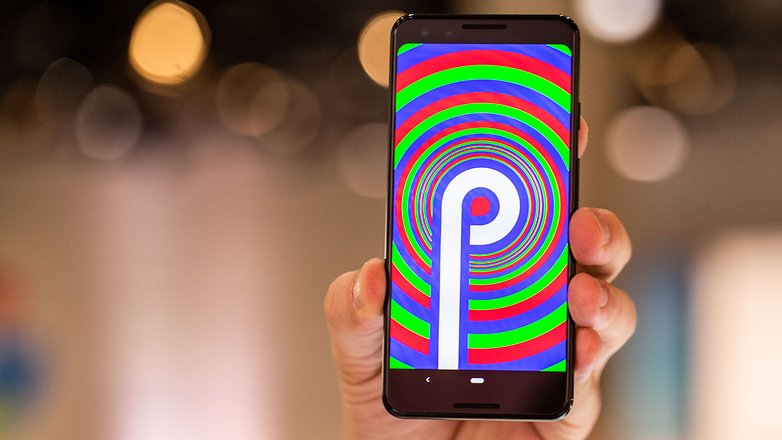 High-end, but nothing for real techical spec junkies
Evaluating the performance requires few words: Qualcomm's high-end chip Snapdragon 845 does a good job in combination with pure Android. But we didn't expect anything different. However, the SoC could have been equipped with a bit more than the built-in 4 GB of RAM , which is sufficient according to our experience, but could soon be pushed to the limits with more and more demanding smartphone apps in the future.
There are no surprises with the internal storage options available. Here there is either a 64 or 128 GB version but again there is no memory expansion via MicroSD. If you want more storage, you'll have to have access to another smartphone or use a cloud solution. The latter is, of course, in Google's interest, which is why buyers of the Pixel 3 are once again being given unlimited online storage space for photos and videos for just over three years.
Otherwise, under the hood, there's the usual flagship whistles and bells: Bluetooth 5.0 + LE, NFC, LTE and WLAN a/b/g/n/ac (2.4 & 5 GHz), GPS, Glonass, Beidou and Galileo. The USB type C port also supports USB 3.1, ensuring faster transfer rates.
Stereo sound and no headphone jack
Even though the wide display edges of the Pixel 3 look a bit old-fashioned, they do have one big advantage: they offer space for two front-facing stereo speakers. They also delivered good sound when we tried them out for the first time, and mid-range and treble seem to be well balanced. Google says the speakers are 40% louder on the Pixel 3 than on the Pixel 2. We also didn't notice any distortion at maximum volume.
Like its predecessor, the Pixel 3 doesn't have a 3.5mm headphone jack . So, if you own high-quality jack headphones, you'll have to use the USB-C adapter. As an alternative, Google includes a USB headset in the style of its Pixel Buds with the smartphone. We prefer Bluetooth headphones, though.
New Pixel owners will get six months' of YouTube Music with the purchase of their new device.
Google Pixel 3 camera
After Google showed its competitors last year that you can beat any current dual camera with a single lens, the manufacturer is again this year focusing on software to create great pictures. A main sensor with 12.2 megapixels and an f/1.8 aperture is n the Pixel 3. Google says it has worked on the software a lot and wants to be top of the pile for camera performance once again this year.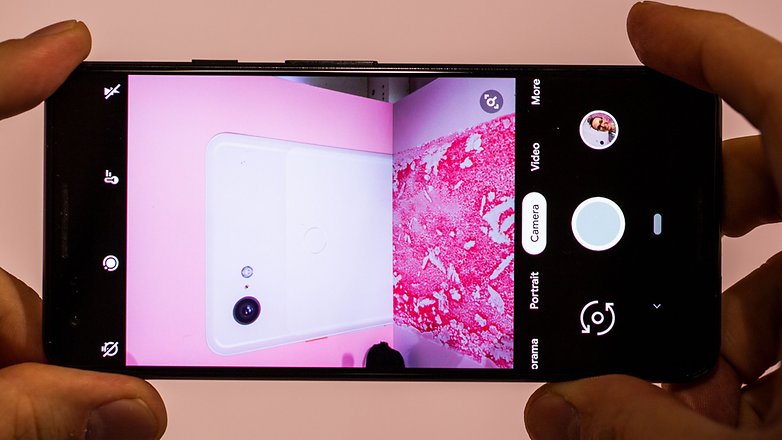 Ok, you can't escape a dual camera this year with a Google phone either, but it's on the front and consists of two 8.1-megapixel sensors (f/1.8 & f/2.2 aperture). Google has also improved the portrait mode here and wants to get more out of HDR shots with better algorithms.
However, 4K videos can still only be recorded at a maximum of 30 frames per second. Full HD recording at 30, 60 or 120 frames per second and HD video at 240 frames per second is also possible. A time-lapse function is still sadly missing.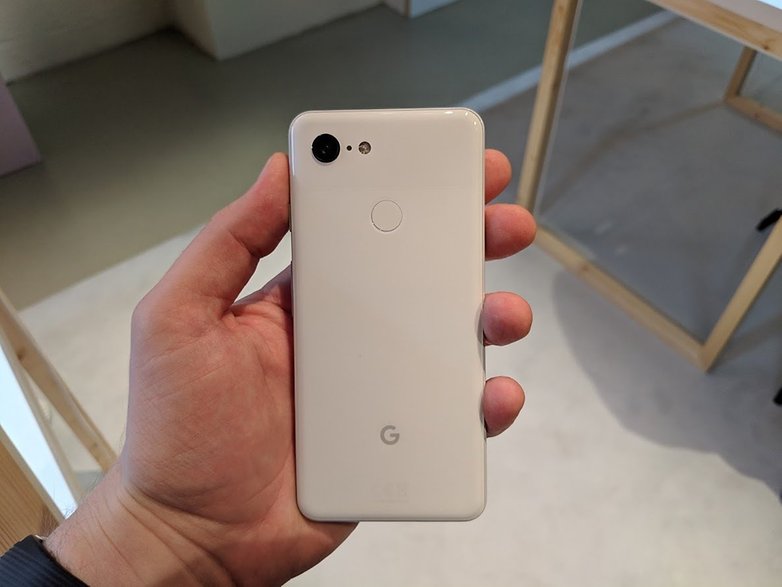 New camera app with more features
Google has also changed the camera app for the Pixel 3. You now jump through the different modes by swiping horizontally. This is a bit more comfortable, but it takes a bit longer to get to the special modes.
One of these new modes is Top Shot, where a series of shots are taken and the pictures are then put together in such a way that everything is optimized for you. There's also a special Night Sight mode for shooting in low lighting conditions without the need for a flash.
In addition, group selfies are possible via the wide-angle front-facing camera.
A larger battery that can be charged wirelessly
At 2,915 mAh, the Pixel 3's battery is slightly larger than its predecessor's. But it must also supply a somewhat larger display with power, so in the end, it should offer battery life similar to that of the Pixel 2 and get you through the day without any problems even with heavy use. But of course, we will test that extensively when we do our full review. The Pixel 3 also supports quick charging and wireless charging.
Google Pixel 3 technical specifications
Dimensions:
145.6 x 68.2 x 7.9 mm
Weight:
148 g
Battery size:
2915 mAh
Screen size:
5.5 in
Display technology:
AMOLED
Screen:
2160 x 1080 pixels (439 ppi)
Front camera:
8 megapixels
Rear camera:
12.2 megapixels
Flashlight:
LED
Android version:
9 - Pie
RAM:
4 GB
Internal storage:
128 GB
64 GB
Removable storage:
Not available
Chipset:
Qualcomm Snapdragon 845
Number of cores:
8
Max. clock speed:
2.5 GHz
Connectivity:
HSPA, LTE, NFC, Bluetooth 5.0
Early Verdict
The Pixel 3 is one of the few small Android smartphones with the latest high-end features on the market . It doesn't offer a striking unique selling point, but everything you'd expect from a current flagship smartphone. The design is no longer the most contemporary, but you might be able to overlook that for usability.
If you're looking for such a device, the Pixel 3 should definitely be on your radar, but this is only our first impression. In our full review, we will check whether the early praise is justified and whether the smartphone is worth its price tag. Until then, please let us know in the comments which aspect we should look at more closely during our review process.