Pixel 3 XL hands-on: a few tweaks and a steep asking price
The next generation of Google's flagship has arrived and the Pixel 3 XL should be an impressive release with up-to-date hardware and perfectly tuned software. In our early hands-on, we'll get to see if the Pixel 3 XL is a success.
How expensive is the Pixel 3 XL?
Google is offering the Pixel 3 XL in two variants and three different colors. The model with 64GB of memory costs $899. If you need twice as much memory, you'll have to put $999 down for the 128GB variant. This means that Google has just about touched the 1,000 dollar barrier, which is more and more common nowadays. The color variants come with striking names like Just Black, Clearly White and Not Pink.
The smartphone can be pre-ordered immediately and the device goes on sale from Verizon on October 18. Otherwise, sales start in November for UK and India. Included are USB-C headphones and, in contrast to some competitors, a quick charger.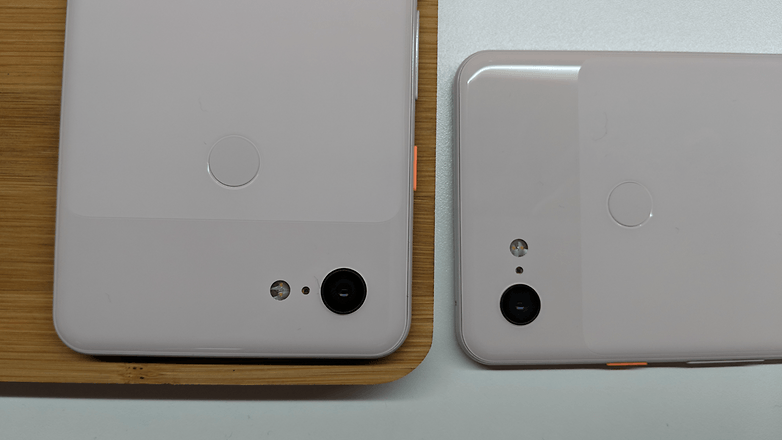 Stylish design in a familiar format
The Pixel 3 XL comes with an IP67 waterproof case, and little has changed on the back in comparison to the previous model. Google has once again made the upper fourth of the device optically distinct from the rest. This year, the back is completely made of glass. The Google Imprint fingerprint sensor is again located on the upper half of the smartphone and features a diamond-cut edge.
There are noticeable innovations on the front . Google has followed many other manufacturers and employed a notch on the Pixel 3 XL. The upper bezel is significantly thinner in comparison to the lower bezel. Google has again placed the power button and volume button on the right side of the frame.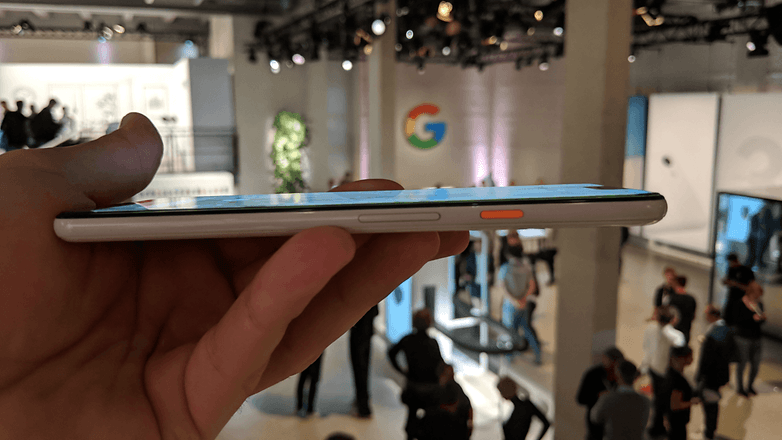 When you first try it out, the Pixel 3 XL feels good in your hand, but without the rounded front glass, it feels a bit bulkier than its predecessor. Personally, I like the flat display more than the curves on the Pixel 2 XL, but that's just a matter of personal taste. It's still difficult to operate the device with one hand. You'll either have to stretch one hand or use a second hand to reach the entire display.
Large display and an equally large notch
In terms of the display, the Pixel 3 XL has a large diagonal of 6.3 inches (2,960 x 1,440 pixels) in a 19:9 format, although the entire frame is similarly large like its predecessor. This is made possible by the somewhat broader bottom edge and the significantly thinner top edge of the display. And then, of course, there's the notch, the most controversial innovation of the Pixel 3 XL .
And yes, it's relatively narrow, and also protrudes enormously into the display. The result is that there's enough space for the icons in the notification bar, but again you have to pull them down unpleasantly. In my opinion, Google is presenting the ugliest notch design of the year.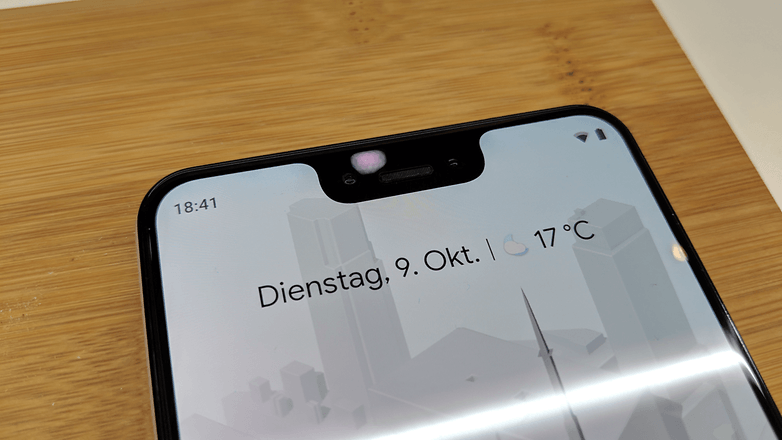 In addition to SRGB, the display again covers 100 percent of the DCI-P3 color space used in cinemas, and of course the Pixel 3 XL also supports playback of HDR content. The brightness seems to be high enough to be easily read in sunlight. But of course, we'll have to check this again in our final test.
Special feature on the edges
Active Edge is again part of the fun as a special feature of the Pixel 3 XL. By pressing the frame, you can either open the Google Assistant or mute incoming calls. This works even when the display is switched off, so that you can open the Assistant while the device is still in your pocket. Apparently, it still isn't possible to assign another function to the feature.
Pure Android and nothing else
This year again, the software is the real star of the new Pixel smartphones. The Pixel 3 XL comes with the latest Android 9.0 Pie pre-installed. The new swipe navigation is activated by default, which had to be adjusted manually on previous models. All in all, the software has that pure Android feeling with numerous pre-installed Google apps.
In line with the motto "AI First", features like Always Listening for Now Playing, automatic music recognition and Google Lens are all on board again. At first glance, the Pixel Launcher doesn't seem to offer any Pixel-specific innovations apart from the new background images. Except, of course, that Digital Wellbeing is pre-installed here. But the special features can only be found with the new camera app.
Peak performance but not much RAM
As you'd expect, the Pixel 3 XL delivers good performance when you first try it out . The combination of Qualcomm's Snapdragon 845 and the pure Android stock software is noticeable. We didn't notice and lags and dropouts in our first test.
Again, the RAM is only 4GB LPDDR4x. That's a shame, since competitors often provide 6GB, and OnePlus even offers 8GB. Although experience has shown that 4GB is sufficient at the moment, we would have liked at least 6GB, with even more demanding apps on the horizon.
In terms of internal memory, buyers again have the choice between 64 and 128GB. It's another disappointment that Google doesn't offer a Pixel 3 XL with at least 256GB of built-in storage since it can't be expanded. But of course, the reason is obvious: the company wants to further push its cloud services and is again offering unlimited online storage space for photos and videos for more than three years.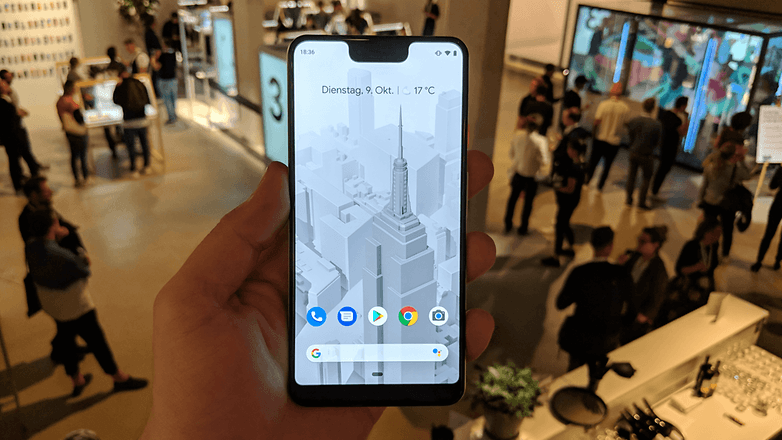 The rest of the hardware is what you would expect from a 2018 flagship: NFC, Bluetooth 5.0 + LE, LTE Cat XX and Wi-Fi a/b/g/n/ac (2.4 & 5 GHz), GPS, Glonass, with Beidou and Galileo on board. The USB Type-C port also supports USB 3.1 Gen 1, which provides higher transfer rates than a Type-C port that supports USB 2.0.
Welcome back: stereo front speakers
They've become a rarity, but with the Pixel 3 XL we can welcome them again: forward-facing stereo speakers . One of them is located on the bottom of the display, and the other speaker is combined with the earcup in the notch. When we first got a chance to hear them, both delivered good sound and were able to hold their own against the ambient noise at the launch event. We'll have to see if the quality falls to the wayside in our comprehensive test.
If you own a pair of high-quality headphones with jack plugs, you'll have to use a USB-C adapter again with the Pixel 3 XL, since the jack was removed from the previous model and isn't making a comeback. Google includes a pair of Pixel Bud-style USB-C headphones with the smartphone. Hopefully, they'll offer better sound than the miserable Pixel Buds.
Camera with new software features
In contrast to the competition, Google is again this year relying on a single main camera , which again has a resolution of 12.2 megapixels and an f/1.8 aperture. Of course, the manufacturer has worked diligently on the software again and promises even better photos than the Pixel 2 XL, which was able to outperform competitors' dual and triple cameras.
Google doesn't want to get by without a dual camera and has placed it in the notch. There are two sensors with 8.1 megapixels each, one of which has a variable aperture (f/1.8 or f/2.2) and the other is responsible for wide-angle shots.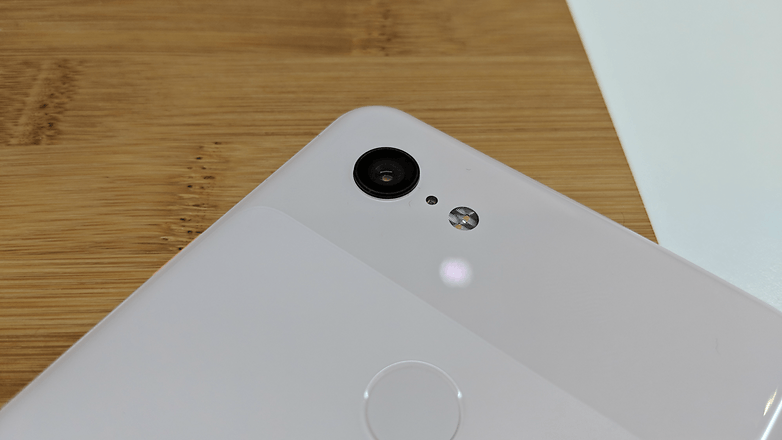 Of course, Google has worked on the algorithms to improve the portrait mode and get even more out of HDR recordings. Video recordings in 4K quality can still only be made with a maximum of 30 frames per second. It's also possible to do Full HD recording at 30, 60 or 120 frames per second. HD video at 240 frames per second is also possible. There's still no time-lapse function.
New software features for better photos
Google has done a good job with the camera app. The different modes are now lined up horizontally above the viewfinder and you can switch between them with lateral swiping gestures. Almost all manufacturers now do this, but I found the side menu easier to access. There are two new modes:
Top Shot is designed to make sure that everyone has their eyes open when you take a picture of several people. The Pixel 3 XL creates continuous shots and merges the areas in such a way that in the end everyone is actually looking at the camera and isn't blinking.
Group Selfies uses the front camera and the larger viewing angle to shoot shots of larger groups with the selfie camera. In addition, it's now possible to adjust the extent to which your selfies are retouched. Until now, you could only turn this feature on or off.
Night Mode Google finally takes care of the biggest weakness of smartphone cameras: Photos in difficult lighting conditions. Here, an AI should help with noise reduction and reveal more details than before. This will also be updated to older Pixel Phones.
Google has also integrated a feature of its own Sefissimo app into Pixel 3 XL. This allows you to automatically shoot photos over the front camera when you smile, wave or make other grimaces into the camera.
The battery has shrunk
On paper, the Pixel 3 XL's battery has been slightly downgraded compared to the Pixel 2 XL . The battery capacity is a bit smaller at 3,430 mAh. However, optimizations in the software are meant to provide an equally good battery life.
This year, the Pixel 3 XL's isn't only charged via the USB-C port on the bottom of the device. Google was one of the first manufacturers to integrate wireless charging into its models, but then stopped doing so a few years ago, and now the technology is making a return.
Google Pixel 3 XL technical specifications
Dimensions:
158 x 76.7 x 7.9 mm
Weight:
184 g
Battery size:
3430 mAh
Screen size:
6.3 in
Display technology:
AMOLED
Screen:
2960 x 1440 pixels (522 ppi)
Front camera:
8.1 megapixels
Rear camera:
12.2 megapixels
Flashlight:
LED
Android version:
9 - Pie
RAM:
4 GB
Internal storage:
128 GB
64 GB
Removable storage:
Not available
Chipset:
Qualcomm Snapdragon 845
Number of cores:
8
Max. clock speed:
2.5 GHz
Connectivity:
HSPA, LTE, NFC, Bluetooth 5.0
Early Verdict
The Pixel 3 XL is a solid phone, but from our initial testing it's not an outstanding upgrade over its predecessor. It has a faster processor and certainly a better camera. The dual front camera and display with the notch as well as some of the features and wireless charging make the difference. But if you're satisfied with the Pixel 2 XL, you won't find many reasons to pay a thousand dollars for this device, even if some people certainly will.
If you're looking to purchase the Pixel 3 XL or another model from the previous year, you'll probably get a successful package of current hardware that perfectly fits with the software. From my personal point of view, it will be especially exciting to see whether Google will still be ahead of competitors' cameras with just a single camera.
Of course, we'll be following up on all of this as soon as our Pixel 3 XL test device arrives at our editorial office. We should be able to clarify whether the smartphone is worth the high asking price. Until then, please let us know if you have any comments or questions about the device, and we'll take them into consideration for our final review!