Google Play 25 Cent App Sale Ends Today. Don't Miss Out!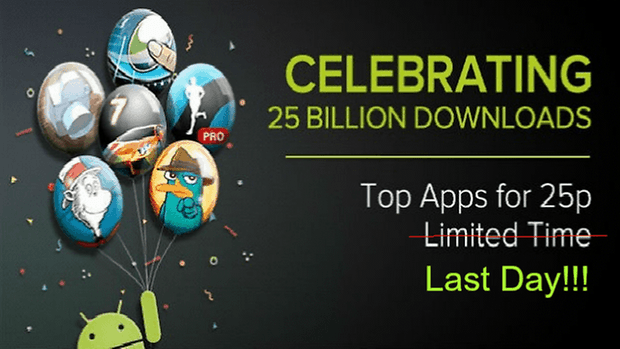 Over the past week while I was sitting at home recovering from some serious dental work, I had a chance to go on a major shopping spree on the Google Play Store. I must have bought at least 15 of the 25 cent apps that Google had on sale to celebrate their 25 billionth download, and I was really pleased to get such a bargain price on so many apps that normally cost 6 or 7 bucks. Today is the last day of the Google Play sale, and is your last chance to get some normally expensive apps/ games for one hell of a low price!
Remember the hands on review I did of a Tegra 3 game called Horn (the one I praised as one of the best mobile games ever made)? That title normally will cost you 7 bucks, but today, you can snatch it up for a quarter. If you're into mobile gaming and have a Tegra 3 device, do yourself a favor and get it NOW. It's very rare that such quality is found in a mobile game, and you will not regret picking it up. You can get it on Google Play here.
Another game that I had always wanted to buy, but didn't because I just couldn't justify the price tag, is The Dark Knight Rises. I loved the movie, I have 2 batman titles for my Xbox, but I chose to go with The Amazing Spiderman instead of dropping 6 or 7 bucks on the Android game. But today, 25 cents baby! I purchased the game and immediately regretted choosing Spiderman over this title, as Batman is a much better game (in my opinion anyway). Do yourself a favor and get it from here NOW!
Sketchbook Pro is also on the list of apps on sale today, and I bought this great drawing app even though I can't draw a stickman to save my life. You can pick it up here. The other apps (in addition to the ones I just mentioned) that you can get today for 25 cents are:
Haunted House HD
Smart Tools (I bought this one as well, as you can do some very cool stuff with it)
Nova Launcher Prime (best ICS/JB launcher on Android in my opinion)
Great Big War Game
Scramble With Friends
Kids Numbers and Math
Guns'n'Glory WW2 Premium (I also have the free version of this. Really addicting!)
Gravity Guy (looks awesome...I might have to snatch this one up as well)
Air Control
Air Control HD
SPY Mouse
If any of those apps/games are on your "considering to buy" list, then get them now at a discounted price while you still can! The full list of apps on sale can be found here.
So clear out your internal memory, pull out your credit card, and get these great apps at a bargain price while you still can!
Picture credits: media.t3.com (edited by myself)