It's Official: Google Will Be Presenting the New Nexus on October 29th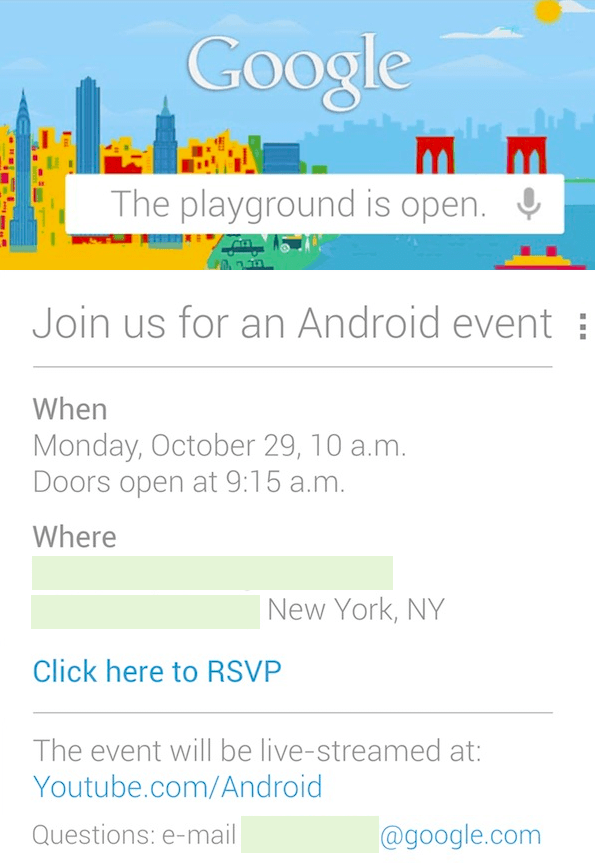 Will the new Nexus be manufactured by LG?
That's the question we're expecting Google to answer on October 29th, when the company holds a press conference in New York to announce the next Nexus and Android 4.2.
A press invite has been sent out to 29 lucky journalists, with the header reading "The playground is open" –the same motto Google used when hyping their Nexus 7 tablet. Therefore, it is virtually certain that the next Nexus will be unveiled at this event. The LG Nexus 4 has now repeatedly shown up online and we're pretty sure this is the device that we'll be seeing in New York. It's also possible that other Nexus smartphones will be unveiled by Samsung, Sony and HTC. Maybe Google will also show off a 32GB version of the Nexus 7, or possibly even a 10-inch Nexus tablet.
It's no coincidence, I'm sure, that Microsoft is unveiling their Windows Phone 8 Mobile OS on the exact same day. Who will steal the show? We'll have to wait and see...