Google Talking Shoe Brings Android To Your Feet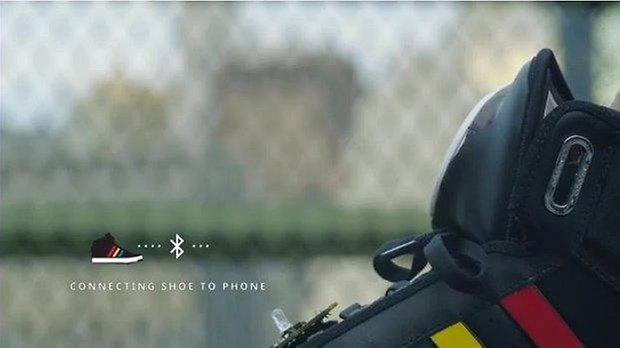 Is Google about to jump aboard the fashion technology divide with what seems to be their latest release, the Talking Shoe? Well, Google's Talking Shoe remains a (pardon the pun) talking point at this moment, where it has been spotted at SXSW (South by Southwest) in Texas, integrating it in a pair of stylish looking Adidas high-tops.
The Talking Shoe idea came about thanks to Google's move in pushing forward a new initiative that they have called Art, Copy & Code, which they hope will help reinvigorate the advertising industry by causing them to rethink how things work. The Talking Shoe is the start of this initiative, revealed at SXSW and is part of a team effort between groups YesYesNo and Studio 5050.

Founder Zachary Lieberman of YesYesNo, who has called himself a self-proclaimed artist and hacker, has joined forces with Despina Papadopoulos of Studio 5050, who is also a founding member of Studio 5050 and wears the hats of an interactive designer and design strategist. The Talking Shoe has been described as a pair of "smarter sneakers" intends to display advertisements using real time data that are displayed for onlooking prospective consumers.
"Talking" suits this pair of shoes perfectly, as it offers a totally new platform for advertising - one of Google's strengths. This pair of sneakers that is being paraded at SXSW at the moment will feature an accelerometer, gyroscope, Bluetooth connectivity and a rather large speaker on the tongue of the right sneaker, allowing passers-by to hear what it has to "say", hence its name.
Each pair of Talking Shoes will be hooked up to the Internet, and it ends up with unique opportunities to connect both physical objects to digital ad spaces. Each move of the user will generate data for the accelerometer, gyroscope and pressure sensors, which are then transmitted to a web app on your smartphone which is translated in real-time, into a particularly funny and motivating commentary.
Will the public space get a whole lot noisier from now on? Who knows? Would you like to see the Talking Shoe from Google actually take off in a big way?