AndroidPIT Hands On With Chameleon: A Better Homescreen Beta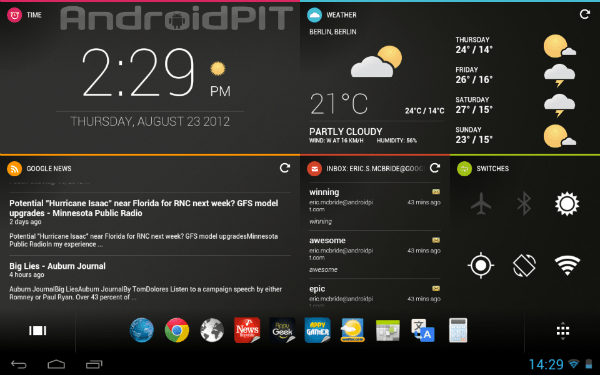 AndroidPIT has extensively covered the Chameleon for Android project ever since it debuted on Kickstarter, and after having a 2 part interview with their CEO, we couldn't wait to get our hands on an early version. I have been running the early alpha build on my tablet for a few weeks now, but its limited test functionality kept me from using it as my daily homescreen replacement. But that has now changed, as Chameleon rolled out the official beta for the device late last night, bringing more widgets, functionality, and improved performance. Although the public release is still a few weeks away, I wanted to show some screenshots of Chameleon in action on my Transformer Prime, and to give my early impressions of how it works. My verdict: It still has a little way to go, but is VERY cool.
Chameleon is a tablet (phones coming later) homescreen replacement that adjusts itself to your needs. When you go to work, it reads your wifi (or GPS location) and moves to the screen to display apps that you have selected that are work related (Email, calandar, ect). When you get home, you can set it to move to a screen with social networks, pictures, Netflix, and so on. It's very customizable, and you can set rules for how you want it to operate based on where you are. You can add as many homescreens as your tablet can support. I am currently only using 2, as the available widgets in the beta version are limited to the following:
Clock
News
Weather
Googlemail
Twitter
Facebook
Instagram
Switches (wifi toggle, ect)
Here are some screenshots of the interface: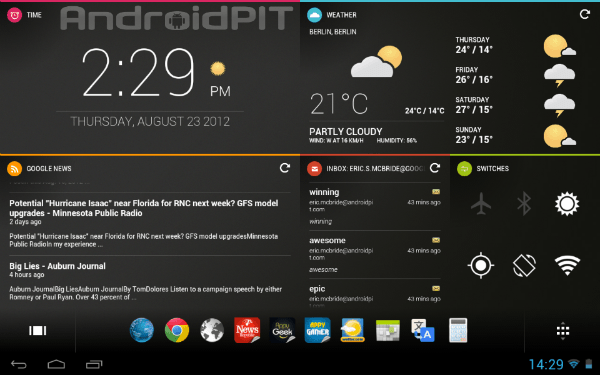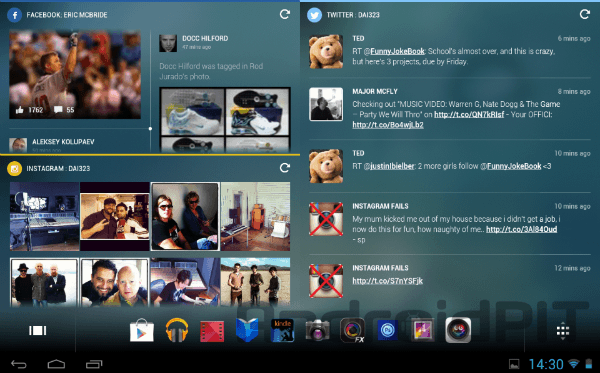 I really like the look of the widgets, and Chameleon has informed us that the following will be released with version 1.0.0:
Calendar
Clock
Facebook
Gmail
Google +
Instagram
Media Player
RSS Reader
Switches
Weather
YouTube (Instead of Netflix as the NF API was severely limited in functionality)
So with 8 widgets now, and another 3 to be added for version 1, you'll have plenty of options for decorating your screens the way you like.
The widgets are all resizable and look great, and in terms of performance, the company has really achieved a seriously cool product. I don't experience ANY lag when swiping between homescreens, and apps pop open very quickly when clicking on the widgets. The app drawer is also really nice, and everything runs very smoothly. I am really very impressed with what I see so far: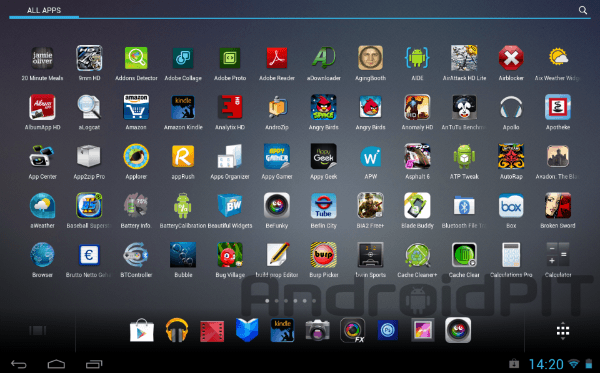 The only thing that will take getting used to is the fact that you can't (so far) use any other widgets on your screen other than the widgets you are provided with from Chameleon. That's honestly kind of a bummer, but probably necessary in order to keep to keep performance so smooth. But considering this homescreen replacement is all about widgets, I would expect that the Chameleon team will be constantly adding new ones.
As shown in the screenshots above, you can choose apps (not widgets) to set along the bottom of the screen from your app drawer. I have added 10 on each screen, but I'm not sure if there's a cap on how many you can add. Here are a few more screenshots that demonstrate how you add widgets, additional screens, wallpapers, and rules for each screen: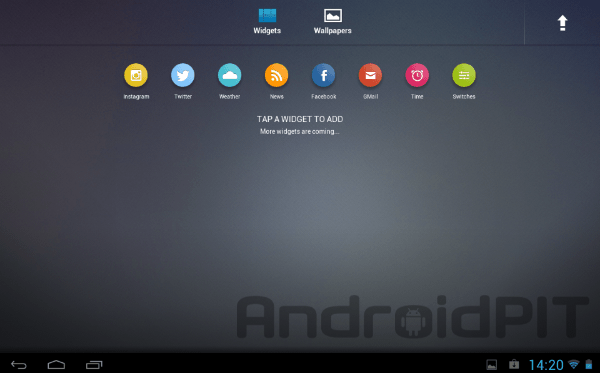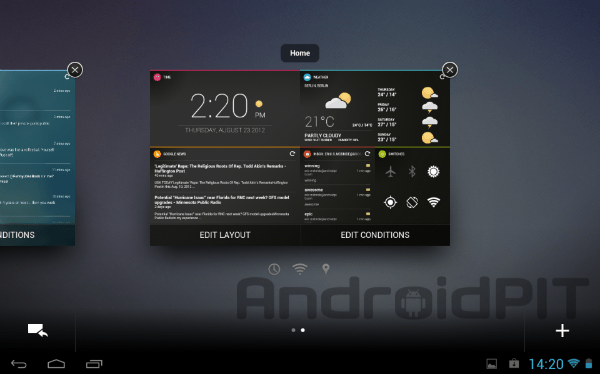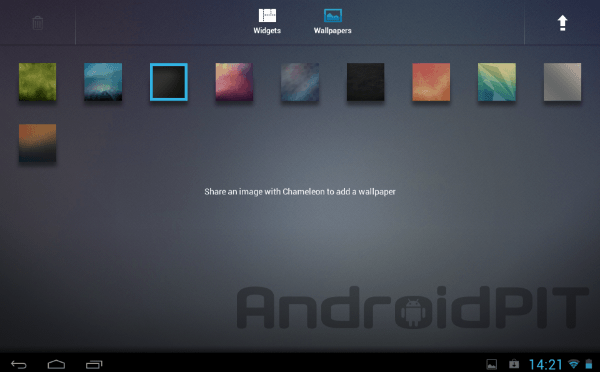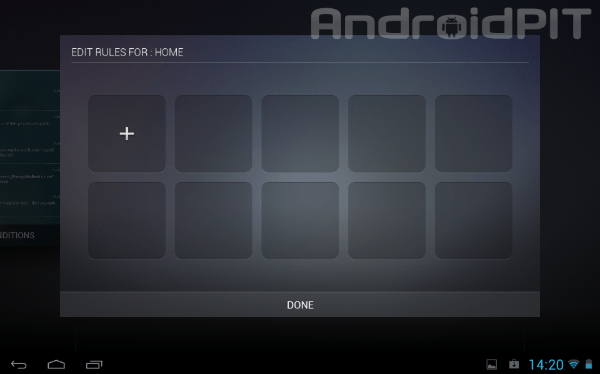 And here's one where the tablet is flipped to portrait mode: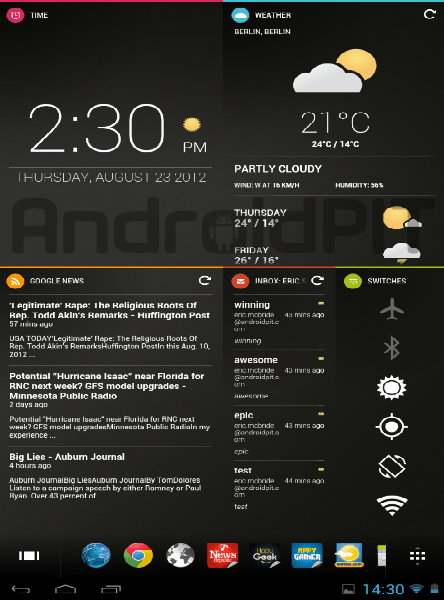 Chameleon is aiming for a public release on September 14th. 7inch and 10 inch tablets are both supported, and the team has confirmed that Chameleon runs great on the Nexus 7. Folders are also being added, as well as updates for the settings panel and a "Shout Outs" panel (not sure what that is yet).
Chameleon is still in early stages, and although it still needs a little work, I am LOVING IT so far. I will definetely keep this as my homescreen for some time to come, and I can already say that as a homescreen, it's one of the most unique, and best, that I've ever used. It's smooth, fast, the list of widgets is growing and growing, and is extremely intuitive. Chameleon will also come to phones in the future, and I for one am really impressed with the direction this project is headed.