AndroidPIT Hands On With The Samsung ATIV Windows 8 Tablet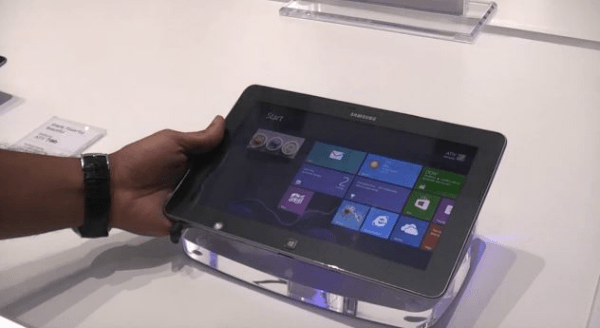 If I had to describe Samsung's Ativ Windows 8 tablet in 3 words, those words would be fast, powerful, and sleek. Android wasn't the only star of the show in Samsung's new product lineup at IFA this year, and after getting a brief hands on one of their new Windows 8 tablets, I have to admit that my first impressions are very good. Is it a cool device? Yep. Is it powerful and fast? Yep. Is it a threat to Android tablets/ Apple's iPad? Too early too tell. Could I see myself buying one? You betcha.
The first thing I noticed about the tablet is that it looks and feels a lot more polished and premium than Sammy's Android tablets. It's very light, incredibly thin, and has a brushed aluminum rear panel that feels amazingly comfortable in the hands.
The device ships with 2GB of RAM, runs a powerful Qualcomm Snapdragon S4 1.5Ghz processor (it really gets the job done), and runs Windows RT. Samsung also debuted another tablet that allows you to switch between Metro UI and the standard Windows interface, which will naturally be the more expensive of their Win 8 devices, and I will do my best to get some time with that device ASAP (that device runs an Intel A5 dual core processor and has 4GB of RAM. POWER).
The display on the device was very sharp, and the speed and fluid transitions are certainly very impressive. The Ativ also has a micro HDMI port, and a USB port. As with all Samsung (and Microsoft) products, pricing will most likely be what makes or breaks this device, and although Samsung didn't mention anything about pricing, I can't imagine these devices selling for less than an iPad. But you never know right?
Here is a brief hands on of the Ativ Tablet. I shot the video literally seconds after getting to it, so my apologies for not knowing a bit more about specific features.
You can watch the video below (Youtube link here):
I am honestly very impressed with this tablet, and could easily imagine myself buying this device, especially considering the variant that allows you to switch between Metro UI and standard Windows (that model also has a keyboard dock). But again, until the price in announced, it's simply too early a tell if consumers will embrace it.
What do you guys think? A threat to Android/Apple, or a nightmare for Microsoft?
Let me know what you think in the comments below!