Hangouts vs Skype: do we have a new VoIP champion?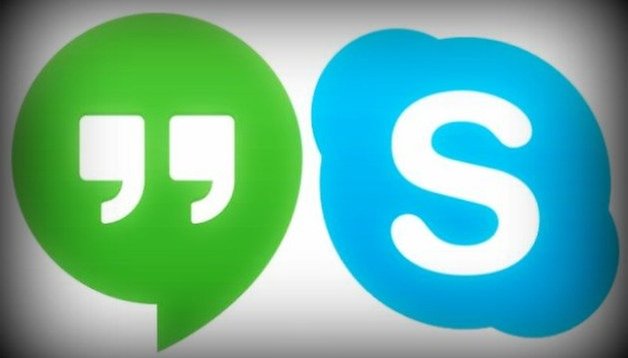 Skype has always been there. It doesn't exactly provide the results you always want in terms of call quality or frame rate, but it is such a part of everyone's web and Android experience that it's hard to remember a time when you didn't use it. With the latest update to Hangouts bringing full inbound and outbound call functionality to Google's one-stop-communication-shop, which already has video calling, SMS, MMS and instant messaging support, the question needs to be asked: do we now have a new king in the VoIP space? Here's our Hangouts vs Skype comparison.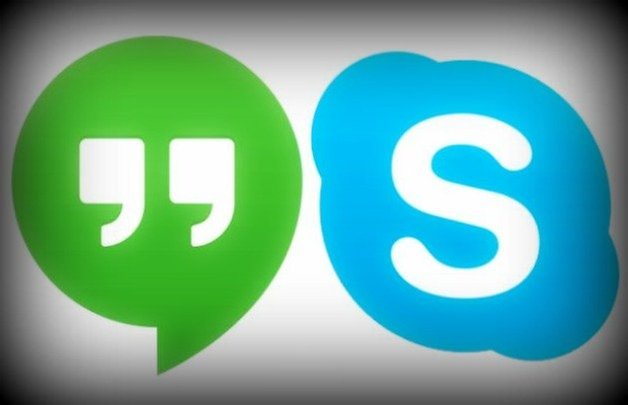 Hangouts vs Skype: interface
Hangouts now has a new Material Design theme. Skype is still rocking their refreshed interface from a year ago. Hangouts is the green machine while Skype is big blue. Take a look at the following screenshots and decide which one you prefer.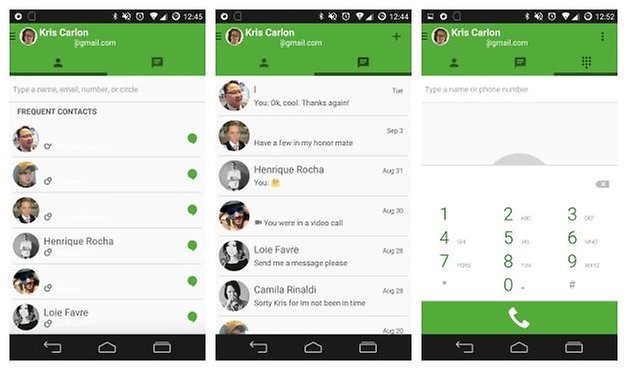 Both are based on tabs but Hangouts offers three tabs for contacts, chats and dialer with a swipeable navigation drawer to the left, Skype has three tabs for chats, favorites and contacts with the dialer shortcut at the bottom. New chats in Hangouts are created via a + icon in the top right, and Skype uses a speech bubble in the bottom row. In both apps, video calls and regular calls can be handled from individual contact's profile pages.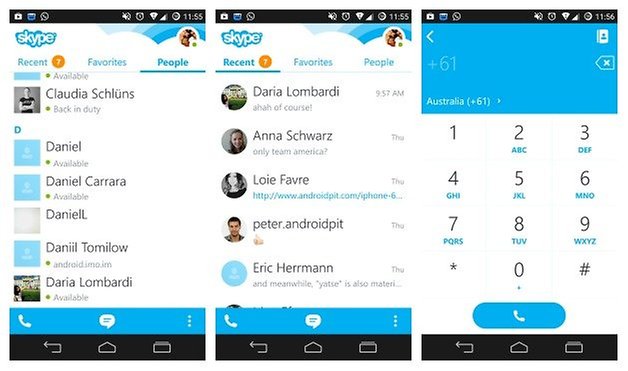 Hangouts vs Skype: features
If you install the new Hangouts Dialer along with Hangouts you will have instant messaging, SMS and MMS, video calling to Hangouts contacts, phone calling to anyone (including free calls in the US and Canada) and Google Voice integration with low cost international call rates. Skype offers instant messaging, video calls to Skype users and phone calls to anyone with low international rates.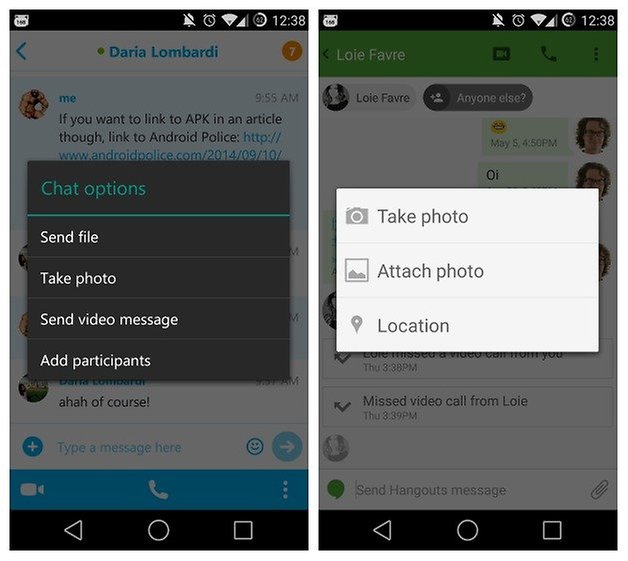 Hangouts lets you attach photos or location data to your Hangouts but Skype gives you the full range of attaching files, photos or video messages to chats. If you have Hangouts enabled as your default SMS app you can switch between sending messages as either instant messages or as SMSes. Both apps offer free group video calling for up to 10 participants and both services can be used simultaneously on the web and on Android.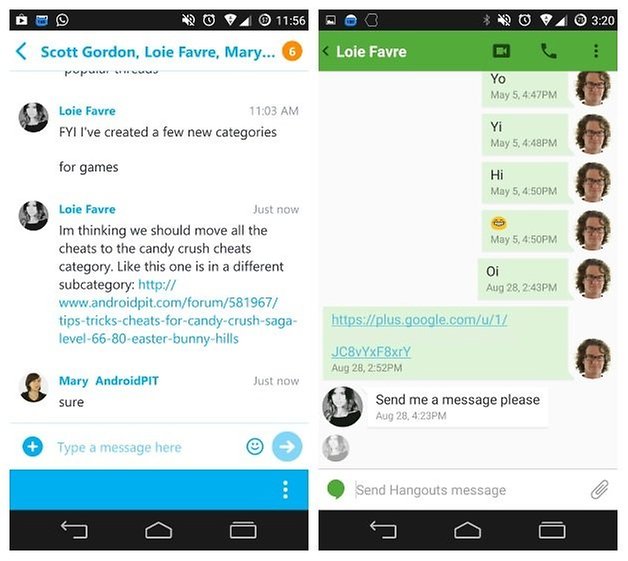 Hangouts vs Skype: quality comparison
Skype is notoriously patchy when it comes to video call quality, with terrible frame rates, slowdowns, freezes, drop out and pixelation all being a common part of the Skype experience. Things have improved recently, and if you have a rock solid Wi-Fi or data connection many of these issues might not bother you, but poor video call quality is a persistent VoIP issue. Hangout doesn't get out scot-free either, as you'll see below.
I did some quick side by side tests on the same Wi-Fi connections with my good friend and colleague Loie Favre. Of course, the strength of your Wi-Fi network and the quality of your particular connection might present slightly different results, but here's what we found when we compared Skype and Hangouts one after the other.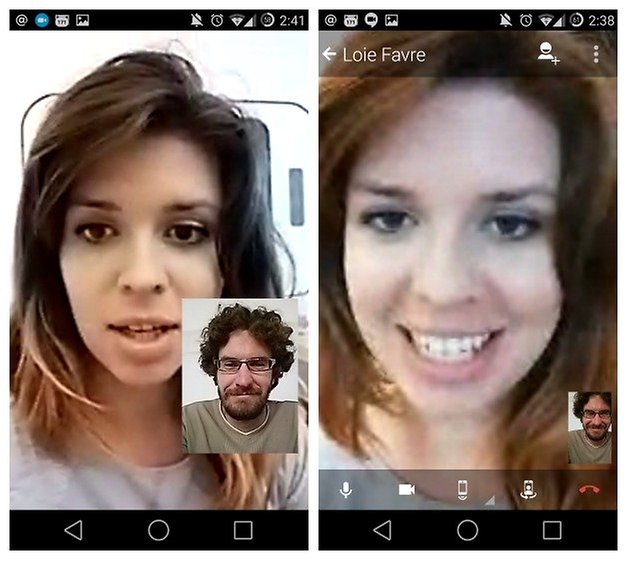 Hangouts vs Skype: video quality
The video quality for Hangouts tended to be pixelated and patchy at the beginning and then smooth out and speed up after a short while. Skype's video started well (but not perfectly) but as always, was prone to all sorts of weirdness at random times, including audio glitching, jumpy frame rates and the good old robot voice. Take a look above at the first few seconds of video quality.
Skype's sound quality in video calls was pretty distorted and had lots of strange high pitched and squeaky audio artifacts. In video calls, Hangouts sounded better to my ear. Here's another screenshot from each video call after the image had settled down a bit. I sort of prefer the quality of the Hangouts image and the fact your own video image is much less intrusive, but Skype gives a bit more life to the subject in terms of color. You decide which one you think is better.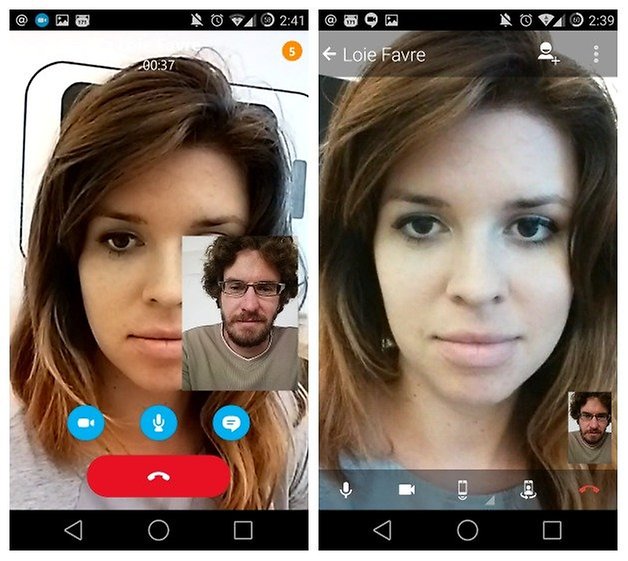 Hangouts vs Skype: call quality
For Wi-Fi phone calls, Hangouts answered on Loie's phone with video and on speaker phone, which is distinctly weird, especially if that's totally inappropriate for the setting in which you answer a call. While Loie could switch off video on her end she couldn't disable speakerphone. We tried this multiple times and got the same result.
Skype answered the way you'd expect. In our little test, Skype had better sound quality during Wi-Fi phone calls whereas Hangouts had a bit of general background noise: the opposite of the experience with video calls. As far as paid calls went it all sounded equal. Depending on what you plan to use Hangouts or Skype for more – normal calls or video calls – then you might want to pick a service based on the best audio or video quality for your particular use case. Again, your individual experience may vary compared to ours.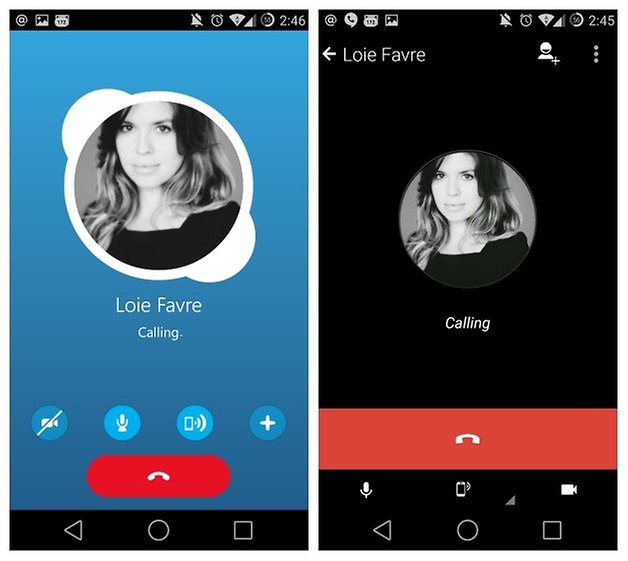 Hangouts vs Skype: call rates
Call rates are dependent on where you are calling from and to. Check out call rates for Hangouts and Skype's call costs and draw your own conclusions.
Hangouts vs Skype: verdict
I don't want to tell you which service is better. You might have a long and beautiful history with Skype, whereas mine has been about as patchy as the video calls I make with it. So perhaps I am subconsciously looking for an alternative, but I like Hangouts' Google integration, I prefer the video calling quality and I like that I can have all of my SMS, MMS and IM messages in one place, along with video calls and phone calling.
Skype is still my choice for international calls though, although it is still early days for Hangouts on that front, and I was more impressed by the call connections in Skype when making standard calls. As with all free apps, it doesn't hurt to try them both out and see which one suits you better. But hit the comments below and let us know which service you think is best or if you simply use both of them.