Homestyler Interior Design - Lots of room for hobby designers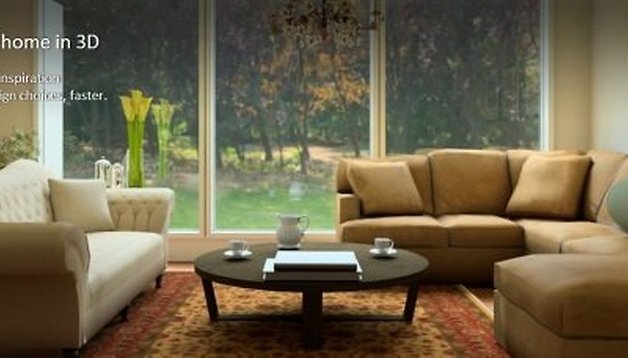 For those who have always wanted to be an amateur interior designer and are keen to get engaged in decor design and layout, an app can be just the thing to further your interest. With the free app Homestyler Interior Design you can experiment to your heart's content and set your room up with furniture that you can also actually buy. How the app does in practice, you can read my review.
Good
✓

Decorate with real products

✓

Collect ideas in the Design Stream

✓

Full scalability of objects

✓

Intuitive user interface

✓

Many furnishings and decorating options
Bad
✕

No color change for furniture

✕

Long loading times

✕

Stability problems
| | | | | | |
| --- | --- | --- | --- | --- | --- |
| Reviewed on | Android version | Root | Modifications | Reviewed version | Latest version |
| Google Nexus 7 | 4.3 | No | | 1.0.0.2.73 | 1.8.5.3.3 |
Features & Use
Homestyler Interior Design is a nice tool for creative minds, bringing a whole package of home furnishings and possibilities to your smartphone. At the beginning you can choose if you want you look in the photo gallery or set up a space yourself. In the photo gallery, you can see and share Homestyler creations. Here you can get good ideas for your own projects and you can even comment on beautiful interiors that you like - but you will first need to sign into the app with an e-mail or Facebook account. Looking is allowed without registration, but being involved in the community is not.
In the photo gallery you can use the handy sorting and filtering features to sift through the thousands of designs based on room type. It is also possible to see the Editor's Picks or expand new and popular creations. Here, not only designs for entire rooms are exhibited, but also individual furniture and decorative objects. Anyone who just wants to see fully furnished rooms can select the 3D Design Stream. Again: reviewing and ''liking'' is encouraged, but only after registration. In the 3D Design Stream the filter functions can be applied the same way as in the photo gallery.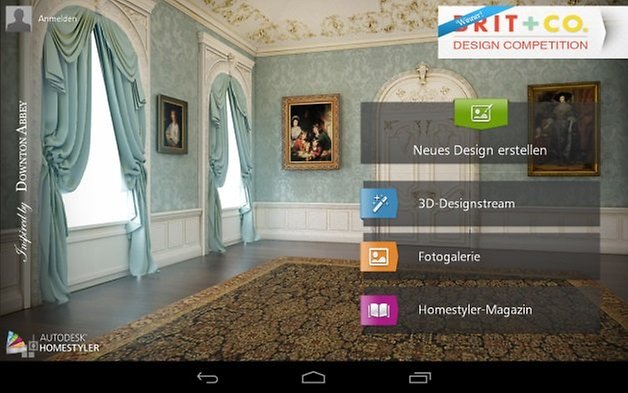 The actual creative part takes place only when you make yourself an interior designer. You select "Create New Theme" and get started! You have three options: either you choose a base image from a gallery or take a photo of a particular room.

Tip: If you want to get your own space decorated, it's best to take a photo when the room is completely empty. Only in this way can you properly stake out the room is by its dimensions - existing textures are not correctly recognized by the app, so an empty room lets you add additional furniture and accessories, but not move your existing couch if it appears in the photo.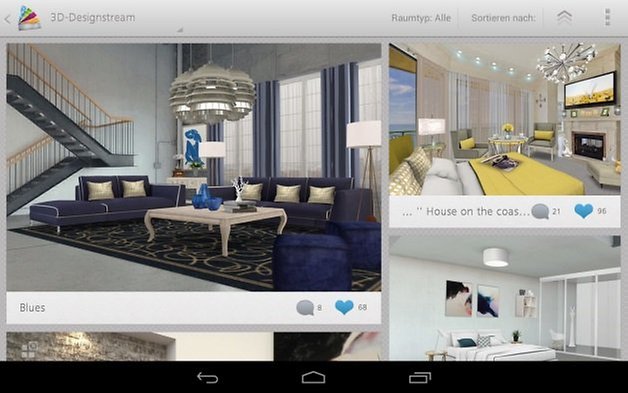 It's easiest at the beginning if you choose a predefined empty space. Homestyler provides many prefabricated rooms, just waiting to be filled by you. Don't be put off by the many existing images and curtains, you can easily delete everything and set up the room from scratch until you get your style and decorating skills up to scratch.
With just a finger you can move or delete any objects you like. Just type what you're looking for in the menu bar and the catalog opens with endless furnishings, divided by room function, new content and special items such as lamps or indoor plants. For every piece of furniture or decoration, there is a detailed product description with prices and availability. Usually, however, it involves design pieces for exorbitant sums.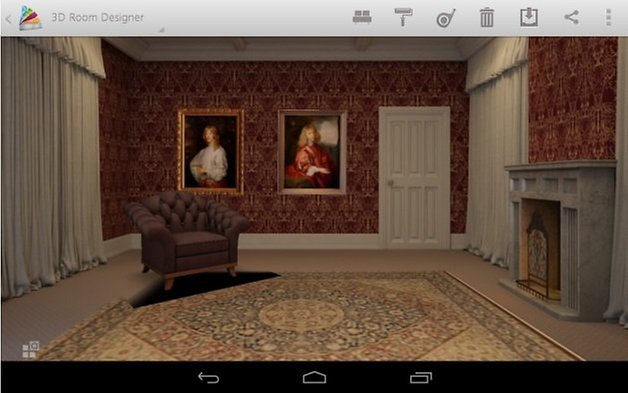 Unfortunately the color of the furniture thus far cannot be changed. However, the items you place into your room fit perfectly in the space by scaling to the dimensions of the room, depending on how far you move them forward or backward. Finished room designs can only be saved with registration.
In your room you can also change the wallpaper and paint the walls. The latter did not work properly in the test, however. There were always long load times and a delayed response to touch input too. On the plus side, the app brings a professional directory with renowned designers and architects as well as a home style magazine for the very latest styles. More realistic effects can also be achieved with the inclusion of effects such as shadows and light via the catalog.
Screen & Controls
The use of Homestyler Interior Design is intuitive and with a few taps you can whip up a stylishly decorated room in no time. Individual objects are well resolved and inserted to scale into the room especially well. A simple two-finger gesture can simply turn furniture and decorative objects to the correct angle. The only thing that tarnishes this app's fairly simple operation is the stability problems I mentioned above.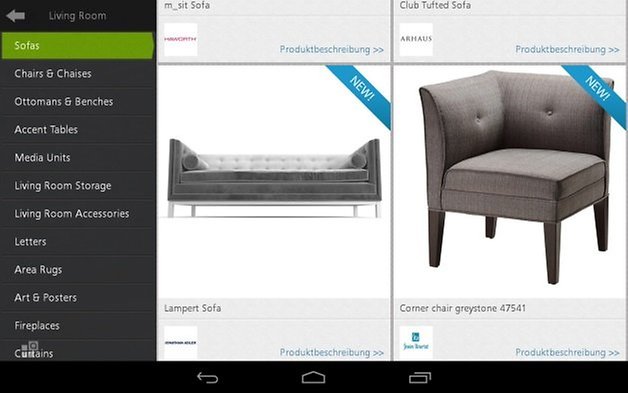 Speed & Stability
The app is not the fastest. Even on a stable wireless network, there are occasional crashes and disproportionately long loading times when you're selecting a new room or objects. This can be quite annoying and quickly take the fun out of it. According to user comments the crashes I experienced are not uncommon to Homestyler Interior Design users.
Price/Performance Ratio
Homestyler Interior Design is free. The site provides interesting content for free too, but to use the app in full, you must enter your e-mail or Facebook details. In the app itself, there are no in-app purchases or hidden costs.
Final verdict
Overall, Homestyler Interior Design has a good concept and has not cut corners on content. The amount of objects and furniture offered can hardly be surpassed by any other free app. Artistically there are few limitations unless you just want to experiment without registration. The social network that is integrated into Homestyler is an added bonus for communicative designers. Only one thing spoils the pretty interior design app: the stability problems. In the test, there were several crashes and the intuitive user interface fell victim to the long load times.