How does the Galaxy NX hold up when taking photos?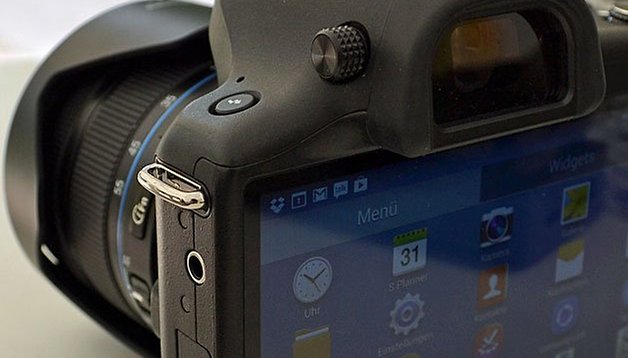 How good are photos taken with the Android Galaxy NX camera? In this demonstration, we've compared a regular Nikon SLR camera to the Galaxy NX in a unique area: Spree Park. What better place to test out some camera action than in a decommissioned amusement park in the heart of Berlin? With Ferris wheels and rollercoasters still in place among the overgrown bushes and plant-life, it was an ideal location to test out the Galaxy NX.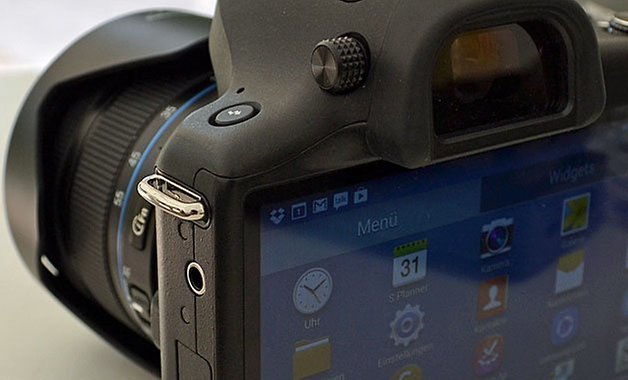 Samsung allowed a few journalists to test out the Galaxy NX yesterday in one of the most mysterious places in Berlin. Where there was once the largest (and only) amusement park in the German Democratic Republic now remains only overgrown weeds breaking through the concrete and rusting steel beams throughout.
$470 vs $1700
And here we come to the two test candidates. For our test, we chose the three year old Nikon D3100 with its standard lens (Nikkor DX 18-55mm) which is currently available from Amazon for around $470 dollars. This is significantly cheaper than the current price tag for the Android powered Galaxy NX that is LTE compatible. It's very apparent that the two models are a world apart, in terms of price and also what is behind the camera. The Nikon itself is a classic entry-level SLR and the new Galaxy NX is more of a computer than a camera. In the end, it all comes down to image quality.
| | Samsung Galaxy NX | Nikon D3100 |
| --- | --- | --- |
| Image sensor | APS-C CMOS, 20.3 megapixels | CMOS, 14.2 megapixels |
| Dimensions | 136.5 x 101.2 x 25.7 mm | 124 x 96 x 74.5 mm |
| Weight | 495 grams | 505 grams |
| Connectivity | LTE Cat 3 (max. 100 Mbit / s), HSPA + (42 Mbit / s), Wi-Fi, Bluetooth 4.0, GPS | - |
| Display | 4.8-inch, 1280 x 720 pixel LCD | 3-inch LCD, 640 x 350 pixels |
| Lens (in the test) | 18-55 mm F3.5-5.6 | 18-55 mm F3.5-5.6 |
| Operating System | Android 4.2 | Proprietary |
| Price | $1700 | $470 |
Test Setup
Just to make a small note, I don't claim this test to be anything near a professional photo shoot. As such, I'm using both cameras in their auto mode and I've done some editing to the photos in Photoshop to make sure they're in the same resolution. All originals can be found here in our Dropbox folder (for those interested). We also have some comments from our photo experts, Toni Jularic, and George Seebode in their as well. Toni is AndroidPIT's resident photo and video expert and George is our Head of SEO.
One more thing to note: We're focusing mainly on photo quality in this article. If you would like a more technical approach, check out our previous articles on the Galaxy NX.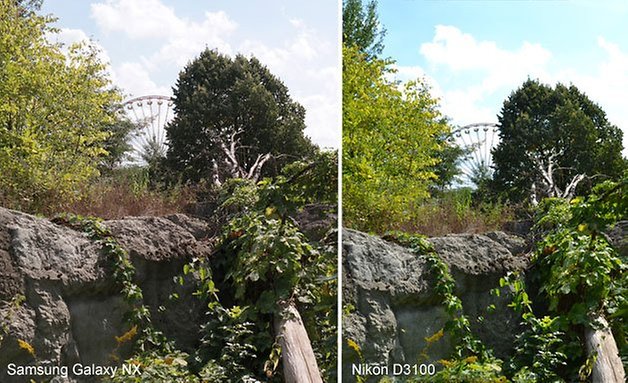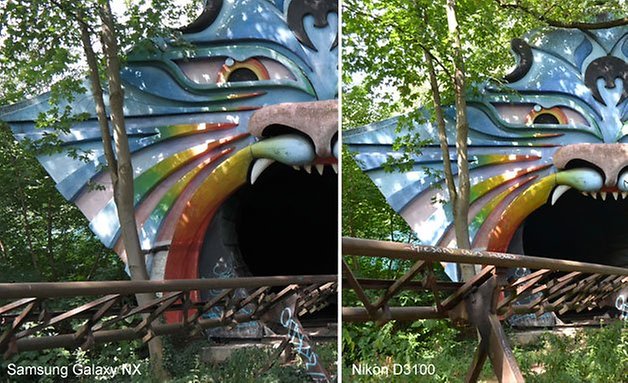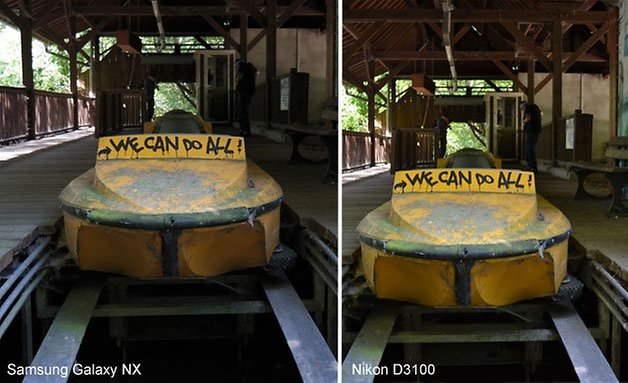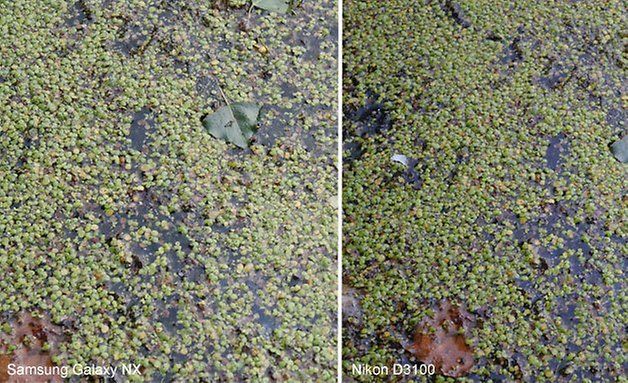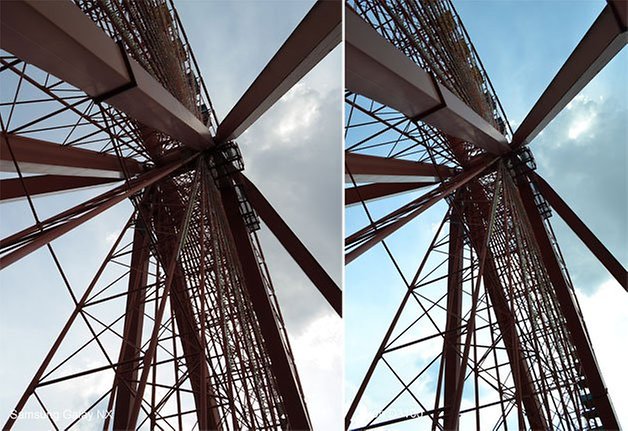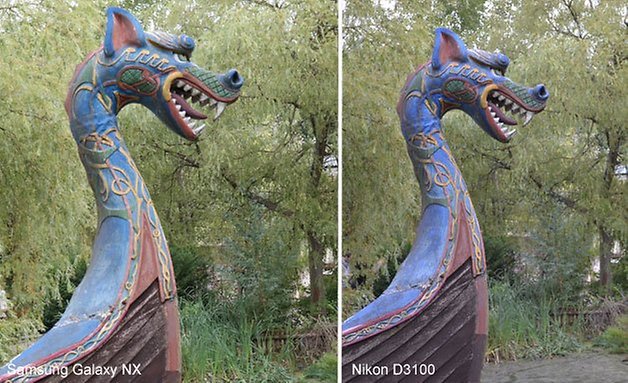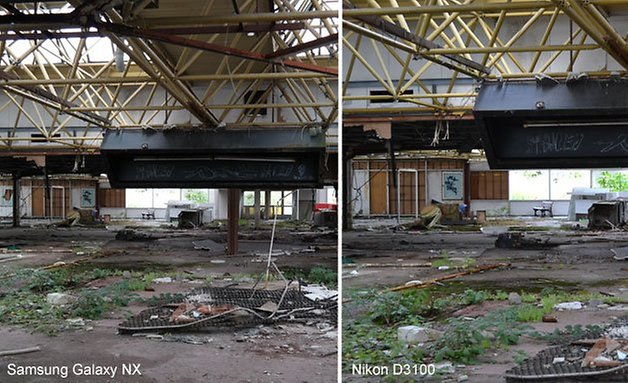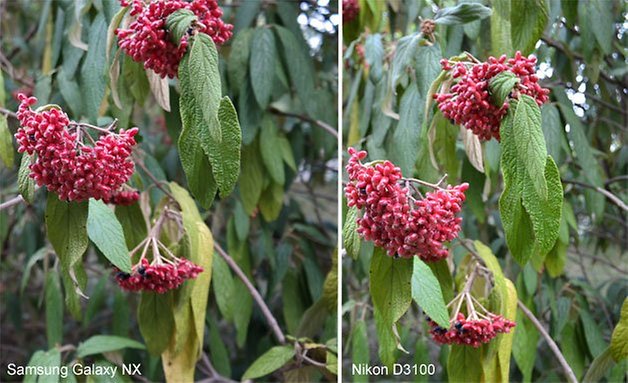 Conclusion
I think George's assessment hits it pretty well. The two cameras succeed in taking some good shots, but for the price tag shouldn't the Galaxy NX deliver more? Although it is four times as expensive as the Nikon, we certainly expected at least a little bit better image quality coming from it. One of the best features though? The ease of uploading photos. When I got home, the 200 or so photos from Spree Park had already uploaded directly to my Dropbox account and I could share them. That is, in my opinion, a great selling feature for the Galaxy NX. As such, maybe in two years' time when the price falls to a level of where it belongs, this would definitely be a device that I would consider buying.