How to automatically backup pictures from Android to access on PC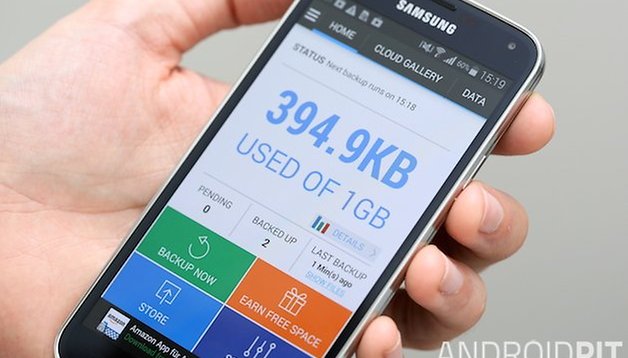 Look! Up there! Skyward! The great cloud is seeping over the hills. Abandon your posts and make haste for the coast, lest you become caught in the bloodthirsty digital demon's poisonous vortex. Despite what you may have heard, or read in our "is cloud storage safe" article, cloud storage isn't all that scary. In fact, it's often incredibly user-friendly. While in the past I would spend time plugging in cables or sending emails to deliver pictures to my PC, now I just take a photo…and that's it. My photos are immediately synced to multiple devices as soon as I've snapped them. So, if you're yet to get on board with cloud storage, here's a list of some of my preferred photo syncing applications with instructions of how to set them up. All are free to download and offer free storage.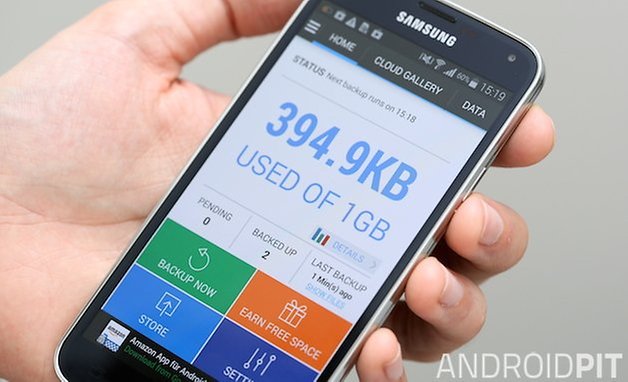 Dropbox
Dropbox is currently my preferred backup utility, you can take photos at your leisure and, providing you have some kind of internet connection, they will automatically sync to your computer within seconds. Just install it on your Android device and ensure you have "Camera Upload" switched on. (This can be configured in the Dropbox settings, and comes with the option of uploading videos and/or photos via Wi-Fi or data plan.)
Dropbox can be accessed on your PC from your web browser, but I recommend installing the Windows client. To do this, sign into your Dropbox account in your web browser, click on your name and select "install", then just follow the on-screen instructions. This will allow for quick access to Dropbox from your desktop.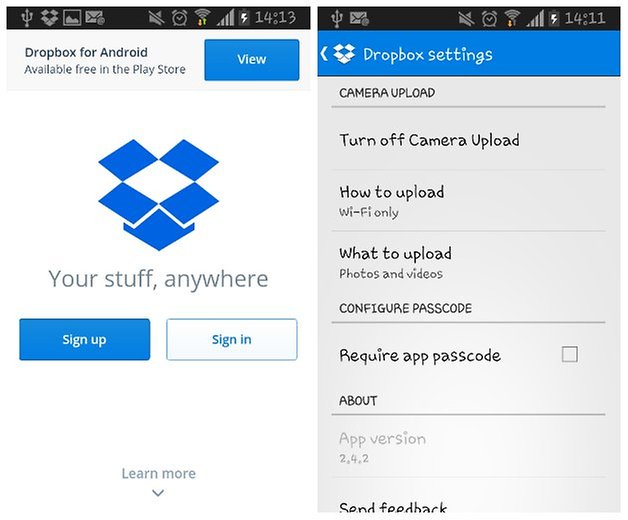 The folder design looks the same on your smartphone as your PC, making for a really intuitive experience, and screenshots taken from either phone or PC are automatically backed up too. It comes with a relatively small 2 GB upload storage capacity, but this can be upgraded for a fee or by completing various tasks, like inviting friends to use the service or installing it on multiple devices.
Google+
Google+ is known as a social network, but it also offers substantial image storing capabilities. After installing Google+, via the Play Store or the Google+ website, you will be asked to make an account (or if you already have an account, simply sign-in). In your Google+ settings, click on the Auto-Backup option, and select "on" at the top of the screen, Google+ will prompt you to turn on "auto-sync" for your device in the Android settings. Click "turn sync on" if it is set to off. Now any photos will be backed up to Google+ immediately after being taken (but they won't be posted on your profile automatically - so don't worry about privacy!) Any photos you already have on your phone will also begin to be uploaded to the cloud.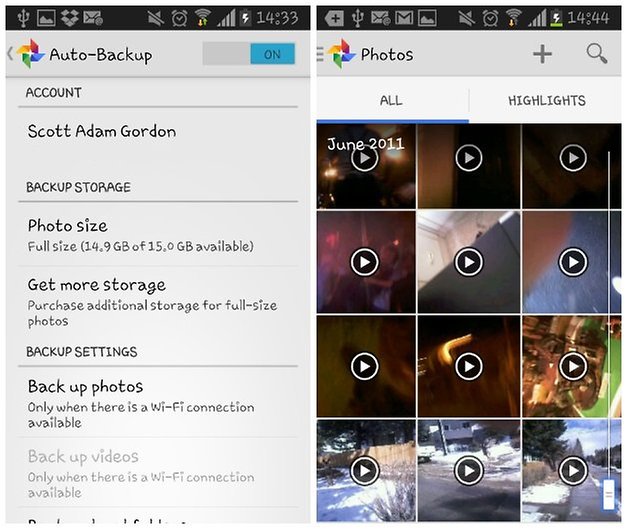 Google+ comes with a whopping 15GB of potential photo storage right away. In fact, any photo up to 2048 pixels in width can be uploaded without even counting towards the 15GB storage space - potentially offering unlimited photo storage. For those wanting simplicity, it may be intimidating to use Google+, a social network, just for backing up photos (you'll likely be asked to make a profile and "add friends to your circles" etc). For mass, free storage, however, Google+ is a very attractive option.
G Cloud
The G Cloud app differs slightly from the others in that you must register for the service via the app in the Play Store, rather than signing up on your PC (with the others, you have either option). Once installed on your device, you are free to sign in online and manage your files in your browser like the others.
Upon installing G Cloud, you are asked what you would like to backup. G Cloud offers much more than just photo storage, backing up messages, call logs, documents and music, amongst other files. G Cloud also has an exciting phone tracking capability, which it offers at no cost, named Find My Android. This is a really interesting security feature that is hard to find for free in apps specifically designed for this purpose!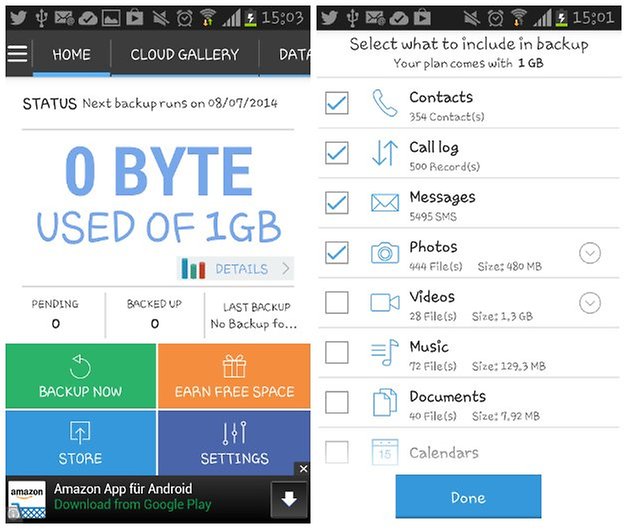 The major downside of G Cloud, and I use the term "major" very loosely, is that while the service is automated - it doesn't upload a picture as soon as it has been taken. Instead, you either enter the app and click 'Backup Now', or you can set it to backup at regular intervals. How big a problem this poses is really for you to decide. I like the immediacy of the other storage apps, and knowing the backup is already taken care of, but the security features and possibility of saving many types of files at once may be a fair trade-off for what G Cloud lacks in speed. G Cloud does unfortunately feature in-app ads, something you won't find in any of the other services on the list, and the small 1GB storage space can be crippling limitation if you want to store high-resolution videos.
Amazon Cloud Drive Photos
Prolific online retailer Amazon features some neat cloud storage, which becomes available as soon as you've registered an account with them. Just sign-up to Amazon for free online, or through the app itself. Once downloaded to your smartphone, Amazon Cloud Drive will inform you that 'autosave' is automatically turned on when you are connected to Wi-Fi, and it will immediately begin to upload pictures and videos when you start the app.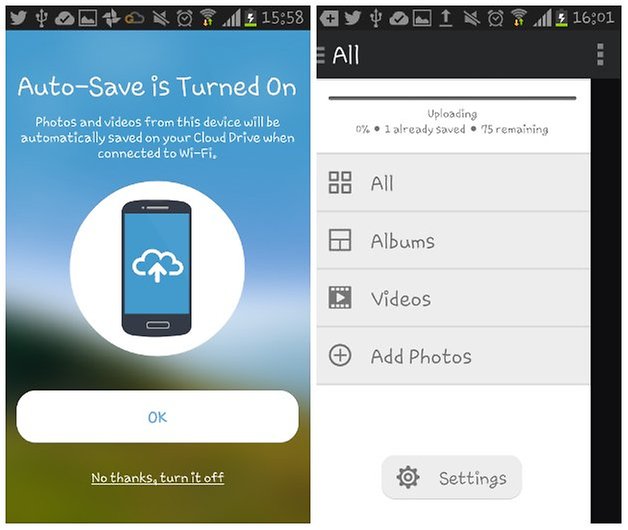 Within the app you have the option to view albums, photos, both, or to simply add media - the interface is crystal clear. You access your cloud storage online via your Amazon account - after signing in, just click the "your account" tab and select "your cloud drive".
If you're a regular Amazon user, and don't wish to setup accounts with Google+ or Dropbox et al, I'd recommend Amazon's cloud storage. It comes with 5GB free space and instant backup. The only downside is that the upload speed, which was very slow in my test.
Final thoughts
Which app should you download? Well as they all offer something different, the decision should be easy. Do you want a large storage capacity and social features? Go Google+. Looking for quick desktop access and intuitive interface? That's Dropbox. Need more than just your photos backed up? No problem, G Cloud backs up anything you could want.
I think Amazon Cloud Drive Photos would be my last choice, just because it's not best in any one category. But I can't deny it's simple to use, and if you don't want the social network features of Google+, it has the next highest stock storage capacity.
What are your favorite photo backup tools?