Private browsing: how to use incognito mode on Android
The benefits of private browsing on Android stretch further than just preventing others from seeing what you have been searching for online. Private browsing, incognito mode - call it what you will, but this feature isn't just for when you want to covertly do some gift shopping, there is far more to it than that. Read on to find out how to browse privately on Android, and why you should.
How to turn on private browsing on Android
Using private browsing, also known as incognito mode, is very easy to do on Android, but it can vary across devices and browsers. Here's how to do it on Chrome:
To turn incognito mode on:
Open Chrome, tap the three dots icon on the top right for more options, then tap New incognito tab.
You can have multiple incognito tabs open at one time, if you like.
To turn incognito mode off:
Tap the square icon on the top right to open your tabs, then close each incognito tab individually or tap the three dots and select Close incognito tabs to close them all.
You'll want to close the incognito windows when you're done to keep people from finding them.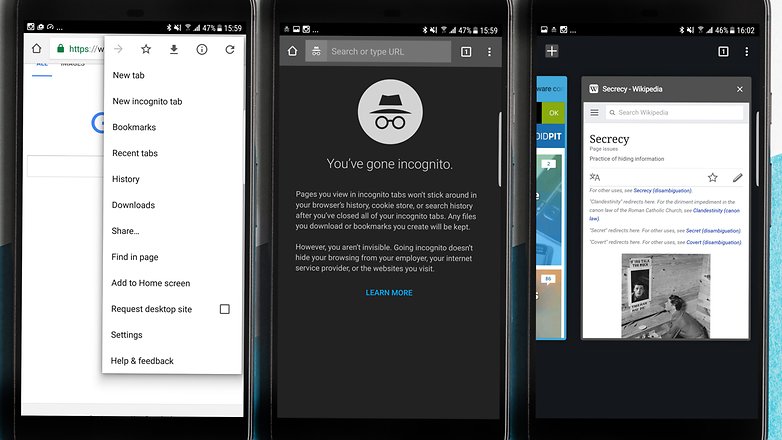 The generic default browser that came pre-installed on your phone might have an incognito mode, too. For example, the Samsung Galaxy S9 has a Secret mode in its Samsung Internet browser. To use it, tap the Tabs icon, then Turn on Secret, proceed with or without a password and you're good to go. To turn it off, go back to your Tabs and tap Turn off Secret.
Popular open source browser Firefox also supports incognito browsing. Here's how it works:
To open a blank, private tab: Tap the Firefox Menu button (either below the screen on some devices or at the top-right corner of the browser) , then tap New Private Tab.
To open a link in a private tab: Long press on a link to bring up a menu and choose Open link in Private Tab.
To view open private tabs: Tap the tab icon at the top of your screen, then tap the mask icon to view the sites you've opened in Private Browsing.
To close a tab, tap the X next to the tab you want to close. You can also close all open tabs by tapping the menu button, then Close Private Tabs.
Why would you want to browse privately?
1. To log into your accounts
Browsers often want to save passwords and log-in details to make logging in easier and quicker on private computers.
It makes sense, who wants to have to log into Facebook every time they want to do a bit of digital stalking? But on a smartphone this is different. Phones get shared, swapped and sometimes stolen.
Logging into your various accounts while incognito means the browser won't be able to save your log-in details or form data. This means that if you happen to log into your own accounts on anybody else's device you should choose a private browsing option there, too!
2. When you don't want to be targeted by advertising
Private browsing won't stop advertisements from appearing, but it does mean that your searches won't be affected by your previous search habits. Google collects data from all over the place to target advertisements and promotional material specifically at you, and if you wish to avoid this and conduct a "pure" search, private browsing is the way to go.
3. To use multiple accounts at once
Have two Google accounts? Want to be logged into both at the same time? Open one normal browser tab and one incognito browser tab.
4. When you want to research something in private
This could be for any number of reasons. Maybe you want to do some gift shopping or research something in secret? Browsing in private means you don't have to worry about anybody else discovering your search habits when they pick up your phone, if you just remember to close your browser window when you are done.
5. For testing and debugging
If you are worried about the effects of your cache and cookie data when trying to run website tests or debugging software, conducting your session in private mode will have a clean user experience.
So there you go, the benefits of private browsing. If you want to be even safer and more private, you could try a VPN, which disguising the location you are browsing from.
Do you use private browsing mode on Android? Which browser do you prefer? Let us know in the comments below.