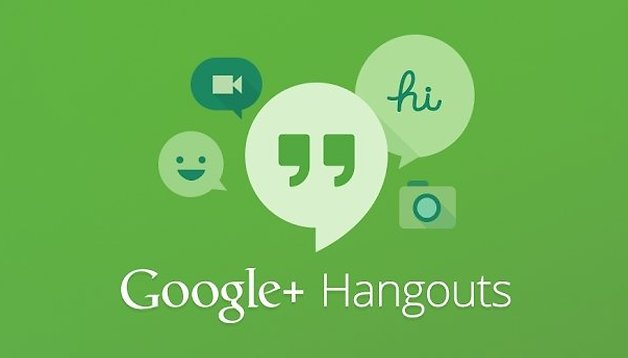 How to manage Hangouts: when one SMS app isn't enough!
If you have a Nexus 5, or have installed Google's Hangouts instant messaging and texting app recently, you may have found yourself a little confused by how the whole shebang works now that you have multiple text messaging apps installed. I'll clear up the confusion for you here.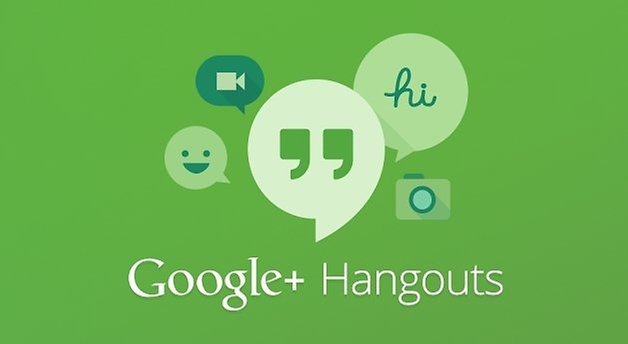 First up, if you have a Nexus 5 you would have Hangouts already set as the default messaging app. If you run a custom ROM like me, or added Hangouts at a later stage, you can set Hangouts as your default SMS app in your device settings - but only if you are running Android 4.4 or higher. Just go to the ''More'' section in Wireless & Networks and you'll see the ''Default SMS app''. Tap that for a selection of your installed messengers. You also have the option to access this area from within the Hangouts settings menu (if you are on KitKat).
Now, if you have any other pre-Android 4.4 device with Hangouts installed at a later date, you'll likely have another messaging app installed already: either the stock Android messaging app or another manufacturer-specific one like Samsung's ChatON. Because you don't have the ''Default SMS'' option in your Android settings, you have to go into Hangouts and ''Turn on SMS'' via Hangouts' settings. If you turn SMS on in Hangouts you will still be able to read SMS in your other messaging app, but you won't be able to reply. It's probably best just to delete the other messaging app (unless you are unable to, of course, either because your OEM won't let you or you don't have root access).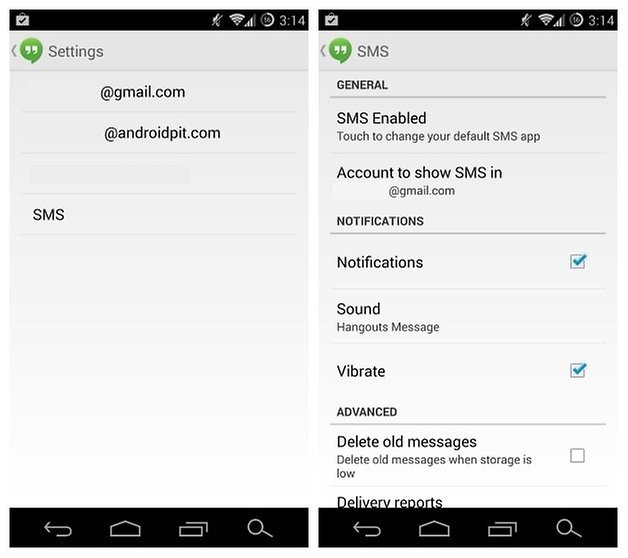 If you're stuck with two apps, you just need to know how to manage them. As mentioned above, you can still read SMS in both but only reply from Hangouts. If your device is running an older version of Android, that is, below Android 4.4 KitKat, then your old messaging app will no longer notify you of received messages (if you have SMS in Hangouts enabled). If you want your old SMS app to be in charge, simply disable SMS in Hangouts (or delete it) and/or switch your default SMS app.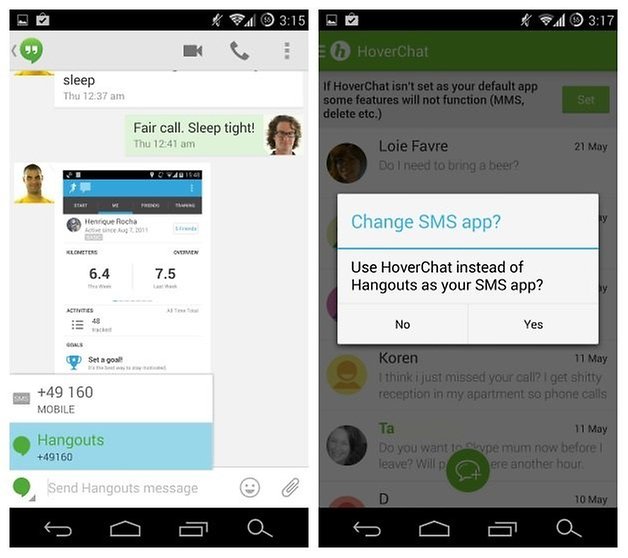 The same goes for any new SMS apps you install (like Hover, for me). Whenever I got an SMS when I first installed Hover, I got double notifications, one chat head from Hover and a notification from Hangouts. I simply had to choose which app I wanted notifications from. You can switch defaults, delete the one you don't use, turn SMS on or off in Hangouts or finally, disable notifications for the unlucky app in your settings menu under Apps or App Manager (depending on your model). It's even possible, for example, to get Hover chat head notifications and then reply through Hangouts, simply by disabling notifications for Hangouts and then manually launching Hangouts when a Hover notification comes in. Not that neat, but it can be done!
Don't forget to check out my three indispensible apps for better texting.
What is your preferred messaging app? Do you still juggle more than one?