How to open and play all file types on Android
Although Android is a largely open system, you can't always read or play every file format. Thanks to the wide range of available apps, however, assistance is never far away. It's usually a simple task of finding the right app for the job. We'll show you how almost any type of file can be opened and played on Android.
What type of file do you want to open?
Get to work with office files
The Play Store offers a wide variety of apps to read and edit Office documents. The Google Drive and Microsoft Office apps are technically just "view" apps - meaning you can view and read the document, but not edit.
If you want to open, edit, save or even convert a DOCX, XLSX, PPT, PDF file on Android, then you're best off downloading one of the specialist apps.
In this case those would be Docs (Google), Sheets (Google), Slides (Google), Word, Excel and PowerPoint. All of them can export PDF files, which most Android smartphones can open thanks to the fact that Google Drive has a built in PDF viewer pre-installed.
File type compatibility
| | PDF | DOCX | XLSX | PPTX | ODT | RTF | ODS | TXT |
| --- | --- | --- | --- | --- | --- | --- | --- | --- |
| Google Drive | Yes | Yes | Yes | Yes | Yes | Yes | Yes | Yes |
| WPS Office | Yes | Yes | Yes | Yes | Yes | Yes | Yes | Yes |
| Microsoft apps | No | Yes | Yes | Yes | No | No | No | No |
Quite a few smartphone manufacturers also pre-install WPS Office. This app contains ads, and if you want to unlock new fonts and convert documents/files on Android, you will need to pay. Nevertheless many users appreciate the seamless dropbox connectivity and good syncing capabilities between smartphone/tablet and PC.
Another worthwhile app to use for those looking for a completely free Microsoft Office alternative for Android is SmartOffice. This app still has a few kinks depending on your device, but it's ad-free, lightweight and regularly updated.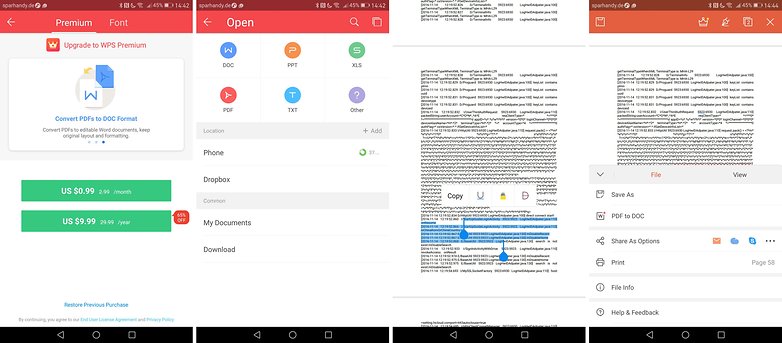 Catch up on your reading with ePub and ebook files
In order for you to open and read ePub and other ebook files you'll need a dedicated ebook reader. We recommend the Moon+ Reader, as it's capable of opening EPUB, PDF, MOBI, CHM, CBR, CBZ, UMD, FB2, TXT, HTML, RAR, ZIP and OPDS files.
A great free alternative to Moon+ can be found in the form of ReadEra. ReadEra supports EPUB, PDF, DOC, RTF, TXT, DJVU, FB2, MOBI and CHM formats, and has no ads or IAPs.
Open, edit, and sort your photos and images
Many phones come with the Google Photos app preinstalled already, which at this point can even handle RAW files. But if you really want your smartphone or tablet to be capable of dealing with every image file out there, we can recommend RawDroid Pro. For $5 |€5,40 in the Google Play store, your Android will be capable of reading the following image formats:
.3fr (Hasselblad), .arw .srf .sr2 (Sony), .bay (Casio), .crw, .cr2 (Canon), .cap, .iiq, .eip (Phase_One), .dcs, .dcr, .drf, .k25, .kdc (Kodak), .dng (Adobe), .erf (Epson), .fff (Imacon), .mef (Mamiya), .mos (Leaf), .mrw (Minolta), .nef, .nrw (Nikon), .orf (Olympus), .pef, .ptx (Pentax), .raf (Fuji), .raw, .rw2 (Panasonic), .raw, .rwl, .dng (Leica), .srw (Samsung) und .x3f (Sigma).
RawDroid is still a solid app, though an older one which may have some compatibility issues. Dedicated photographers should consider Adobe Photoshop Express and Lightroom CC for more advanced features and regular updates.
On the other hand, those who just want to be able to open and view a large amount of RAW file types should be happy with Sharpened's File Viewer, which offers excellent and expansive support for image files as well as other types.
What's the best app for playing video files on Android?
The pinnacle of play-anything desktop media players is VLC. The Android version can play almost all audio and video files (as well as stream) and handle multiple audio tracks, subtitles, auto-rotation of the display and corrections to the aspect ratio.
Volume and brightness can be controlled by gestures, and there's widgets available too. We've got a nice article which gives a little bit more of an insight about codec errors and unsupported audio files.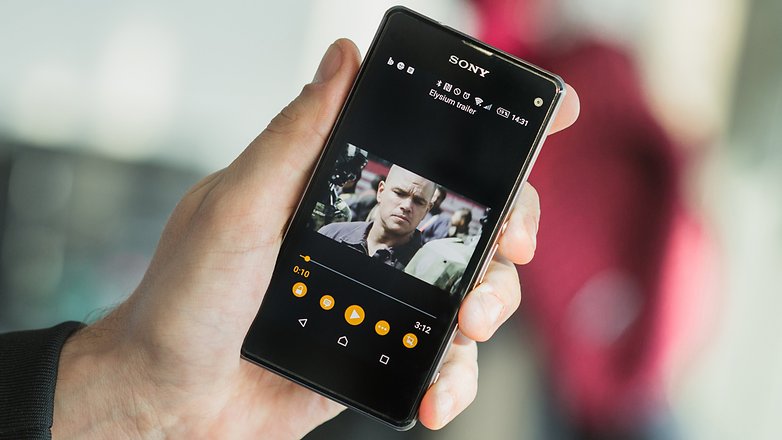 Two other well-engineered video players are MoboPlayer and MX Player, both of which also support subtitles, multi-audio, streams and playlists and can also play back formats that are not supported by the default video player.
The bookmark function is also very convenient: when you leave a movie halfway through, the next time you open the app it will pick up where you left off.
What's your jam? Play any audio format on Android
The default Android media player has no problems with MP3s, and can natively play MP4, 3GP, M4A, OTA, MKV and TS audio files - but there are some audio formats which can be a little troublesome.
Any Android user consumed by music and audiobooks on their smartphone or tablet will sooner or later embark on a search for an audio player that can support their particular requirements.
The offerings out there are as varied as individual tastes – for an overview, see our list of the top 5 music players for Android. As far as sheer versatility of supported file formats goes though, here are two candidates worthy of your consideration.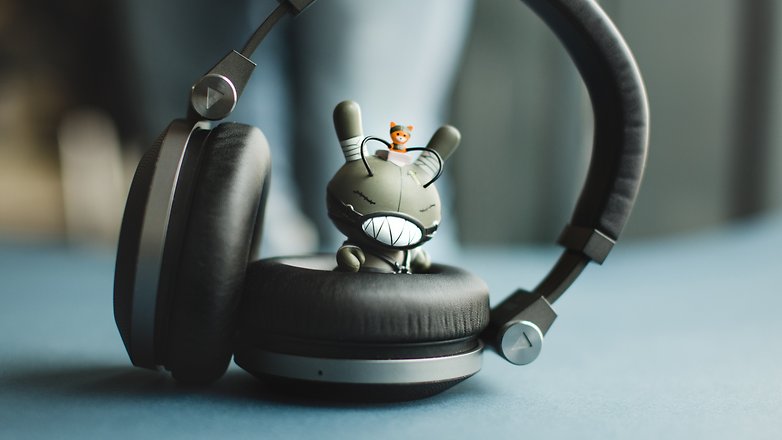 PowerAmp
Besides MP3s, the PowerAmp music player supports the following formats: MP4; M4A; ALAC; OGG; WMA; FLAC; WAV; APE; WV; and TTA. The extensive functions, the intuitive user interface and the all-round adaptability make this app one of the most popular audio players out there. There's a free trial version, otherwise the app costs a few dollars.
MortPlayer Music
A solid free alternative is MortPlayer Music, which can handle all of the same formats listed above. the team as well get along with the formats listed above, although the playback of FLAC and WMA files is device-dependent.
Open, unzip, unpack archive files
The excellent and versatile free B1 Free Archiver opens the following file formats: 7z, apk, a, ar, arj, bz2, bzip2, cab, deb, gz, gzip, jar, iso, lha, lzh, lzma, mtz, rpm, tar, tar.bz2, tbz, tbz2, tar.gz, tgz, tpz, taz, tar.lzma, tar.xz, tar.Z, xap, xar, xz, Z, zipx.
If you're looking for a file manager to open Android archive files, get the AndroZip app. Its design is very clear, allowing users to quickly access their Android archive files to open or encrypt files. The app is also an excellent way to manage Android archive files on the tablet.
Do you have any favorites for difficult file types that we haven't included? Leave your suggestions in the comments!