How to set up the LG G3 for the first time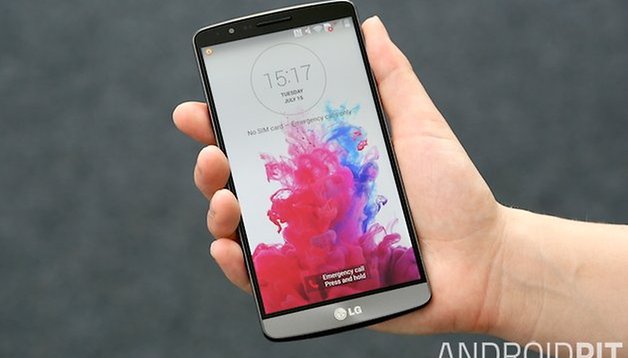 The LG G3 has finally been released to stores in the US, and is available online with most American and British carriers. Many new Android users, and even those who have had a smartphone before, might be a bit dazed and confused when setting up the LG flagship which is heavily laden with features, functions, bells and whistles. Don't worry, here is a quick tutorial on how to set up your LG G3 for the first time.
When turning the LG G3 on for the first time, you'll be welcomed by an easy-to-follow setup, starting out with selecting your language of choice, and whether you have any physical disabilities to better cater the user experience to your personal needs. This is followed by internet connection setup with your local wifi and mobile carrier network.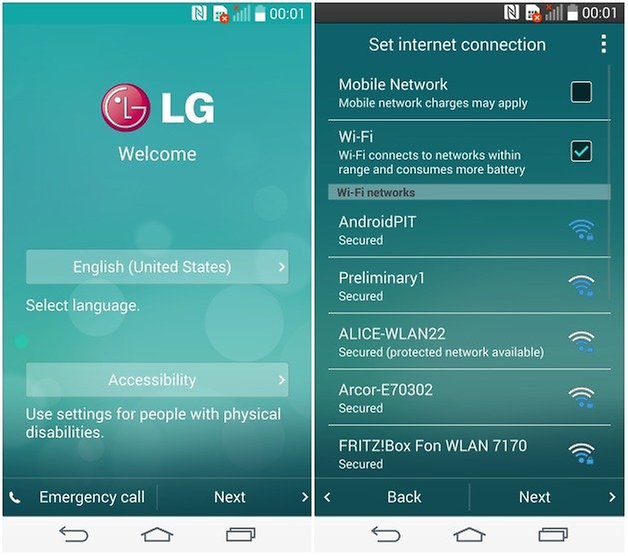 After the general setup is done, since this is in fact a phone running Google's own operating system, Android, you'll be asked to set up a Google account or sign in if you already have one. This is necessary for getting access to Gmail, the Google Play Store to install apps, and other Google services, like Calendars and Google Play Music.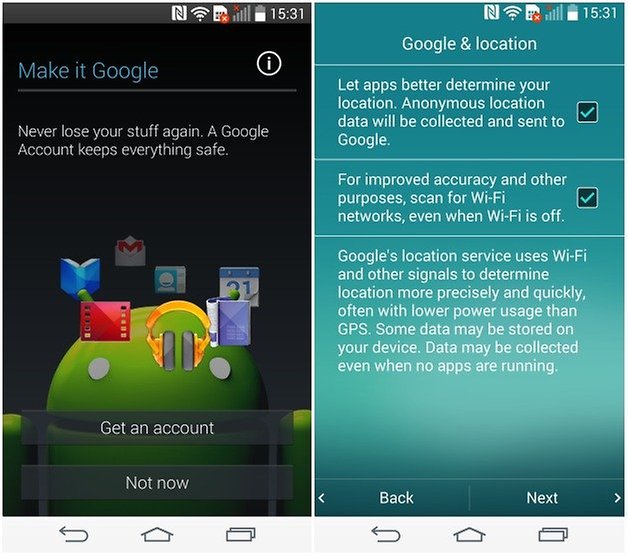 Once your Google account is raring to go, you can determine if you would like to share your location with Google, which will then improve some of the information that is provided to you. For example with Google Maps, you'll know more about what cool things are around you, or where the next pharmacy is. Location can also be determined when scanning for Wi-Fi settings, so just check the options you feel most comfortable with.
Security is a big deal with smartphones, especially when you are doing sensitive stuff on it, like banking, writing your friends and family, or taking pictures. This is why Android and manufacturers have implemented a bunch of reliable features to help protect your data. LG has brought Knock Code, a cool way of turning on your device by ''knocking'' or tapping on the display. You can create your own individual Knock Code with up to 3-8 taps on different parts of the screen, which you set up on the displayed quadrant, which you have to remember later. Thankfully, LG has a backup PIN if you forgot yours. Another pretty unique LG feature is the option of customization the home buttons which appear on the display. You can switch the order around.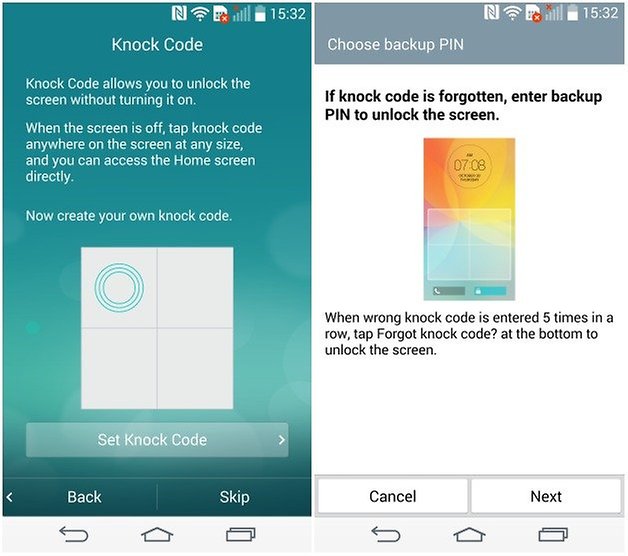 Finally, you've arrived at the home screen and there's a lot to take in. Swipe your finger down from the top of the screen to gain access to the notification shade, which presents a series of quick setting toggles, while more hidden ones can be shown if you swipe the row left. Brightness and ringtone volume can also be adjusted from here, and of course, your notifications from missed calls, text messages, app updates, among other things, will show up here as well. Just swipe them away individually once done reading, or tap on them to access the message. You can hit 'clear' to get rid of them all at once.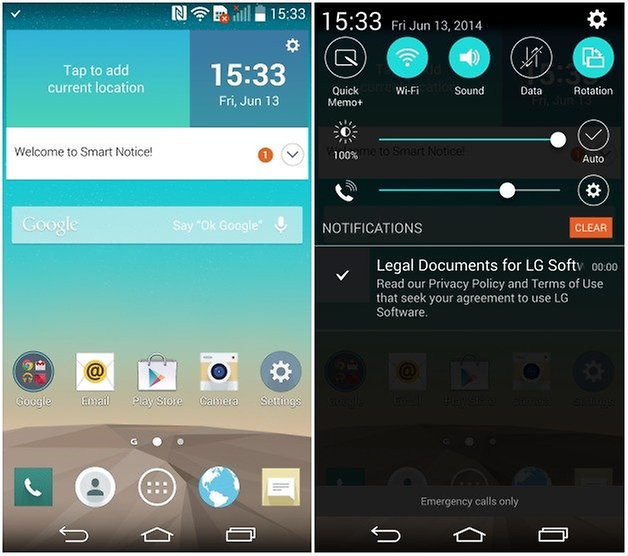 The cogwheel symbol at the top right is the settings icon. Tapping on this will bring you to the settings part of your device which is full of options to change and personalize your smartphone in every which way. The various options can take some time to get used to, so take your time and explore each tab, and tap on each subcategory to find out just how much adjusting the Android operating system will allow you to do. For example, change the theme and wallpaper under display, adjust the screen swipe effect under Lock screen, set up one-hand operating and switch on battery saver under Battery.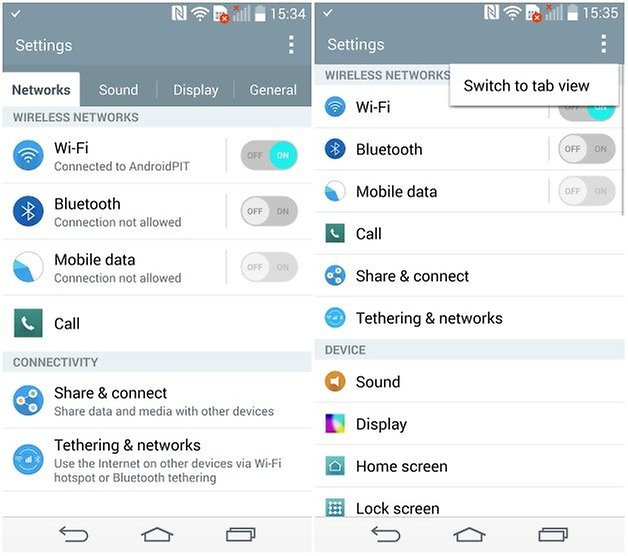 Back on the home screen, the middle circle icon with dots in it will bring you to the app drawer with all of your installed and built-in (pre-installed) apps.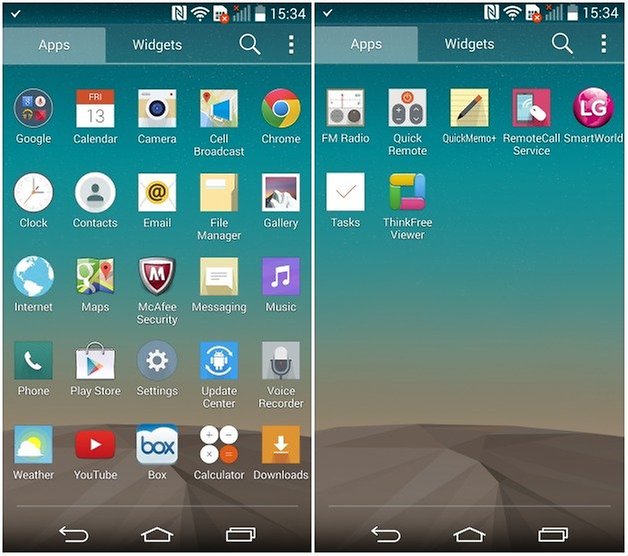 Now you have set up your phone, and you can get started downloading a ton of cool apps from the Play Store!
What do you think of the LG G3? Like it so far?