Update: Edit screenshots and record video screenshots
The screenshot is a handy tool for proving something, or to quickly capture a snapshot of something on your smartphone screen: on Android, it's really easy to create and share a screenshot. In this article, we'll tell you how to make and edit screenshots on Android and we'll also tell you how to record the screen as a video. Different manufacturers offer different solutions so we will also propose some apps that might be useful to you.
I only read this article because I was bored at work.
What do you think?
Jump to
Create a screenshot without saving it
If you have a smartphone that came out of the box with Android 6.0 or if you manually upgraded to the latest version of Google's mobile operating system, you can easily create a screenshot with Google's Screen search function, also called Google Now on Tap. This is a feature of Google now, meaning you will need to have the Google app on your phone. This is already installed on most, but you can install it if you don't.
Google

After installation, start up the app and open the settings by tapping on the three-bar menu in the upper left corner. Then hit Screen search and switch the toggle on or off.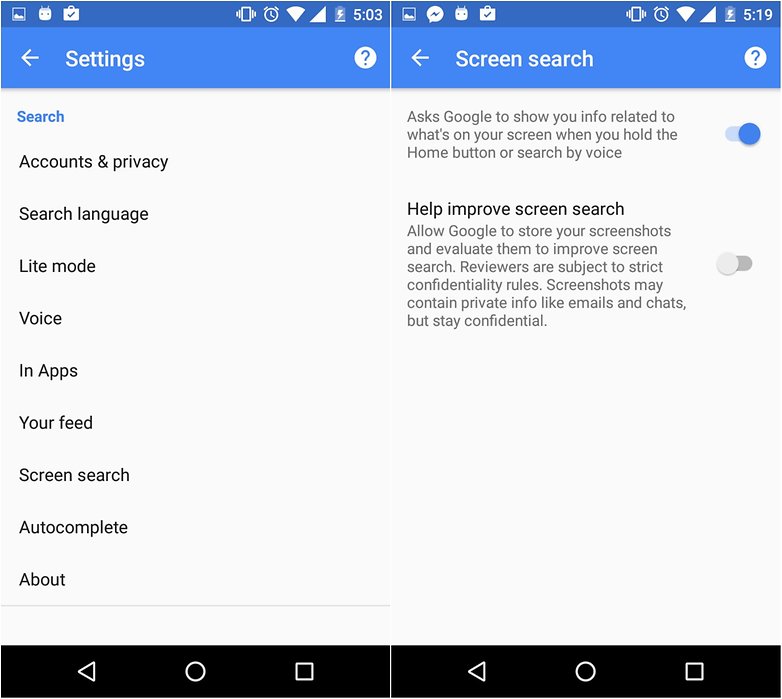 From now on, you can use the screen search function when you long press the home button. Among other great functions, like the option to find all sorts of related information regarding the screen you're looking at, you can take a screenshot of the current screen by using the share icon on the bottom menu.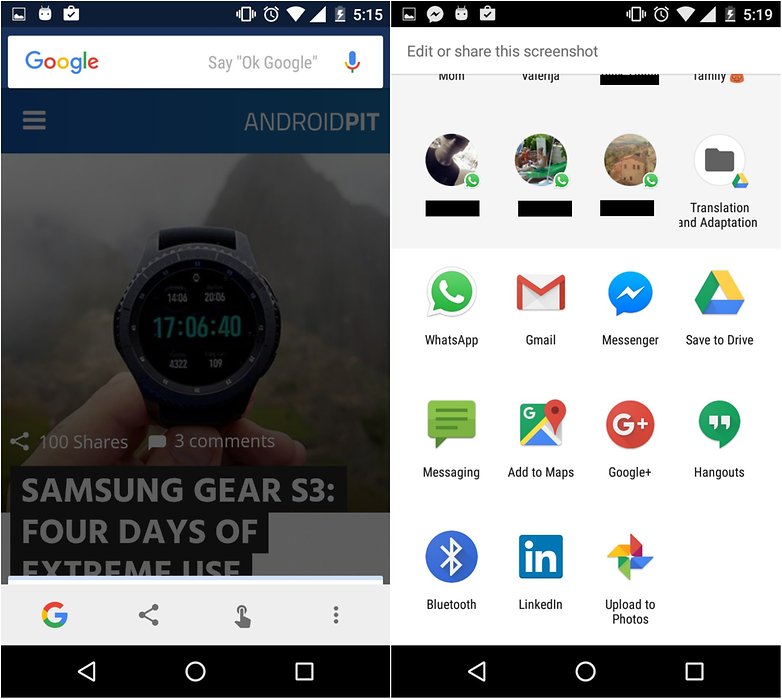 You will then be able to share it with various apps, like Whatsapp, Gmail, Facebook Messenger, Drive etc. The advantage of this method of taking screenshots on an Android smartphone is that they are not stored on your smartphone. Immediately after the screenshot is shared via the various networks, the screenshot disappears and does not take up space in the internal storage of your smartphone.
Since this feature only works on smartphones with at least Android 6.0, you should use the following link to find out when and if your smartphone will receive Android Marshmallow.
How to take a screenshot
On most Android devices, the following key combination takes a screenshot: simultaneously press the power button and the down volume button. On Samsung smartphones, you have to press the power and home buttons. Hold down both buttons until you hear the clicking sound or an animation appears indicating that the screen has been captured. Often, a white frame is displayed briefly and then a preview of the stored image appears.
You will also receive a notification that a screenshot has been created. Often, you have the option to share or delete the screenshot directly. This may save you from manually having to search for the screenshot.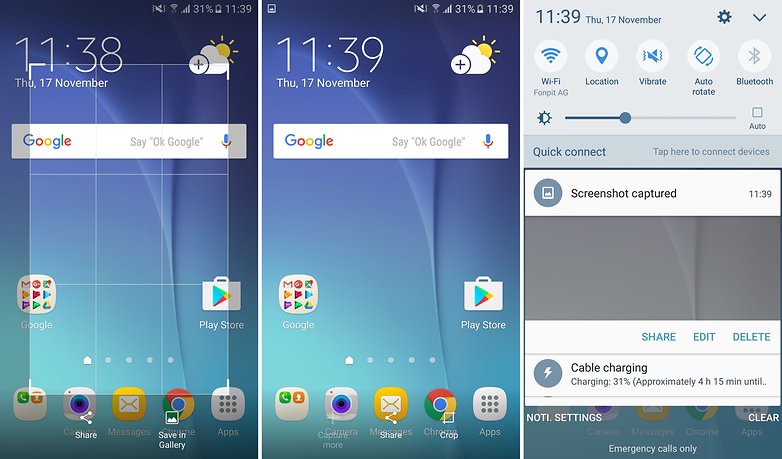 The screenshots can be found in the gallery under Screenshots. When accessed via USB on a computer, they can be found in the internal memory or on the SD card in the directory /Pictures/Screenshots, and in the case of Samsung smartphones, in the directory DCIM/Screenshots.
If your smartphone doesn't provide post-processing options for screenshots, we can recommend the free screenshot app: Screen'it. It provides important filters to make phone numbers, names, or email addresses unrecognizable in screenshots.
Screenit - Screenshot App

In the following videos, you can see how to take screenshots on the most popular Android smartphones.
Scrollshots: long screenshots
Screenshots aren't just for capturing segments of an image and cropping. There are also several types of screenshots in Android. Some manufacturers offer the scrollshot in addition to the conventional screenshot. This is particularly suitable for making images of longer texts or websites. The way it works is simply ingenious:
The software takes the first screenshot, rolls down a bit, takes the next one, and so on, and fits the pieces together at the end. We tried it out on the AndroidPIT homepage and uploaded it to Google Photos. Click here to see the example.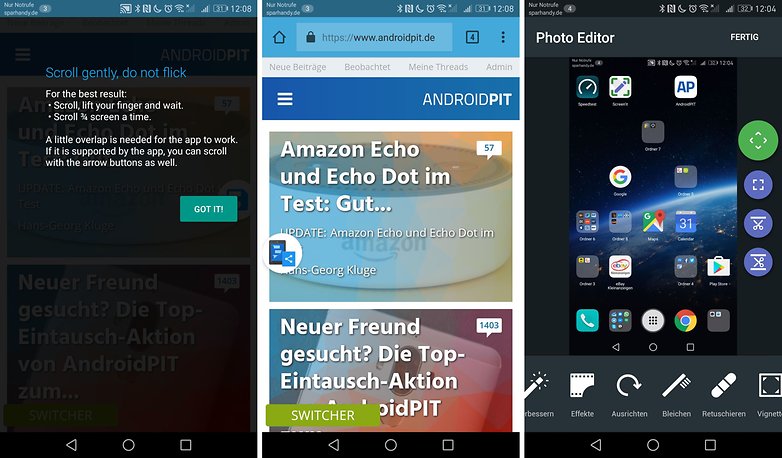 If your smartphone does not have a scrollshot feature, you can retrofit it with the app Stitch & Share. When we tried it out though, the scrolling did not work so well. In the app, you can have multiple screenshots pieced together afterwards, if they have enough overlap. This worked perfectly when we tested it.
Stitch & Share: big screenshot

Capture on-screen videos
Some Sony smartphones have a screen recording function in the power-off menu. Press and hold the power button to enter the option menu. The MP4 format recordings should be in /Movies/RecordScreen.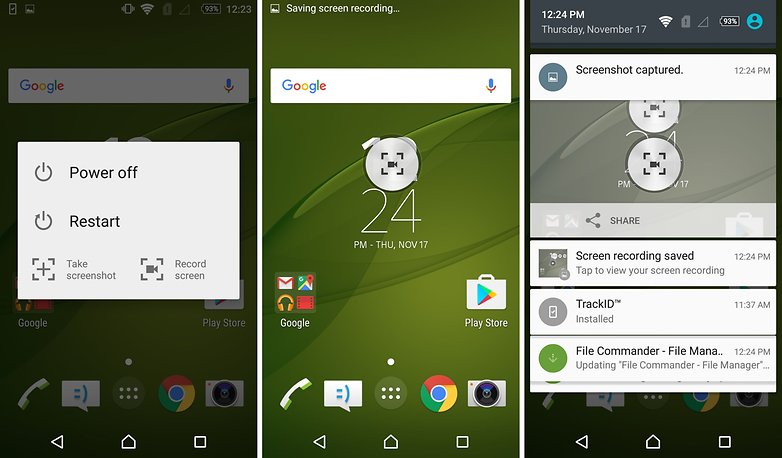 Also, Huawei smartphones can create screen videos with knuckle gestures. In the Huawei Mate 9, for example, tap twice with two knuckles to record video. For Samsung smartphones like the Samsung Galaxy S6 or newer, this is found through the Game Launcher (which must be installed on the S6). However, this is limited to games or at least individual apps.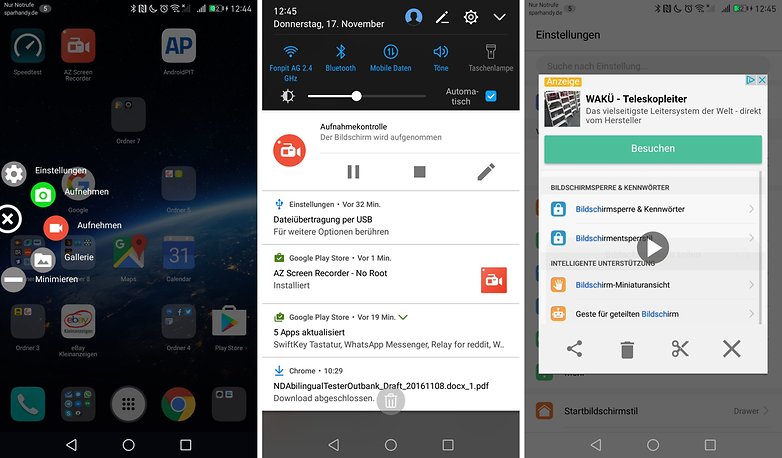 Other smartphones without a recording function can be retrofitted with a screen recorder. The AZ Screen Recorder is currently quite popular. These recordings are created with sound from your microphone, so you can comment directly on what you are doing. A muffled tapping underlines screen touches. The MP4 files end up in the AZRecorderFree directory and are around 24 MB/minute in size.
AZ Screen Recorder - No Root

Conclusion: all the tools are ready
After many revisions in the operating system, the creation of screenshots and scrollshots in Android has become easier over the years. If your smartphone manufacturer doesn't yet have such a tool, it can simply be retrofitted with apps from the Play Store.
Do you know of any other cool ways to take a screenshot? Let us know in the comments below.