How to take a screenshot with your Android device
Update:

New useful apps and shortcuts
The screenshot is a handy tool for proving something, or for quickly capturing a snapshot of something you like on your smartphone screen. In this article, we'll show you how to take and edit screenshots on Android, and we'll also tell you how to record a video of your screen.
Jump to:
How to take a screenshot
On most Android devices, the following key combination takes a screenshot:
Go to the screen you wish to capture.
Press and hold the Power and Volume Down buttons (or Power and Home buttons on a older Samsung or HTC phone).
Hold down both buttons until you hear the click or a flash indicating that the screen has been captured.
Swipe down from the top of the screen.
Tap the new screenshot notification to view the screenshot.
Often, you will then have the option to share or delete the screenshot directly. This may save you time from manually having to search for the screenshot.
Android 9.0 Pie has added a new option: you can also press and hold the Power button to get a Screenshot option to pop up on screen. You can then edit the screenshot from the notification bar and mark it to highlight a particular area.
Some manufacturers offer additional shortcuts, for example:
OnePlus 5, 5T, and 6: Swipe down with three fingers on the home screen.
Sony Xperia phones: Hold down the power key until a screen appears and tap Take screenshot.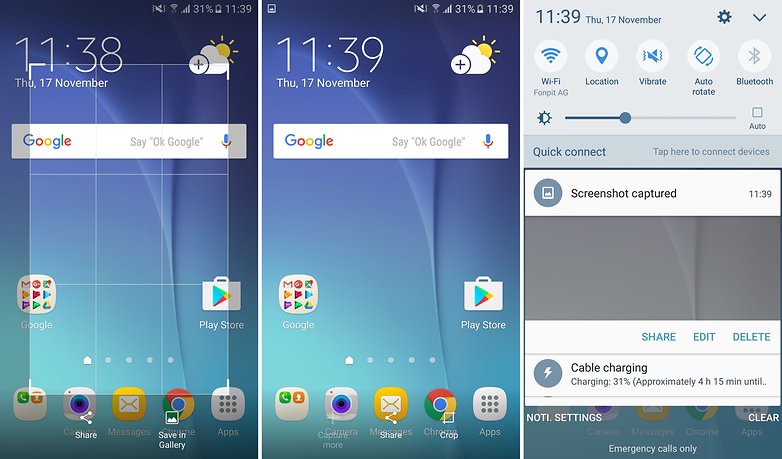 The screenshots can be found in the gallery under Screenshots. When accessed via USB on a computer, they can be found in the internal memory or on the SD card in the directory /Pictures/Screenshots, and in the case of Samsung smartphones, in the directory DCIM/Screenshots.
If your smartphone doesn't provide post-processing options for screenshots, we can recommend the free screenshot app: Screen'it. It provides important filters to make phone numbers, names, or email addresses unrecognizable in screenshots.
Take a screenshot on Samsung phones
Samsung is one of the most popular Android smartphone manufacturers and famous for making their devices work just a little differently. The two button press button works on Samsung phones, but it's a little different if your device is one of the older phones with a physical home button.
Galaxy S8 and later: Press and hold down the Power and Volume Down buttons for a few seconds.
Galaxy S7 and earlier: Press and hold down the Power and Home buttons for a few seconds.
Palm Swipe to Capture on Samsung phone
Most Samsung phones released after 2013 also offer 'Palm Swipe' shortcut to take screenshots. To do this:
Set your hand vertically on one side of the screen, fingers straight like in a karate chop
Horizontally swipe with the bottom edge of your hand across the screen
The camera shutter sound should activate and a screenshot saved to the gallery
Take a screenshot with the S Pen
If you have a Galaxy Note9, Galaxy Note 8, Galaxy Note 5, Galaxy Note 4, Galaxy Note 3, or other Samsung device with an S Pen, you can use it to take a screenshot.
Pull out the S Pen stylus, or hover the pen over the screen and clicking the button on it.
This should open the Air Command menu
Select Screen Write from the Air Command options to take a screenshot.
You can then write notes on top of the image. There are options in the top toolbar to change your pen color and size. You can also erase or undo strokes and there is a Crop option at the bottom.
Tap Share or Save at the bottom when you're done.
Take a screenshot with Google Assistant
You can also ask Google Assistant to take a screenshot for you, provided you have it set up. When you're on the screen you want to capture, just say, "OK Google, take a screenshot," and it should immediately do so, saving a picture of the screen below the Assistant interface.
This does mean that if you want to capture the Google Assistant screen itself, you'll have to use the hardware buttons.
Scrollshots: long screenshots
Screenshots aren't just for capturing segments of an image and cropping. There are also several types of screenshots in Android. Some manufacturers offer the scrollshot in addition to the conventional screenshot. This is particularly suitable for making images of longer texts or websites. The way it works is simply ingenious:
The software takes the first screenshot, rolls down a bit, takes the next one, and so on, and fits the pieces together at the end. We tried it out on the AndroidPIT homepage and uploaded it to Google Photos. Click here to see the example.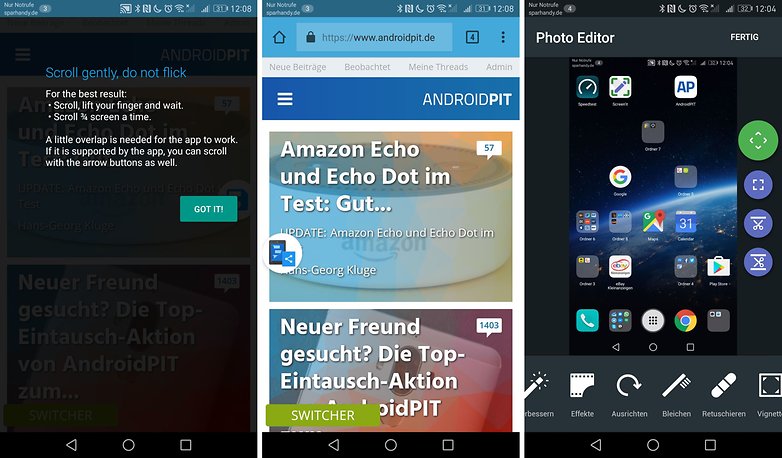 If your smartphone does not have a scrollshot feature, you can retrofit it with an app like Longshot or Screen Master.
Capture on-screen videos
Some Sony smartphones have a screen recording function in the power-off menu. Press and hold the power button to enter the options menu. The MP4 format recordings should be in /Movies/RecordScreen.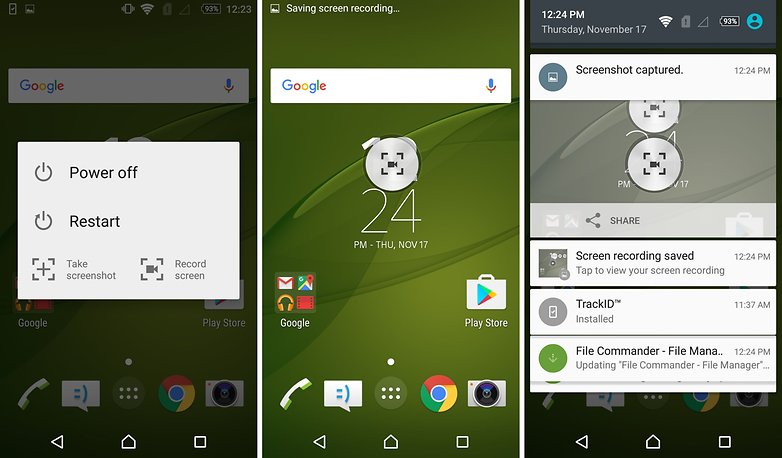 Also, Huawei smartphones can create screen videos with knuckle gestures. In the Huawei Mate 9, for example, tap twice with two knuckles to record video.
For Samsung smartphones like the Samsung Galaxy S6 or newer, this is found through the Game Launcher (which must be installed on the S6). However, this is limited to games or at least individual apps.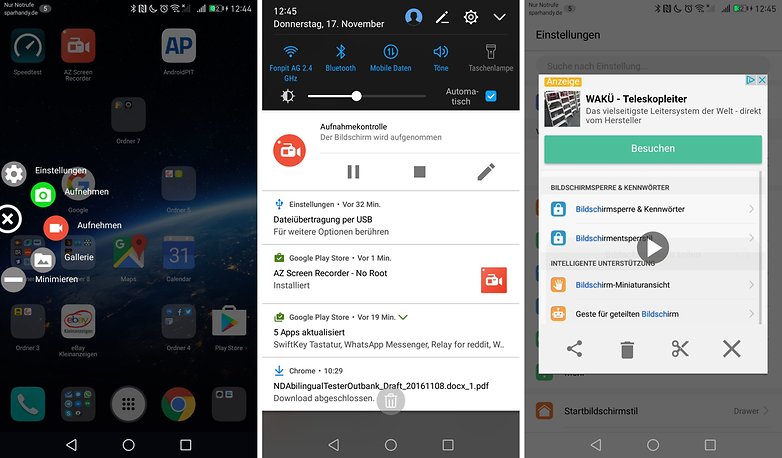 Other smartphones without a built-in recording function can be retrofitted with a screen recorder app. Our preferred tool is AZ Screen Recorder. These recordings are created with sound from your microphone, so you can comment directly on what you are doing. A muffled tapping underlines screen touches. The MP4 files end up in the AZRecorderFree directory and are around 24 MB/minute in size.
It's easy to take whatever kind of screenshot you like
After many revisions in the operating system, the creation of screenshots and scrollshots in Android has become easier over the years. If your smartphone manufacturer doesn't yet have such a tool, it can simply be retrofitted with apps from the Play Store.
Do you know of any other cool ways to take a screenshot? Let us know in the comments below.