HTC Desire C Review: ICS on a Budget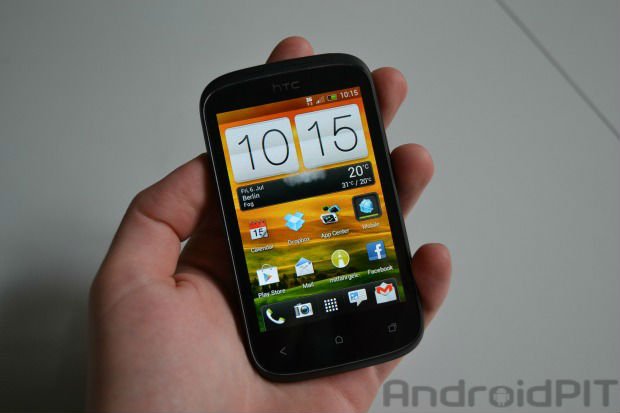 As we have already heard, HTC is not planning on selling any more budget phones, preferring to concentrate their efforts on establishing themselves a high-end brand. So the HTC Desire C will be the first and last budget ICS from HTC to see the light of day. Small, affordable and completed in traditional HTC style, this device is supposed to be an upgrade on the HTC Wildfire S albeit with a couple of cherries on top: ICS, NFC and Beats Audio.
Specs
OS: Android 4.0 Ice Cream Sandwich with HTC Sense 4.0
Screen: 3.5 inches, 320x480 pixels, LCD screen, 165 ppi
Memory: 512 MB RAM, 4GB internal memory, micro SD card slot up to 32GB
Processor: Single core Qualcomm Snapdragon 600 MHz processor
Battery: 1230 mAh
Dimensions: 4.22 x 2.39 x 0.47 inches
Weight: 98g
Camera: 5MP
Design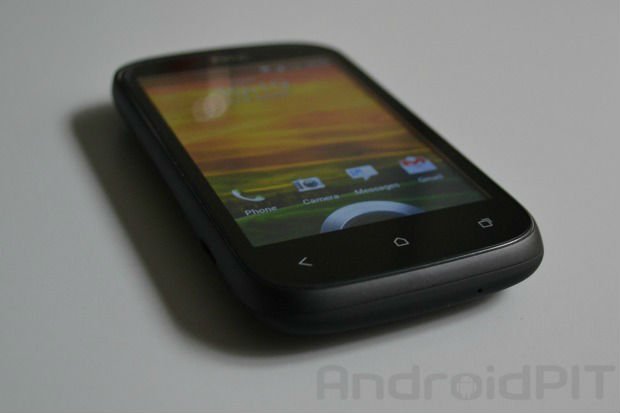 Judging from the back cover, the HTC Desire C looks like a an HTC One S that shrunk in the dryer. Upon closer inspection, you can tell that the back cover is made out of plastic rather than the rubbery (and extremely chip-prone) aluminum case of the One S. The quality and feel of the plastic is actually pretty great as far as plastic covers go, sitting comfortably in the hand and without any slippage issues.
The phone's display comes with a cute silver border around it that is a nice addition to a generally solid design. It's sleek, it's minimal - in short it's all we've come to expect and love from HTC. You'll find three capacitive buttons along the bottom of the display. All of them are responsive - and are designed with ICS in mind: the usual menu button has been replaced with a button that opens up your recent apps.
One thing did, however, disturb my overall positive impression of the phone's design: the power button. Located at the top right corner of the phone, you have to basically push the button in with your nail to turn in and off. It also just so happens that indentation to pop off the battery cover is located right behind the power button. Basically, it feels like a rough spot on the phone's body and makes it really unpleasant to the touch. Otherwise, the camera is beautifully incorporated into the backcover and the volume buttons are well-placed. Having the charger slot on the left side of the phone is a bit unusual, but hardly a nuisance.
Screen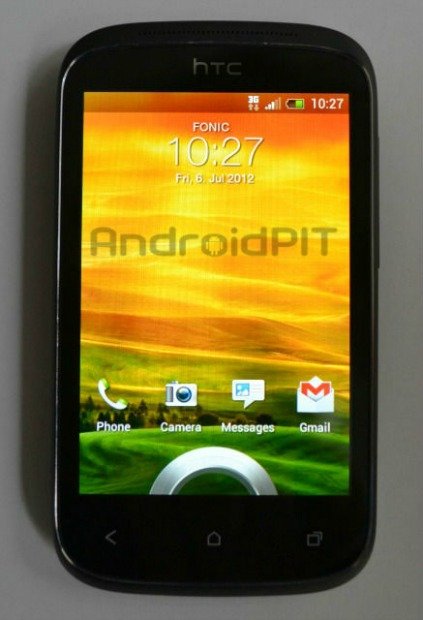 As you can tell from the pictures, the phone is really tiny and comes with a very small 3.5 inch display, which is even smaller than the puny Sony sola. At just 320x480 resolution the picture quality is obviously pretty mediocre. When reading anything against a white background (especially outdoors), you can actually make out the pixels in slightly off-color layers. Don't try using this phone for videos or photos because you'll be in for a major disappointment. It must said, however, that the phone is designed to be primarily used as a basic smartphone for taking quick snapshots, checking your Facebook, tweeting, texting, browsing and calling. For all of these purposes, the screen will do just fine.
I've always been a fan of HTC Sense and I was very happy with the HTC Sense ICS 4.0 UI that comes with the Desire C. Don't expect to get the full ICS experience as the phone just isn't powerful enough to handle it.
Sound
For such a tiny phone, the HTC Desire C has pretty good speakerphone quality - at least for listening to music. Sure, blaring music from your smartphone isn't a very classy thing to do, but I thought it might still deserve a mention. And if you didn't notice the logo on the back of the phone, the Desire C also comes with Beats Audio. Let's be honest here: Beats Audio is more of an equalizer for hip hop tunes rather than innovative sound technology. Since the Desire C comes with a set of cheap low quality headphones, you won't hear the effects of Beats Audio at all unless you decide to splurge on a set of nice Beats headphones. Otherwise, the HTC Desire C works great as a light and portable music player, but don't fall prey to the Beats Audio hype.
Performance
With a measly 600Mhz single-core processor, the Desire C delivers a pretty weak performances. Brace yourself for mild to bearable lagginess and lackluster speeds. On the bright side, the phone gets the job done and doesn't really bug or crash. Navigating between the screens in ICS is just a tad too slow, but nothing to prevent you working with the phone. Again response times are fairly slow, especially when compared with similar budget phones running Gingerbread. Although an ICS budget phone may be a great idea, it seems like HTC has sacrificed performance just to have the latest OS.
Most of the basic apps run smoothly, but you can forget about playing graphics-heavy games. Anything beyond Angry Birds is bound to cause you performance issues. Like I said, the phone should be used as a daily communications workhorse and not as a portable entertainment system. The phone also tends to lag significantly when too many apps are open, so multi-tasking will only get you so far. Thankfully, in ICS you can stop any app by swiping it off the recent app list.
Camera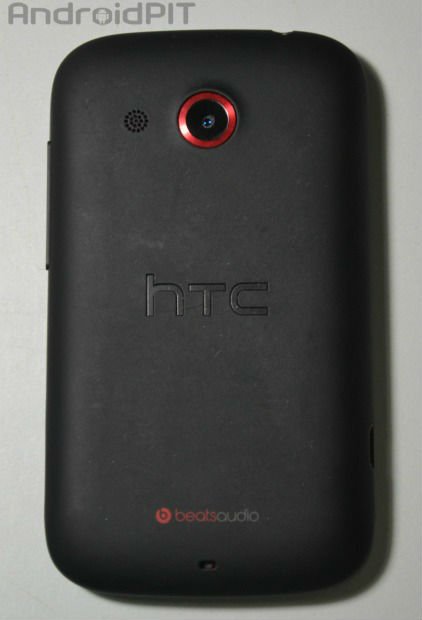 For such a small phone, the 5MP camera is actually quite alright. Definitely a more than decent option for simple point-and-shoot snapshots with quick enough shutter speeds. The focus is a bit hit or miss, but the overall image quality is fairly solid. You get bright colors, especially outdoors.
The same praise cannot be leveled at the phone's video functionality. I would suggest not trying to use the phone to take videos: they come out choppy, poor and downright awful. Makes you remember the days of tiny VGA cameras on flip-phones. Terrible.
Battery
Outfitted with a 1230 mAh battery you wouldn't expect the phone to get good battery life. Therefore I was pleasantly surprised to see that the phone could easily last me for two days with regular 3G usage. It all comes down to the phone's tiny and therefore very energy-efficient screen allowing you to squeeze more talk and standby time out of this baby of a phone.
Bottom Line
Despite its tiny size and average performs, the HTC Desire C has its own charm and appeal. For anyone that enjoy HTC's trademark design, the Desire C is a treat (except for the power button issue mentioned above). More importantly, the phone is really comfortable to use, weighs just 100g and is just a bit larger than a credit card. All of these aspects make for a great portable Android smartphone with a longer than average battery life.
Don't expect too much from ICS and Beats Audio on this device, but I would definitely consider it as a good budget option for someone that needs just the basic smartphone functionalities. Although there has been no word so far on when the device will hit the States, but the Desire C could come to American shores under a different brand name. At the moment the phone costs 170 pounds ($264), which is a bit too pricey for a budget phone. We can, however, expect the price to fall in the coming months.