Hands on: HTC Desire Eye review: better quality selfies are here!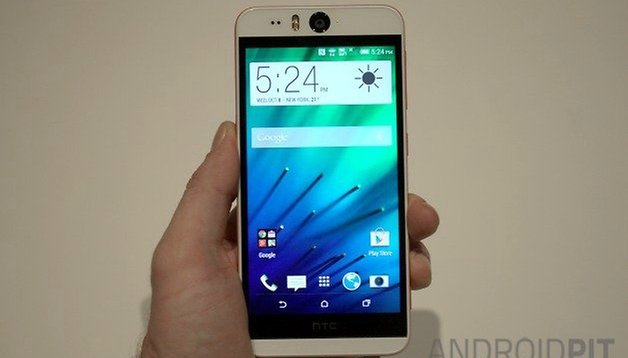 HTC has just announced the Desire Eye, the company's foray into a new smartphone series that places the camera at the absolute forefront of the experience. And when I say forefront I also mean it literally, because the Desire Eye has the same 13 MP camera lens on the front as well as the back. But the Desire Eye is more than just a phone for the selfie-obsessed. Read on to find out why in our hands-on HTC Desire Eye review.
HTC Desire Eye design and build quality
The Desire Eye looks a lot like the HTC Desire 820, revealed at this year's IFA, in its smooth plastic curves and colorful trim. To look at the Desire Eye the first thing that strikes you is the whopping great camera lens on the front. Both the front and back facing cameras are 13 MP sensors with a dual-LED flash, meaning it doesn't matter which way you point the phone when you take a photo because you're going to get the same quality shot from the front or the back. Poor quality selfies are now a thing of the past.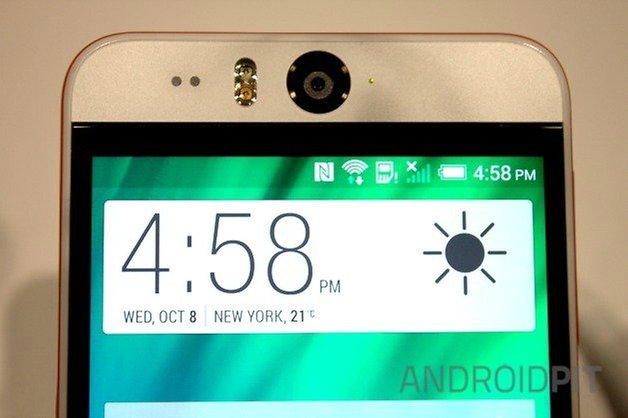 The second thing you'll notice is the seeming lack of front-facing speakers. The legendary HTC BoomSound speakers are in fact on board, they're just a little hidden, appearing above and below the 5.2-inch Full HD screen in thin recessed speaker grills that will be a magnet for dust and lint. The Desire Eye also packs three microphones and a noise cancellation system.
The edges of the solid plastic-bodied Desire Eye feature a colored trim, and below the volume rocker and power button on the right hand side is a dedicated shutter button. This is because the Desire Eye is IPX7 rated so you can shoot pictures underwater. You also have access to microSD and SIM card slots behind little plastic flaps, but the battery is non-removable because the back panel is part of the plastic body.
The phone feels great, even if the plastic build will not be to every HTC fan's taste, but it is very comfortable to hold and is certainly nowhere near being too big to use one handed.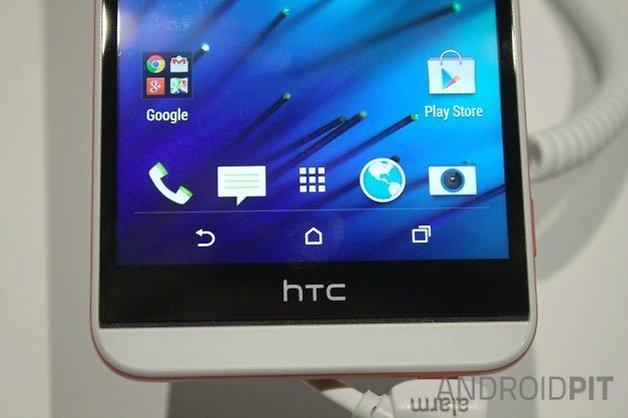 HTC Desire Eye display
The Desire Eye is packing a 5.2-inch Full HD display, giving away its less-than-flagship status, but generally speaking, there's a lot of the One (M8) in the Desire Eye, so it's far from a hardware slouch. The screen is what you'd expect from HTC: crisp, bright and with solid contrast for an LCD panel.
Unfortunately, the screen is bordered by rather wide black bezels and the capacitive buttons and black HTC logo bar take up valuable space on the front of the device, giving the Desire Eye a less than outstanding screen-to-body ratio.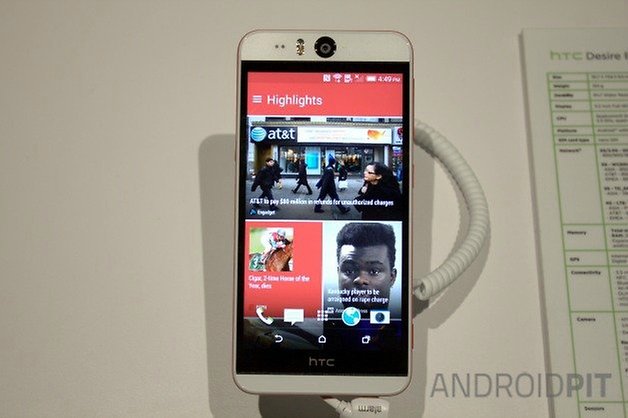 HTC Desire Eye software
The Desire Eye comes running Android 4.4.4 and Sense 6, with the big focus being on the new Eye Experience. This will appear as an update to the One (M8) in the near future, and the Zoe app is now available on the Play Store and the Apple App Store as a download for any device running Android 4.3 or later or even iOS.
The major focus of the Desire Eye is, of course, the Eye Experience and Zoe, but we'll cover this in further detail in the camera section below. Beyond the camera though, there's not too much to report about the Desire Eye that you haven't seen before. All your favorite Sense 6 elements are present including BlinkFeed and themes.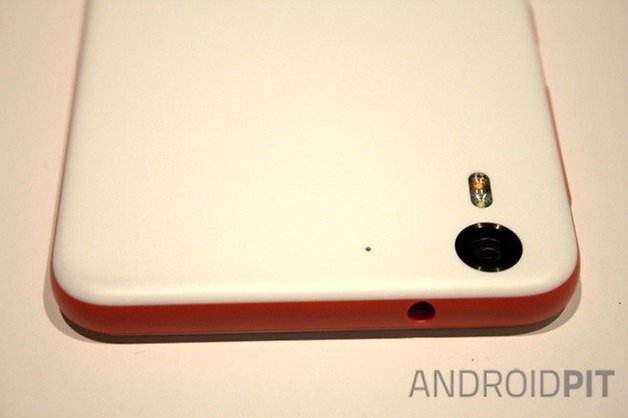 HTC Desire Eye performance
The Desire Eye is not far from a flagship internally, even if its plastic chassis is a far cry from the usual materials HTC employs for its flagship One series. The Desire Eye boasts a quad-core Snapdragon 801 clocked at 2.3 GHz, with Adreno 330 GPU, 2 GB or RAM and 16 GB of internal storage. We're not sure yet if there will also be a 32 GB version.
In the short time I had with the device I couldn't say too much about performance, other than the apps launched very quickly, as did the camera. It wasn't perhaps quite HTC One (M8) speed, but not many phones out there are.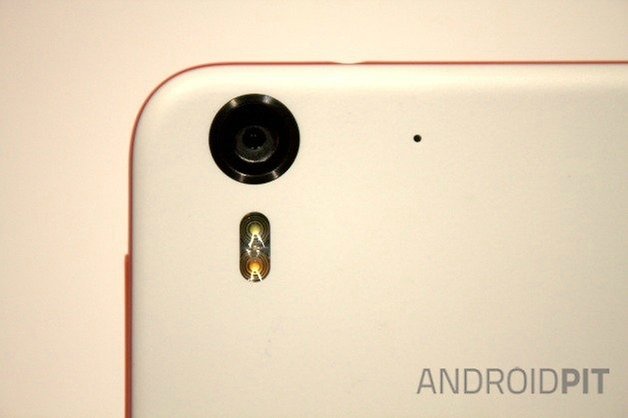 HTC Desire Eye camera
With the Desire Eye the distinction between front and ''main'' camera is no longer applicable. Both the front and rear camera are 13 MP sensors with dual LED flash and both are capable of shooting Full HD video and HDR. There are some slight differences though: on the back we have a 28mm lens with an aperture of f/2.0, and on the front it's a 22 mm lens with f/2.2 aperture. But they're close enough to the same for the average punter. The front camera also has zoom capability.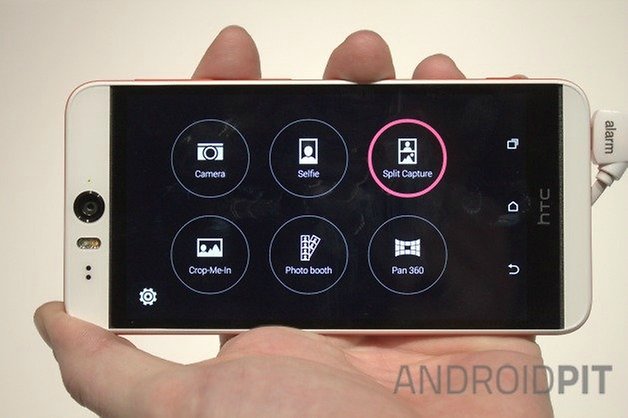 There's a whole host of new camera-related features in the Eye Experience and Zoe. There's face tracking that can keep track of and stay focused on your face as you move around. Split Capture allows you to record from both the front and back cameras simultaneously. Photo Booth lets you stitch together multiple shots automatically into a photo booth style strip or collage and Pan 360 is exactly what it sounds like: a 360-degree panorama.
​
There's a dedicated Selfie mode and you can take gesture-based selfies as well as voice selfies. There's also Live Makeup, which is basically your standard beauty mode. Face Fusion is a gimmicky ''face swap'' option that lets you morph one face into another and Crop-Me-In lets you insert yourself into a scene captured by the rear camera. It does this by simultaneously capturing a cut-out selfie with the front camera and allowing you to move and resize it live into whatever the rear camera is pointing at.
It's hard to say how the 13 MP shooters perform compared to the HTC One (M8)'s 4 UltraPixel camera, but it will be interesting to see what the response to the Desire Eye's camera is and if that will influence HTC's choices in camera sensors in the future. They were very clear though that they are still very committed to UltraPixels, just not necessarily in every case.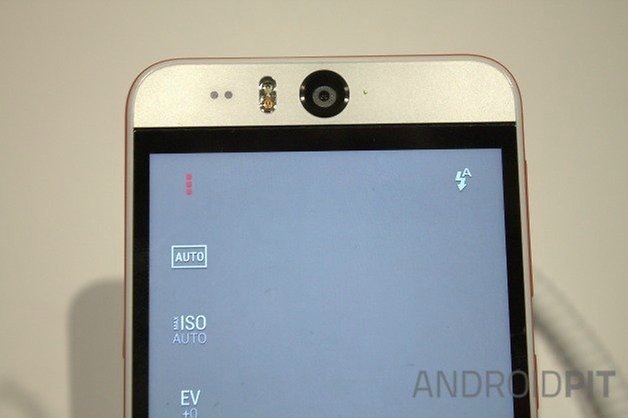 HTC Desire Eye battery
Of course, I can't comment yet on the battery performance of the Desire Eye, but I can tell you it has a non-removable 2,400 mAh cell that is perhaps a tiny bit smaller than I would have expected, even for a device with a Full HD display. Even with a relatively small battery and plastic shell, the Desire Eye is still a little heavy: 154 grams. The HTC One (M8), by comparison, is only 160 grams and it has a full aluminum unibody. The Desire Eye is a bit taller and wider than the M8 though.
HTC Desire Eye technical specifications
| | |
| --- | --- |
| Dimensions: | 151.7 x 73.8 x 8.5 mm |
| Weight: | 154 g |
| Battery size: | 2400 mAh |
| Screen size: | 5.2 in |
| Display technology: | LCD |
| Screen: | 1920 x 1080 pixels (294 ppi) |
| Front camera: | 13 megapixels |
| Rear camera: | 13 megapixels |
| Flashlight: | Dual-LED |
| Android version: | 4.4.4 - KitKat |
| User interface: | HTC Sense |
| RAM: | 2 GB |
| Internal storage: | 16 GB |
| Removable storage: | microSD |
| Chipset: | Qualcomm Snapdragon 801 |
| Number of cores: | 4 |
| Max. clock speed: | 2.3 GHz |
| Connectivity: | HSPA, LTE, NFC, Bluetooth 4.0 |
Early Verdict
The HTC Desire Eye is a peculiar little beastie, kind of straddling the mid-range and top-end lines and introducing a unique new angle on smartphone cameras to boot. It looks great, feels great and delivers the fluid Sense software experience you'd expect from a new HTC device. The Eye Experience and Zoe 1.0, however, place a lot more focus on the camera than ever before. The Desire Eye is clearly directed at selfie fans but it's still a nice phone regardless.
The truth of the matter is that the Desire Eye really is in a class of its own. When the necessity of switching between using the front or back camera for good shots versus selfies is broken down, a whole new angle is opened up that is worth looking further into. In the mid-tier arena the Desire Eye is a standout, in the selfie phone category it's the winner of a one-horse race. I'm interested to see if it has mainstream appeal to those that aren't obsessed with taking pictures of themselves, but in the meantime, at least we'll be seeing better quality selfies.
HTC Desire Eye release date and price
The Desire Eye will be available exclusively on the AT&T network in November. No price has yet been made available.