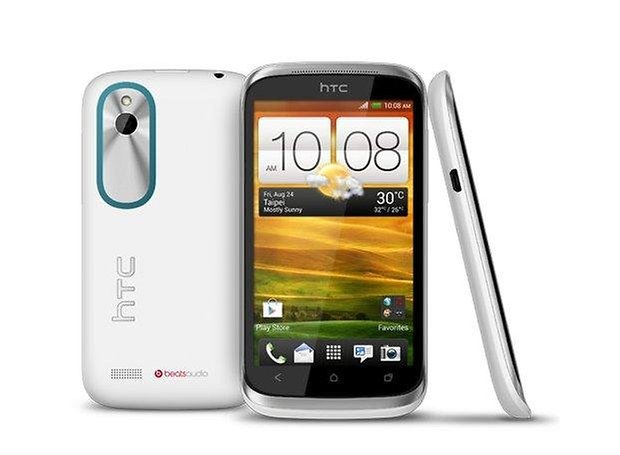 HTC would certainly look forward to 2013 with more optimism compared to 2012, which could be deemed to be the company's annus horribilis on record so far with falling market share and a lacklustre time in the smartphone market. After all, their "One" range of Android-powered smartphones did not really light up the market despite the HTC One X (and of course, its updated version which is the HTC One X+) carrying the flame on behalf of the company. There is also a throwback to the earlier HTC years with names such as the Wildfire, Sensation, Rhyme and Desire. It makes sense then that consumers might get confused with HTC returning to the Desire naming convention with the HTC Desire X, instead of sticking to the "One" series. Let us read on to see how the HTC Desire X stacks up against the rest of the competition as an mid-range smartphone in this day and age. A high-end device, this is not.
Design
Since it falls under the "Desire" name, it would be natural for one to make comparisons with the original Desire, where a couple of years have already passed in between them. Having said that, the HTC Desire X carries a larger 4-inch display with capacitive buttons at the bottom, 768MB RAM which should be sufficient to handle just about everyday tasks you throw at it, and a 5-megapixel camera which frankly, has a much improved sensor compared to the original HTC Desire, but that is to be expected at the very least. A dual-core Qualcomm MSM8225 Snapdragon processor runs proceedings from within, and the exterior is where we would see the most obvious changes. For instance, the camera's perimeter sports a ridged plastic design, while across the board, the HTC Desire X does seem to be a whole lot more modern to keep up with the times. The removable battery cover has a matte finish (other than the mentioned ridged plastic design around the camera and LED flash), while there is a Beats audio badge located near the base. Drilled holes dot the speaker outlet, while there are relevant ports for the headphone jack, microUSB port and microphone, in addition to the usual Power/Standby button as well as volume rocker. There is no way to access the microSD card from the outside without peeling open the back cover though, which is a minor inconvenience if you tend to swap your microSD cards from time to time. Still, removing the back cover would reveal a 1,650mAh battery, a microSD memory card slot and a full sized SIM slot.
As for the 4-inch Super LCD display that comes with the average 800 x 480 resolution, it would surely lose out to the higher end models such as the iPhone 5, Samsung Galaxy S3 and the ilk. Thing is, it is enough for the average user, and if you do not mind watching compressed videos at a lower resolution (after all, how much detail can you cram into a 4" display for your eyes to take in?), then the HTC Desire X would not disappoint. After all, it does not use a PenTile display and comes laminated which goes some way in reducing the amount of glare while enhancing the colors to make them look bright and vivid. Under bright and direct sunlight, however, the usual issues apply: washed out colours, and having to squint, but that should not be a point against the Desire X.
The HTC Desire X will feature GSM/EDGE (850/900/1800/1900) and HSPA+ (900/2100) radios, where it will be accompanied by Bluetooth 4.0 connectivity, GPS support as well as single-band 802.11b/g/n Wi-Fi, not to mention DLNA compatibility which should appease users who tend to stream music or video over to their home entertainment system. Sharing media with compatible devices are a snap using the pre-loaded media player, which is great for those who want things to simply work right out of the box.
Calls and texting
From time amount of time that I have spent with the HTC Desire X, it works as is when it comes to voice and texting, at least in line with my expectations of the service provider I am subscribed to. Sure, there were dropped calls from time to time, but I believe that this is in no way the fault of the Desire X since dropped calls happen from time to time with my other handset, as well as other smartphones which I have taken out for a spin. Texting proved to be a snap and you will not find yourself hitting the virtual Backspace key too often since it is pretty snappy. I would still recommend those who are not used to a virtual keyboard to install other third party software such as Swype if you find yourself to be a heavy text and email user, since it certainly eases the burden on your fingers, and all you need is a thumb to get your typed message/email out in double quick time.
Alternatively, when I installed apps such as Voxer and Skype on the the HTC Desire X, it worked brilliantly in the presence of a reliable Wi-Fi network. I did not try it with my cellular data connection since there was some noticeable lag from time to time, and if you want to save money on voice chats and texting, perhaps apps like Voxer and Skype in the comfort of your own home or office would be a viable alternative.
Camera and audio
If you are hoping to hold face-to-face video calls with your family and friends using the HTC Desire X, then you're out of luck here. Only one camera is included, and it would be the primary 5-megapixel shooter that is located at the back. Boasting HTC's dedicated ImageChip/BSI (Back Side Illumination) sensor, this camera will feature an f/2.0 aperture and 28mm lens, and when it works with autofocus, capturing shots felt quick on the draw with adequate lighting, although when it comes to recording video, a wee bit more patience is called for. You can opt to tap on the area of the display which you want the camera to focus on for that added touch of creativity and flexibility.
To jump aboard the Instagram bandwagon, the usual suspects when it comes to filters are there, including vintage, sepia, and vignette among the mix. Apart from that, HTC's Sense 4.0 user interface enables the camera to capture stills even when you are shooting a video, and I am pleased to say that the continuous shooting mode worked like a charm. Of course, all of these would work best under decent lighting, as situations in a poorly lit environment is always a challenge to shoot in, even for dedicated digital cameras.
You are unable to record video in Full HD resolution though, since you would end up with WVGA resolution (800 x 480 pixels). Still, it ought to be decent enough for YouTube uploads if that is where you want to store your memories.
As for the Beats audio mode, does the HTC Desire X really deserve the Beats badge in the first place? Well, so far the layman would figure out that when turning on Beats in the software toggle, the overall maximum volume level is increased by more than just a couple of notches. This definitely does not do too much for audiophiles, and I guess you can associate this with the xLOUD feature on older Android-powered Sony Ericsson handsets.
Battery Life
Just how did the battery life rate in my books? Well, as we all know, different people use their phones differently, and the advertised battery life rating would certainly be very different compared to heavy users who spend hours on end playing games and videos, while those who hook up to a Wi-Fi network for data purposes would definitely be able to get more mileage out of the Desire X than others who rely on their data connection. To put it into context, I make around 15 minutes' of calls a day, and are spammed by 5 text messages on average, with Wi-Fi connection on for the better part of the day. As for my email usage, I tend to spend my time deleting junk mail and reply around 2 or 3 mails, and listen to half an hour's worth of streaming audio from an Internet radio station. This kind of usage pattern allowed me to eke out around 28 hours' worth of performance from the 1,650mAh battery.
Conclusion
All in all, the HTC Desire X is a decent mid-range smartphone that gets all the "normal" tasks done without much fanfare, such as making and receiving calls as well as texts, playing Angry Birds, watching video, and even modifying documents on the cloud, but throwing games that require a high amount of processor performance? That would not make for a smooth ride, and with the HTC Sense user interface, there are moments where the processor shows its age as you flick through various screens and menus to be met by a slight lag from time to time. It is tolerable, but not for perfectionists who want buttery smooth performance at all times.