 HTC Droid DNA Now Available to Order from Verizon Wireless
After the live unboxing conference, and the official unveil of the HTC Droid DNA, we knew Verizon would be launching the phone sometime soon. Of course, there's also the fact that Verizon promised they would be releasing the device right after the event. So our own intuition wasn't just born from divine power. It is good to see that Verizon keeps their promises, sometimes.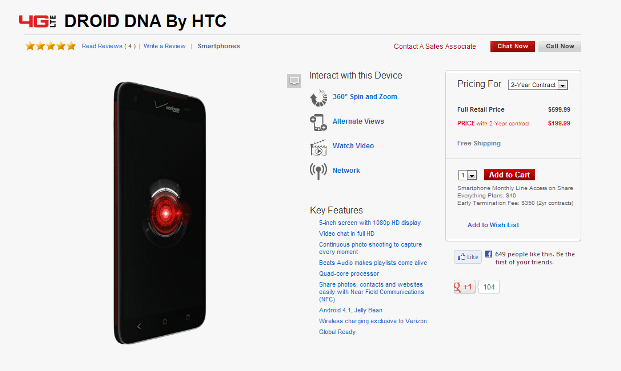 You can order the Droid DNA right now through Verizon Wireless. If you already have service, the DNA is going to run you $599 off-contract, but if you're ready to sign up for two-years of service you'll get the phone for $199.
The Droid DNA is one beast of a phone, equipped with a quad-core Snapdragon processor, 2GB of RAM and a 1080p SuperLCD3 display that kicks the Retina's ass. It also includes an 8MP camera, 4G LTE support and 16GB of internal storage. All of this is packed into the phone, right along with some other cool features.
There is one significant drawback, however, the DNA has no microSD slot, which means there is no way to increase the storage capacity of the device. I've said it before, and I'll say it again, that's a deal breaker for me. Still, the tremendous potential of the DNA's internal hardware has me second guessing myself.
To recap, the HTC Droid DNA is now available! If you want one, head on over to VerizonWireless.com to order!