UPDATED: HTC: Quietly Banning The iPhone 5? Did S*it Just Get Real?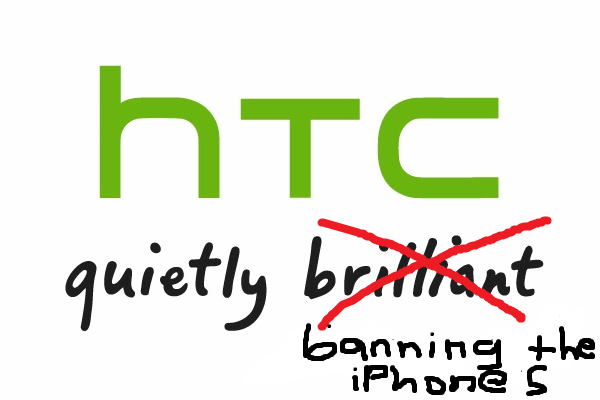 Samsung's lawyers are already preparing to wage war on the new iPhone should it arrive with LTE capability, and it seems that HTC might even be one step further in using the same strategy. So far in fact, that ITC Judge Thomas Pender recently stated that unless Apple can invalidate 2 HTC LTE patents that are currently in question, that HTC could end up successfully banning the new iPhone and newest iPad. Did s*it just get real? (Update at the bottom)
Apparently it has. Judge Pender of the International Trade Commision doesn't seem to be playing favorites in regards to the patents in question, and it seems that HTC might actually have a legitimate shot at banning the new flagship device when it arrives this week (assuming it arrives with LTE). HTC is accusing Apple of violating 2 patents that they currently own, which both deal with transmitting a large amount of data. These patents are apparently critical to 4G (LTE) technology, and if the new iPhone is using this technology, things could get pretty hectic this week for the Cupertino company.
If this were to actually happen, it could basically force Apple into a settlement, and would be a major patent win for Android. As Samsung is also looking to use their LTE patents as a weapon against the new iPhone, it would appear that Apple will certainly have their hands full if they want to release an LTE enabled iPhone 5.
HTC added LTE capability early in the game in order to attempt to compete with Samsung and their 4G enabled phones, and HTC lawyer Tom Jarvis stated that HTC was the first to sell 4G enabled Android devices (along with being the creator of the first Android phone, the HTC Dream/T-Mobile G1). The 4G patents that HTC holds were purchased back in April of 2011, and were bought for 75 million dollars.
Judge Pender seems to be taking those patents pretty seriously, as he was very direct in telling Apple lawyer Michael McKeon "I don't care if they bought these patents to sue you or not. They are a property right". He also stated that he most likely wouldn't side with Apple's argument stating that proper ownership rights of the patents weren't obtained by HTC. Judge Pender also went on to say that it could be pretty difficult for Apple to invalidate the 2 patents in question, which must be making Apple feel pretty nervous at this point.
As much as I absolutely HATE the patent wars, it's really nice to see Android OEMs giving Apple a taste of their own medicine. Will HTC and Samsung be able to successfully pull off a ban on the new iPhone and iPad?
Considering that the new iPhone is scheduled to be released this week (September 12th), we most likely won't have to wait long to find out.
P.S - I like Judge Pender.
UPDATE: HTC Chairwoman Cher Wang has publically stated that HTC will NOT settle with Apple. She went on to say that "Samsung's defeat does not mean that Google Inc's Android camp is defeated", as HTC seems very upset with the result of the Apple Vs Samsung verdict. It would appear that HTC is not so much in this for the money, but more so to prove a point.
An iPhone ban could be seriously damaging for Apple in 2012 and 2013, and with a ban set directly in HTC's sights, Apple and their new flagship device will apparently have a huge battle on their hands this week when the iPhone is released.
More details to come as we receive them.
Picture credits: www.minus31.com (edited by myself) and perfect-gadget.com