HTC One (M8) Motion Launch gestures review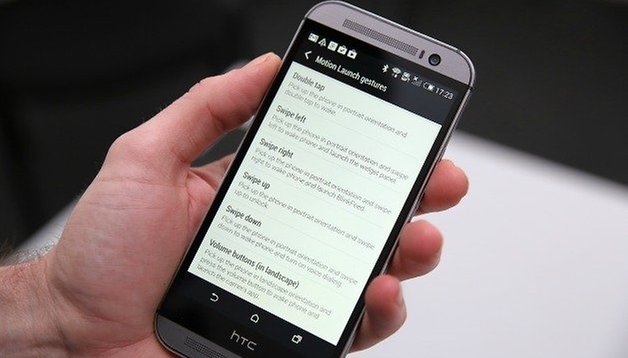 The HTC One (M8) has added quite a lot of nice software features to Sense 6. One of these, Motion Launch, we're already familiar with from LG's KnockON feature from the G2 and subsequent adaptations to include rhythms and pattern unlock via knocking. The One (M8) has a few different screen-off gestures that we will run through for you here. We've also got a video of the gestures in action at the bottom.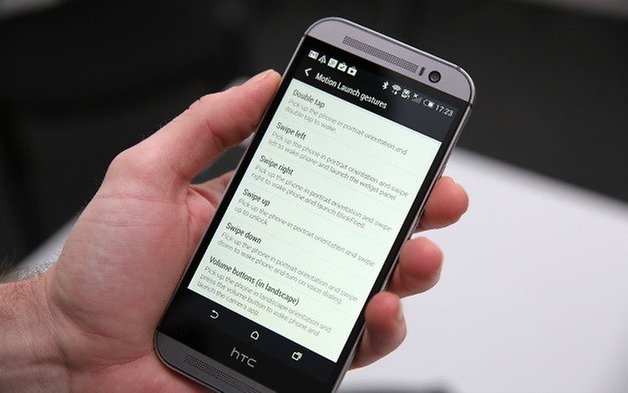 Double Tap to Wake
This is quickly becoming an essential for any Android device, and will likely be the standard way to unlock your device by the end of the year. HTC have implemented this feature in the One (M8) and it's a good thing too, because the M8 is a pretty darn tall drink of water, and reaching all the way up to the top power button is no mean feat when using one hand. It works exactly the same as it does on the LG G2.
Side swiping
There's two side-swiping gestures available to the M8, both of which mirror the effect you'd get if your screen was unlocked. Swiping from left to right will bypass your lock screen and open BlinkFeed. Swiping from right to left will bypass your lock screen and open your widget screen. Strangely, in our video test, this widget gesture didn't work (although it had worked before we started shooting) and instead took us directly to the home screen.
​
Up and down
Swiping up on the One (M8) will perform a basic unlock and take you to your home screen the same as double tap to wake, while swiping down will unlock and turn on voice dialing. In our video we didn't have a SIM card inserted, but I'm sure you can imagine how it works just fine. Some of these gestures seem a little redundant to me, so being able to set your own gesture actions like you can with many custom launchers (although not from a screen-off state) would be a perfect next step.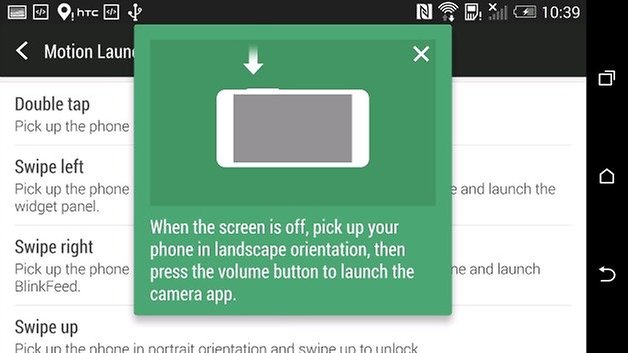 Camera launch
Other than double tap to wake, the best Motion Launch gesture in my opinion is the M8 camera launch shortcut. From a powered off screen, just pick up your phone in portrait mode and press the volume button to immediately launch the camera app. This will even bypass any security passwords that you have enabled (like PIN, pattern lock etc). Although you can see a thumbnail of the last photo taken, you will be required to input your password to access the gallery.
Other stuff
Motion Launch gestures are affected by whether or not you have a lock screen in place – for some you will be taken to your lock screen, for others, straight to your home screen. You can also bypass the lockscreen entirely if you also have security enabled (like a pattern or PIN lock), so when you use a Motion Launch gesture you are taken straight to the security screen. This option is changed in your M8's Security menu. If your sensors are covered, none of the Motion Launch gestures will work, so there's no fear of pocket launching either.
Final Verdict
As mentioned above, some of the gestures seem a little redundant to me and are not gestures I expect to ever use. Swiping up and down for me will be entirely replaced by double tap to wake, although I've never been a voice dialer in the first place. For me, double tap and the camera shortcut are by far the most useful, and are plenty enough for me to be impressed by Motion Launch. Customizable actions for the stock gestures would be the ideal next step, so instead of launching BlinkFeed you could launch Twitter, Facebook or Instagram. And you could substitute one of the redundant home screen actions for your favorite game or music player. Even if HTC don't bring this in future, I expect Motion Launch to be hacked to allow it soon enough.
What do you think of HTC's Motion Launch gestures? What would you set them to if they were customizable?