HTC One X: Our First Impressions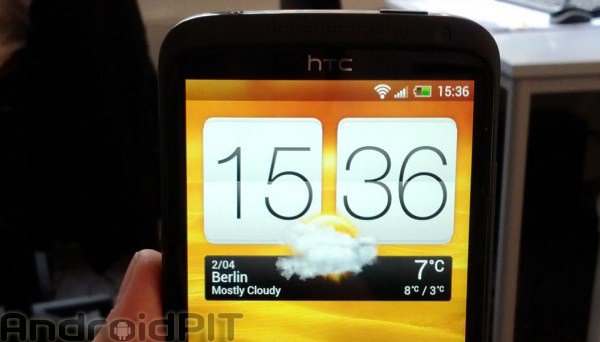 HTC One X went on sale in Germany on Friday and we here at AndroidPIT were lucky enough to snag one and play around with it all weekend. We'll be posting a very thorough hands-on review in the coming days, but until then we wanted to let you know our initial impressions of HTC's first superphone and one of the most hotly anticipated phones so far this year. The 1.5GHz quad-core Tegra 3 phone packs a 4.7-inch 720p display, an 8MP camera and 32 GB of storage. But specs aren't the whole story. Let's take a preliminary look at how well all these ingredients mix and whether or not HTC has baked the perfect cake.
HTC Sense 4.0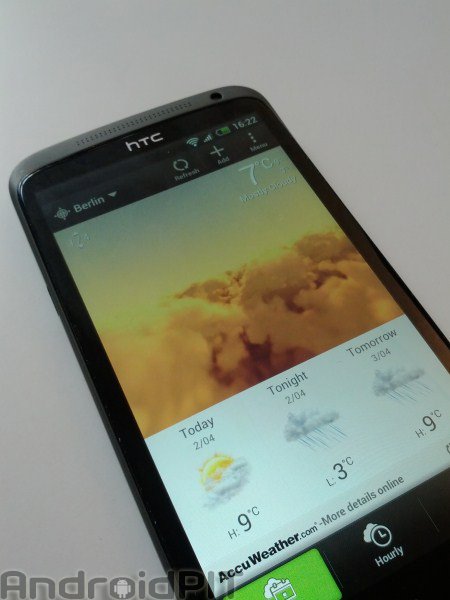 This is how you incorporate ICS with your own skin. HTC has merged Sense and ICS in a way that feels effortless and natural. Some of our favorite features of ICS – including Face Unlock, the new task manager, and built-in data monitoring – are here. HTC has dialed down Sense to its bare essentials and the result is a less overtly HTC experience.
However, we still prefer stock ICS to Sense. For one, we prefer the Roboto font and futuristic aesthetics of stock to this HTC version; the home buttons look a bit cartoonish compared to the original. The Google search bar which follows you from screen to screen has gone missing, which some might say is a plus, but is something we actually miss. Generally, where Google's original version feels sleek and sexy, HTC's Sense 4.0 looks childish by comparison.
Certainly, HTC has a stable of widgets that are far better at displaying the time and weather than anything included with ICS. Additionally, the HTC keyboard is certainly roomier than the one included on stock ICS. But we still prefer Google's original design flourishes. Just because you CAN change the look of Google's operating system doesn't mean you SHOULD, and this version of Sense is not quite good enough to recommend it over Google's stock version of ICS. It's kind of like entering one of those fake Apple shops in China – everything looks nice, but not quite as nice as the original.
Battery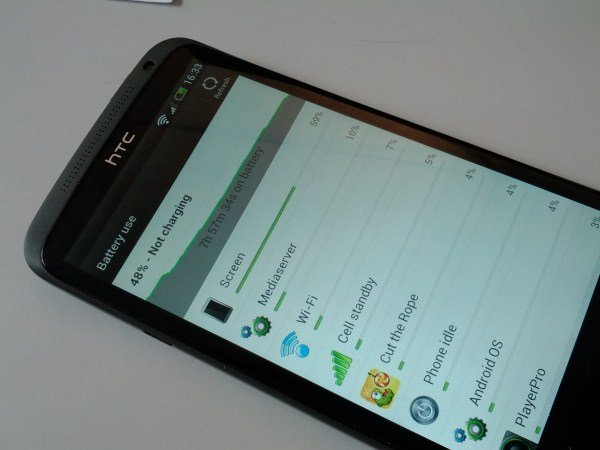 We downloaded a LOT of new applications during our first few days with the HTC One X and – not surprisingly – the battery ran out fairly quickly. That said, even during normal operations, the battery seemed to become depleted quite fast. Adjusting the screen's brightness helped, but did not solve, the problem. This is one thirsty animal.
However, it must be said that the HTC One X is quick to recharge. Typically, we averaged around a half hour charge time. We also noticed that the phone lasted quite a long time in standby mode – perhaps the longest standby mode we've ever seen – so it's not all bad news in the battery department.
According to the Verge, HTC has sent an OTA update to its software that fixes the battery bug. We'll have to check back and see if we get better performance with this latest update. As of now, you're not going to get the kind of battery performance you need out of this phone. Every day will be "bring your battery cord to work" day.
Temperature
We didn't notice any overheating of the device, even during demanding gamplay. Occasionally it felt a bit warmer than usual, but never hot. You're not going to burn your fingers on this baby.
Speed and Responsiveness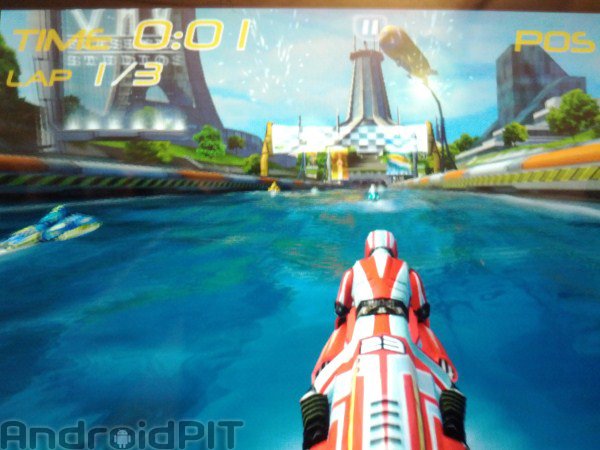 We've honestly never touched a phone more responsive and fluid. The One X responds falwlessly to the touch, without any noticable lag. Applications loaded in a jiffy and the phone turns on almost instantaneously. It also connected very quickly to the nearest wireless network. But what was really impressive was game performance. This is a Tegra 3 device, meaning you can play a lot of VERY demanding Tegra-3 optimized games. We'll be bringing you a lot more on this in our follow-up video, but let's just say that playing Riptide GP on this device was a revelatory experience. The waves looked amazing; it was definitely a tablet-esque experience.
Storage Capacity
The HTC One X comes with 32 GB of internal memory which should be enough for even the most demanding users (it's taken me ages to fill the 16GB on my Galaxy Nexus). As part of a promotion with Dropbox, HTC is also offering 25 GB of cloud storage for free for two years, bringing your total GB of storage to a whopping 57GB. I believe that's more than enough for almost anyon, and quite luxurious for the average user.
Camera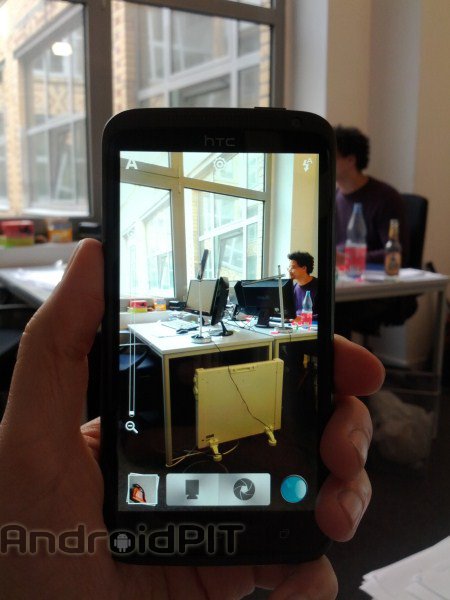 We're definitely going to have to test this aspect of the camera more in-depth later, but suffice to say camera performance has been decent indoors and out. Especially in darker environments, it seems to capture more light than other phones we've tested, especially compared to the Galaxy Nexus. But, again, we'll have to test it under more varied conditions before we can say anything definitely.
Beats Audio Headphones
The HTC One features Beats Audio technology but the headphones included with the phone are no better than your average included headphones. So don't get too excited about that Beats logo on the back; it'll only noticeably improve sound quality if you buy the right headphones for it.
Screen
You'd have to use a microscope to be able to spot the pixels on this screen of the HTC One X. The detail is that precise. And screen brightness is quite impressive; even when you're using the phone in direct sunlight, every graphical element is completely bright, crisp and legible. The HTC One series has, hands-down, the most amazing screens we've ever seen.
Build Quality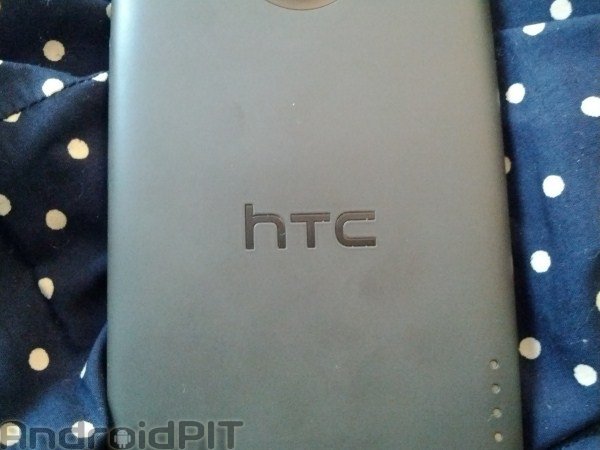 HTC has every right to market the hell out of its new designs for the One series. The glass curves ever-so-slightly around the casing, creating the kind of barrier against crumbs and dust I wish all phones could provide. In fact, the screen and the unibody hardware have been so tightly melded it appears as if the phone could survive a plunge in a lake –although we wouldn't recommend jumping in with this expensive piece of futuristic technology in your pocket. Overall, this is one fantastic-looking device that blows all of those plasticky Samsungs out of the water.
Stay tuned for hands-on video and comparison articles in the coming days!