HTC Thunderbolt Android 4.0 Ice Cream Sandwich Update Coming "Soon"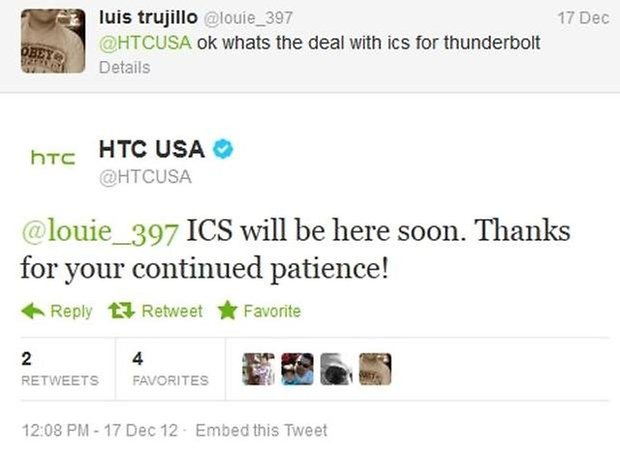 The HTC Thunderbolt was quite the powerhouse when it was released to the markets earlier last year, sporting LTE connectivity that offered blazing fast Internet speeds on-the-go, but it also drained the phone's battery faster than you can say, "Ice Cream Sandwich". Speaking of Ice Cream Sandwich, this long awaited OS update (yes, the Thunderbolt still runs on Android 2.3 Gingerbread) is said to arrive soon for the HTC Thunderbolt.
Whispers of an Android 4.0 Ice Cream Sandwich update began to make its rounds back in August this year, and four months later, nothing can be seen on the horizon, with Droid Incredible 2 owners, too, moping around and joining HTC Thunderbolt owners on their accursed luck.
HTC USA and HTC claims that they are hard at work on the Ice Cream Sandwich update for the HTC Thunderbolt and the Droid Incredible 2, but so far, the specifics on the timing has yet to be worked out. Hopefully this would mean sooner rather than later, and a good example would be T-Mobile making a u-turn on their Windows Phone 8 Portico update for the HTC 8X which was said to be delayed due to "tweaks" indefinitely, before it was pushed out in under 24 hours afterwards.
Let's keep our fingers crossed that the HTC Thunderbolt's Ice Cream Sandwich will arrive before Christmas as a memorable present.