Huawei Ascend Mate: Testing the Ginormous Behemoth The Huawei Ascend Mate is a huge 6.1 inch behemoth that probably won't fit in your pockets. Perhaps this phone is a representation of the smartphone manufacturers delusion of grandeur or maybe it's just the next logical step in smartphone evolution. I tried this huge phablet for a few days and here's what I thought.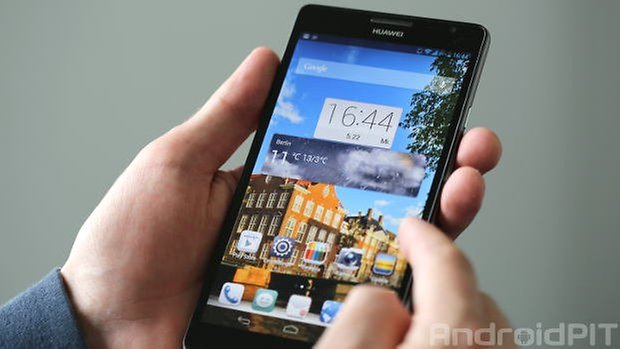 Design and Craftsmanship
When it come down to the actual body, the Chinese manufacturer did everything right. The weight is proportional to its size, the rubberized plastic backing provides for an easy grip and it feels quite comfortable to hold. Even the titanium colored plastic frame with its roughened surface gives it a very elegant look.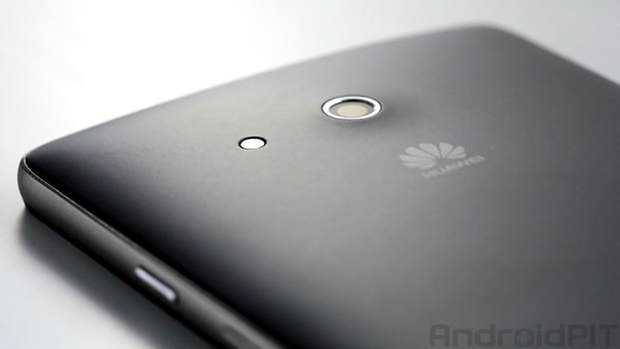 The hardware buttons are hardly there: you'll only find the side power and volume buttons. To the left there's the slot for the microSD card found behind a flap. The micro SIM card can be inserted in the top next to the headphone jack. Underneath, there's the micro USB port. The Huawei Ascend Mate is pure minimalism. The craftsmanship is one of this headset's positive sides as its seamless exterior appears to be quite stable.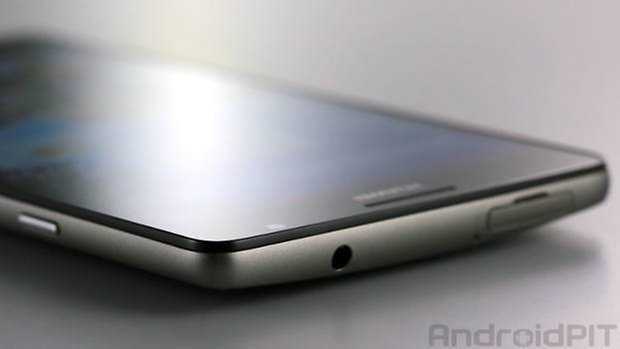 Display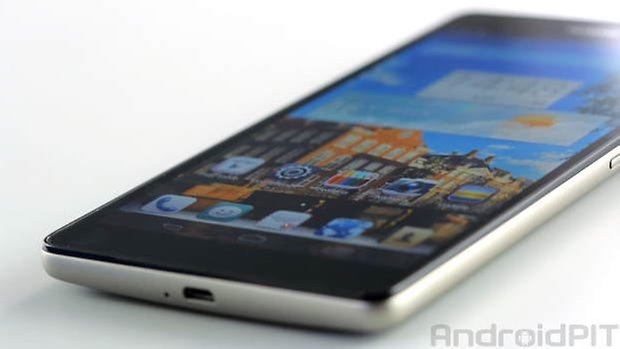 The display, like I mentioned in the introduction, is a monster. It is 15.49 inches long, making it bigger than the Galaxy Note 2 by 1.5 inches. The ginormous screen's resolution doesn't quite stand side-by-side with other top devices: at 720 x 1280 p, it's just under the HD mark of 1920x1080p. The Mate allows its users to enjoy videos with 24 ppi, which is more than enough. However, writing and letters are slightly blurry, even to the naked eye. Thanks to the IPS technology, the display's presentation is still up to par when looked at it on an angle. Not only that, it does well in natural sunlight and remains readable.
The huge disadvantage that the Ascend Mate presents is its size, though strangely enough, it also has its advantages: the huge screen is great for watching videos and playing games. When set in landscape mode, its 1.6 inches fit perfectly into my hands, offers a great overview and can be controlled quite easily
Software
The Huawei Ascend Mate boasts Android 4.1.2 Jelly Bean which puts it up to speed with other top smartphones of the moment. The Emotion UI 1.5 user interface brings a new face to the game. The classic app drawer is missing and all new apps are simply added to the many home screen pages and organized in various folders. This reminds me a little of the Launcher MIUI and the Apple's iOs. Even the app symbols are reminiscent of the iPhone design.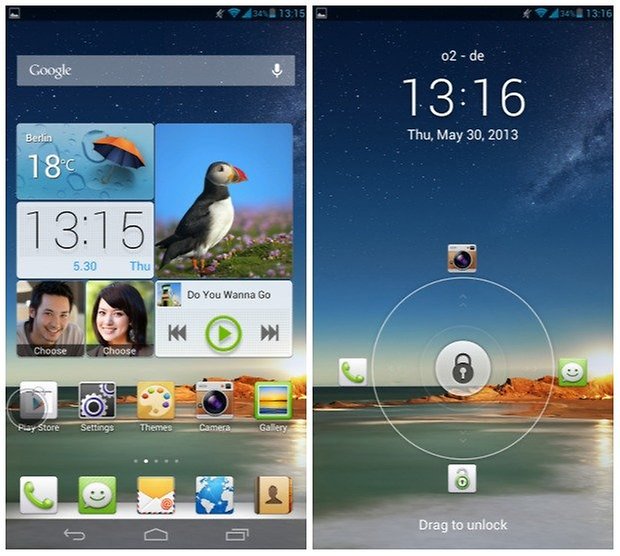 The so-called ''Me Widget'' can be found in the home screen. This is a huge window where many smaller widgets are shown simultaneously, like gallery, music player, many favorite contacts, the weather and clock. If you don't like the design of the standard interface, there's a ton of customization options, significantly more than any other manufacturer. Huawei doesn't just offer various background and color schemes, there's also a whack load of lock screen and symbol options. Twenty of these various themes are pre-installed, each design can be chosen individually.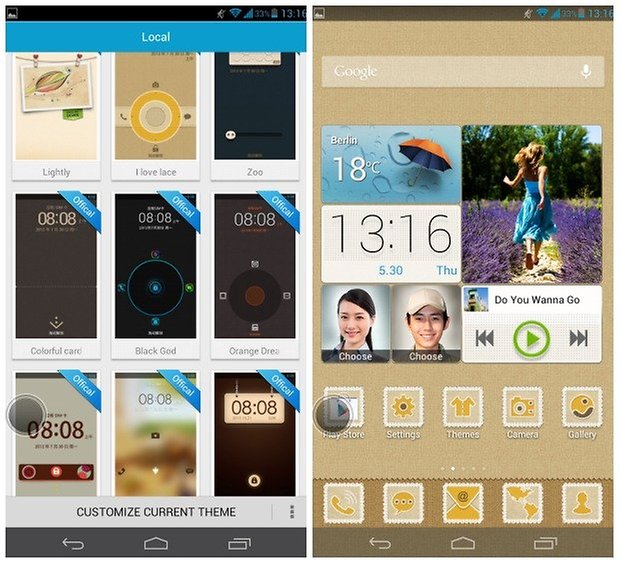 There are also a few pre-installed software extras like the data manager and a program to secure data privacy. By using the floating switch, you'll be able to start your apps and small mini applications. Through this ring menu, you can set up various customizable profiles like ''Quiet Mode'' or ''Meeting''. The many different settings like energy saver are really useful for extending battery life.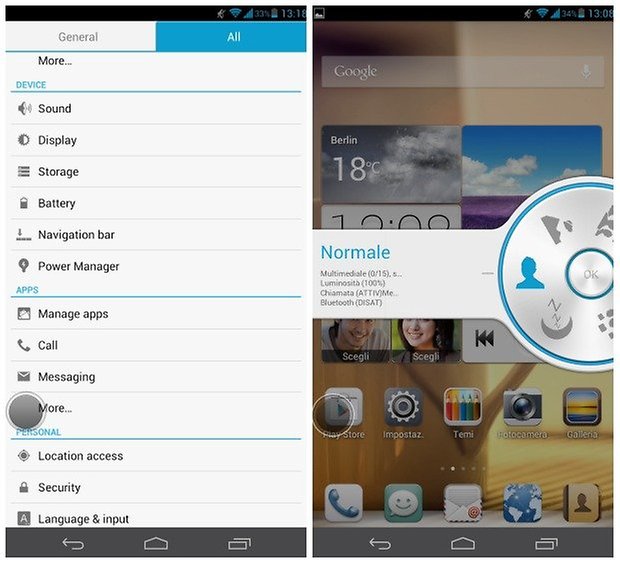 Processor and Performance
The Ascend Mate comes with a quad-core processor ticking at 1.5 GHz. The K3V2 chip was made by Huawei and does a stand-up job. Trying out Real Racing 3 on this monster phone worked smoothly and wasn't glitchy at all. Scrolling and swipe gestures in the menu and throughout the home screen was speedy too. Taking pictures was also quick and after taking a shot, the camera was immediately ready to be used again. Web browsing on the other hand is where things took a turn for the worst: connecting with the pre-installed browser and Chrome resulted in dropouts and failed to react. Websites loaded slowly and touchscreen response didn't react in a matter of second and if it did, with some significant glitching.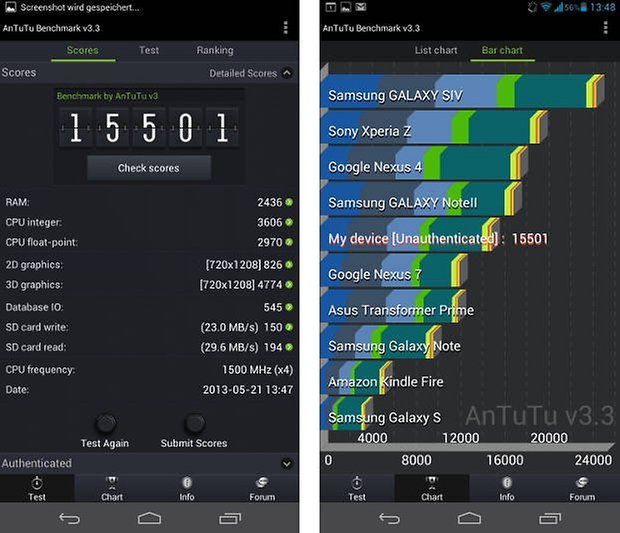 Camera
The camera is hands-down one of the Ascend Mate's weakest spots. With its 8 MP, its resolution does suffice, however we know that this isn't everything. When using the headset in daylight the lens took acceptable pictures but took a turn for the worst once in darker areas.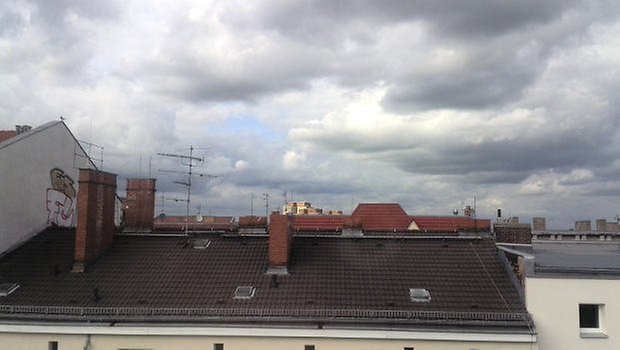 The various setting options for picture optimization allowed me to somewhat improve the photo quality. I have the impression that Huawei is trying to compete with its rivals, like Samsung for example, though these have done a far better job. The HDR function for example produced extreme effects and the resulting pictures incorporated bothersome artifacts, overdone sharp edges and unclean color gradients.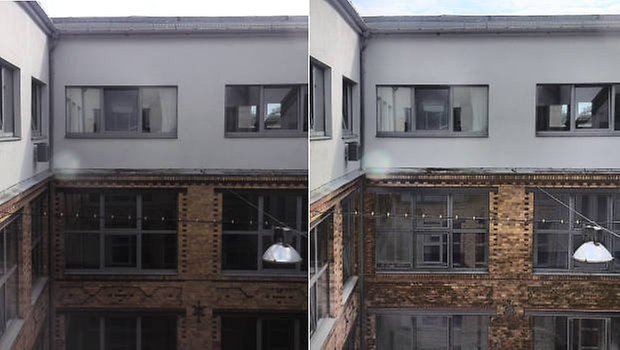 With panorama, the Mate takes 3 pictures one after the other and automatically sticks them side-by-side. Unfortunately this didn't work out as seamlessly as other manufacturers and there were some perspective fractures between these three shots.

Battery
The Mate has a capacity of 4.050 mAh and with that overshadows its Android rivals. The Nexus 7 has 4.235 mAh, ranking just under the Huawei Phablet. The Galaxy Note has significantly less with 3.100 mAh. The built-in battery also pulled through like a champ during my test. After 28 hours, the battery life went from 88% to 36%. During this time, I used the phablet with maximum brightness, took photos and screenshots, made some small phone calls, downloaded and played with apps and games (Real Racing 3 and Temple Run 2), synchronized emails, surfed the internet while on the go and on the way to work in the morning read the latest news on Twitter.
Though it would be necessary to perform an endurance test over a longer period of time to really make a statement about the battery life, I can already say that the Ascend Mate's mileage exceeds any other test device in the smartphone category.
Technical specifications
With a quad-core processor and a strong battery, the Ascend Mate has much to offer and is optimal for intense usage. That being said, in performance terms the Ascend Mate was definitely lacking and this is probably due to badly adapted software. The display is bright and shines even in direct sunlight. The Emotion UI user interface makes an overall good impression. Despite the disappointing camera, Huawei has put together a good total package.
The most important technical specs
| | |
| --- | --- |
| Display | 6.1 inch, 1280x720 pixel (241 ppi) |
| Processor | 1.5 GHz (quad-core) |
| Memory | 2 GB RAM |
| Operating System | Android 4.1.2 with Emotion UI 1.5 |
| Memory | 8 GB + microSD card |
| Back-facing camera | 8 MP |
| Front-facing camera | 1 MP |
| Dimensions | 6.4 x 3.37 x 0.38 |
| Weight | 6.98 oz |
| Battery | 4.085 mAh, built-in |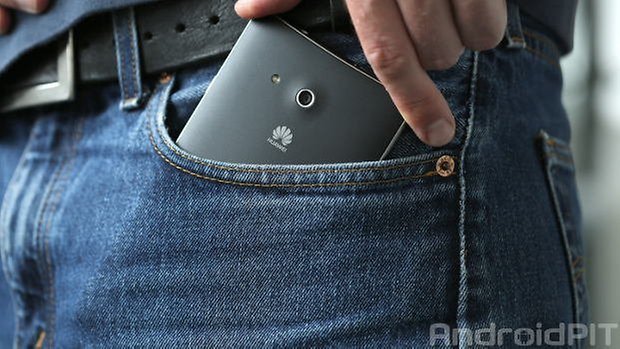 Bottom Line
The Ascend Mate leaves us in a double-edged impression. From starting out quite skeptical about the phablet, I started liking it more and more since the huge display is great for web browsing and playing games. Using controls with the Ascend Mate is definitely easier than with other devices and this phablet would quickly become your multimedia best friend. The craftsmanship and choice of material gives it an impressive look and feel and even its huge size fits nicely in the hand.
This phablet's advantage is also its disadvantage: 6.1 inches is too big to be a smartphone and this is actually what it aims to be. Most tablets are never less than 7 inches. It completely filled up my pant pocket and it couldn't fit in the one in my jacket either. How would someone carry this giant thing around (if you're not a girl thus don't have a purse)? One hand operating with this device was also a little cumbersome even with my big hands. In the end, the Ascend Mate is a rare breed: too big to be a smartphone, too small to classify as a tablet.
| PRO | CON |
| --- | --- |
| Great craftmanship | Bad camera |
| Long batter life | No internal memory |
| Big display | Cumbersome |
| Good performance and controls | |
| Many customization and profile options | |