Huawei is continuing on its path to exceptional growth. After promising sales numbers for its Mate 9, the Chinese manufacturer is readying its successor, the Mate 10, for an October debut. This iteration should arrive in a competitive market ready to win with the new house processor, the Kirin 970, made with a 10 nanometer process. A first look at the device has finally arrived, courtesy of Weibo.
I only read this article because I was bored at work.
What do you think?
Huawei Mate 10: release date and price
The Huawei Mate 10 will be launched on October 16 in Munich, Germany. Rumors suggest that the Lite version may also be announced at the same time but we haven't had any confirmation on this yet. If the same rumors are to be believed, the Mate 10 could come at a hefty $1100, which is a big jump up from the $599 of its predecessor, the Mate 9.
Huawei's goal is to someday surpass Apple and Samsung, and with the launch of the Mate 10 soon, it hopes to take steps toward that goal by outshining the upcoming tenth anniversary iPhone 8. Both of these new flagships will be unveiled around the same time, but Richard Yu, CEO of Huawei's Consumer Business Group, told Bloomberg that the Mate 10 will be "an even more powerful product."
He continues with details, "The Mate 10, which has much longer battery life with a full-screen display, quicker changing [sic] speed, better photographing capability and many other features that will help us compete with Apple." Yu also revealed that Huawei will stop making low-end devices because it isn't profitable enough as the firm continues to expand globally with a focus on Europe, China and Japan.
Huawei Mate 10: design
Images of the Mate 10 have surfaced on the Chinese social network Weibo, and it looks a lot different than the Mate 9. These images, which could be the first look at the phone, show the front and back of the device. On the front, we find a bezel-less display. On the back, there's a Leica branded dual camera, like on the P10, and a fingerprint scanner. The whole package is rounded off nicely by a flattering uni-body brushed metal design. See it all for yourself below: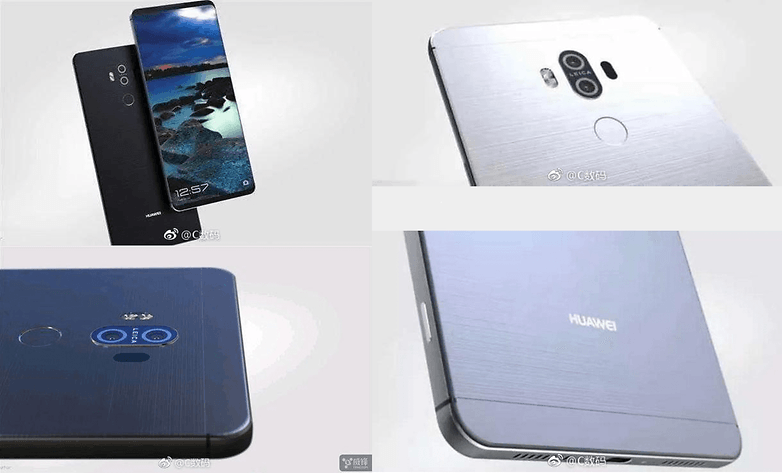 Huawei Mate 10: technical specs
The upcoming Huawei Mate 10 could be a performance monster. According to analyst Pan Jiutang, Huawei's future phablet is expected to offer the latest Kirin 970 processor, also made by Huawei. The Kirin 970 would be engraved in 10 nanometers instead of 16 nanometers, as was the case with Kirin 960 of the Huawei P10. In general, a smaller semiconductor size results in greater energy efficiency and better performance.
This new processor could even match Samsung's latest SoC, the Exynos 8895 and the Snapdragon 835. Moreover, this Kirin 970 processor would offer 8 cores, 4 ARM Cortex-A73 clocked at 3 GHz and 4 ARM Cortex-A53 clocked at 1.8 Ghz. On the graphics side, Huawei should also evolve with a Mali-G71 MP8 GPU.
What do you think of the rise of Huawei? Are you looking forward to the Mate 10?