Only 2 Days Left to Get the Humble Bundle for Android 4! Humble Bundle offers some of the best indie bundles ever. Sure, there are other contenders like Indie Royale, Indie Gala and more, but you can always trust that the latest Humble Bundle will include some excellent games.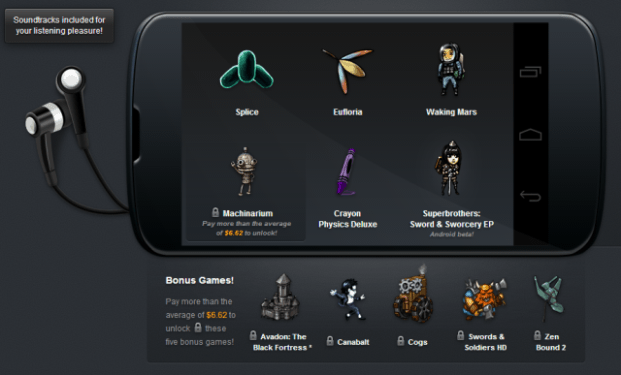 This time around Humble Bundle is offering five fantastic games, with six more games included as a bonus. These aren't just any old games, they're Android games. Clearly, that is why it's called the Humble Bundle for Android 4.
There are only 2 days left to make your purchase, so head on over there and get the bundle ASAP!
If you beat the average, which is currently set at $6.62, you will also get the six bonus games. That means you can get 11 premium games, all for under $7. The best part though, is that you don't just get the games for Android, you also get a Steam key for every title. That means you can redeem the games on the Steam platform for your PC or Mac, at no added cost. A couple of the games also come with a unique version, designed specifically for larger screen tablets with HD displays.
All of the games offered in the bundle are DRM free, so there are no installation restrictions. You can put them on all of your personal devices, including your Android phone, tablets and computers (thanks to Steam)! Sorry iOS users, no indie games for you (*soup nazi voice*).
That's enough about the bundle itself, I'm sure you just want to know what games are included.
The five games offered, even if you don't meet the average price of the bundle, are Splice, Eufloria, Waking Mars, Crayon Physics Deluxe, and Superbrothers: Sword & Sworcery EP. In my opinion, the bundle is worth getting just for Superbrothers, but the rest of the games are awesome too!
The bonus games, which you only receive if you beat the average price, are Machinarium, Avadon: The Black Fortress, Canabalt, Cogs, Swords & Soldiers HD, and Zen Bound 2.
Just so you can get an idea of how valuable this bundle is: if you were to purchase every one of these games separately, on all of the platforms that are included in the bundle, the total cost would be about $195. So essentially, you're getting $200 worth of games, for only $7!
That's a freakin' no brainer! It also makes my body quake with pleasure, but you don't need to know that.
Every one of these games is fun to play.
Humble Bundle also offers an exceptionally convenient Android app, which directly connects to your account and allows you to download and install the Android games onto your device. You don't need to fiddle about transferring the files via USB, nor do you have to email them to yourself.
YAY! I love technology!
Because the app connects to your account, you also have direct access to any future Android bundles you purchase. If you purchased any of the previous Humble Bundles for Android, you'll have access to those, as well.
Why the hell are you still here reading this?? Go get the bundle!