 I like Google+, But There's No Way It's More Active Than Twitter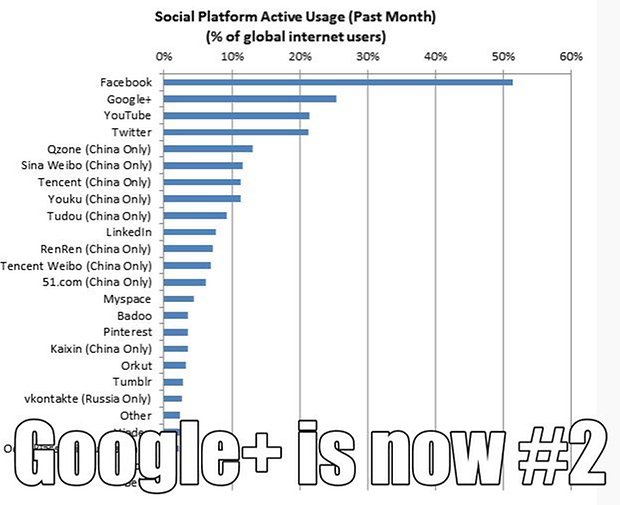 Really?
Today, the Internet is abuzz over a report from GlobalWebIndex which indicates that Google+ has become the second largest social network in the world. "Wow! What amazing growth!" all the tech reporters are writing in fawning headlines.
But the methodology of the ranking has some people – including me – scratching their heads. After all, GlobalWebIndex defines act users as those who "used or contributed to the site" in the past month. That's far too broad a definiton for "active," me thinks.
According to GlobalWebIndex, an active user doesn't have to post content...simply "using" the network counts. So anyone who's clicked a "+1" button next to a story counts, as does anyone who unwittingly uploads a photo to "Instand Upload."
By those counts, Google+ wins fair and square.
But being truly "active" on a site means more than just clicking on a button every month or so. My friends on Facebook post content 5 times a day, comment on stories, upload photos and routinely update their information. Now that's being active.
I like Google+ and I think competition is good for everyone. But anyone with half a brain can see that Twitter users post more content more often than Google+ users do. Sure, there may technically be "more" Google+ users – mostly because the site automatically creates a Google+ profile for you when you sign up for GMail – but I'm sure if you used a different methodology (ie, the number of actual posts), you could make the claim that Twitter is a much more "active" platform.
Just my two cents.