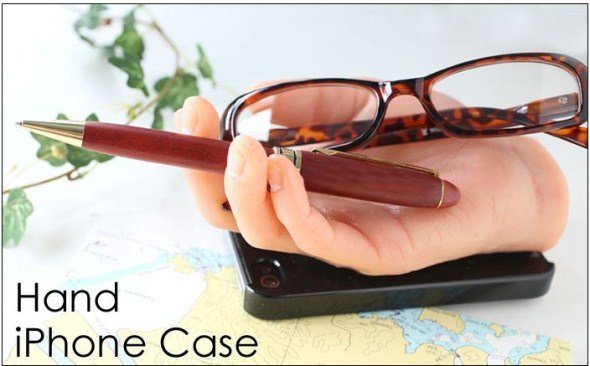 I literally cannot get enough of useless Japanese inventions. There's the plastic cone that goes around your face so you don't get Ramen-juice on your clothing (that makes you look like a human flower), the hat that doubles as a toilet roll, and the body-length umbrella. But the bizzare invention that's currently obsessing me is the new "Hand" iPhone case available at Strapya World.
It's exactly what it sounds like– a severed hand reaching out from your cellphone that you can embrace with your own real-life hand. Here's the case being held gingerly to the face by someone talking on the phone:
Here's the hand shooting up through a table like a Zombie who accidentally glued himself to an iPhone (notice the "festive" plant decoration in the background).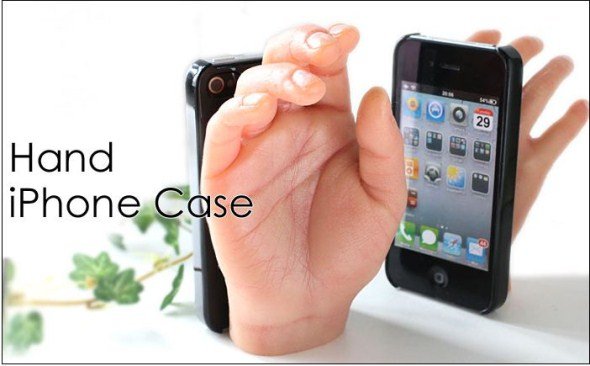 You can also buy the hand case in lady or children-sized versions, for murderers and pedophiles, respectively.

Here's the official description, written by someone clearly aware of this invention's novelty value:
Why???
Yeah, I am asking myself the same thing. Why would you want a hand on your iPhone 4, right? Well, believe it or not, this Hand iPhone 4 case could actually come in "handy". As shown on the picture on the right, you could hold hands with your iPhone to make sure you don't drop it. Or if you are feeling really lonely, this case may reach out to you and give you company. Okay, I am done. This case is crazy. This case is creepy. And for some people, this case is absolutely awesome.
Which camp do you fall into?