iPad vs. Android: How Does the Newest iPad Stack Up?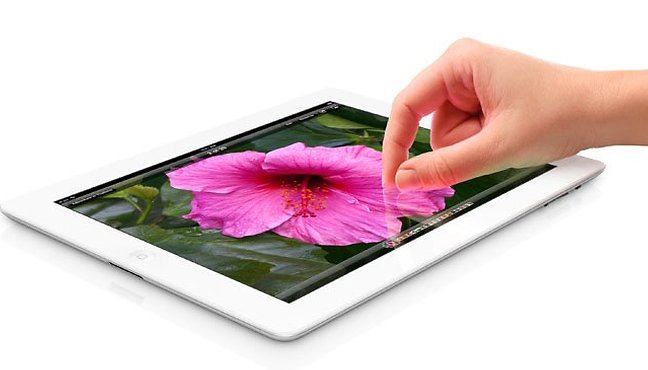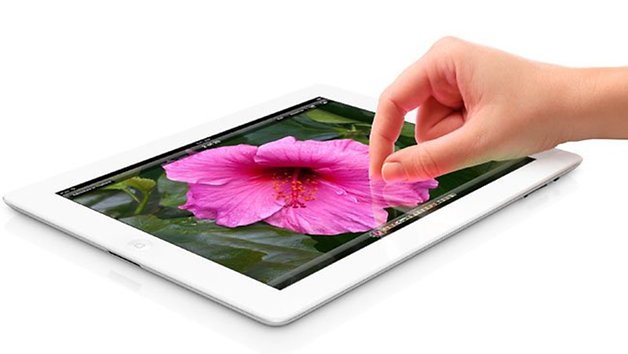 We felt quite cynical watching the iPad event yesterday, as the announcement did not portend a new design or any revolutionary new features. Instead, Apple did what it seems to be doing best these days; simply improving upon a product that is already quite good. In that sense, the iPad 3 iPad is a resounding success; it's like the last iPad, but just better enough to make the old one look outdated. It will sell like hotcakes, even if Apple has only improved a few key features.
Display
With a 2048x1536 Retina display, there's no doubt the newest iPad has the best display on the market. Even the heavily-pixelated ASUS Transformer HD (AKA Transformer Infinity) has "only" 1920x1200 pixels. Most other Android displays don't even come close – the Motorola Xoom has a 1280 x 800 display, for example, while the Samsung Galaxy Tab 10.1 has 1280x800 pixels . According to folks who saw the display at Apple's press conference, the extra pixels in the newest iPad really do make a difference. Apple may not have released anything truly innovative, but they've created a display sharp enough that they didn't really need to.
Processor
Chip-wise, the tablet supposedly blows away the competition, according to Tim Cook. But a closer look reveals that the Transformer Infinity actually has Apple beat. While Cook rattled on about how the new iPad is 4x faster than Tegra 3, I guess he didn't get the memo that ASUS is releasing a tablet with a quad-core Tegra 3. Only the devoted geek will pick upon this, but the Transformer Infinity could end up trouncing Apple's latest iPad in the speed categoy.
Pricing
Pricing-wise, Apple is still competitive but by no means is the newest iPad a stellar deal. In fact, for the price of the iPad and smart cover, you could by an ASUS Eee Pad Transformer with a detachable keyboard ($528 for the 16GB model vs. $540 for the entry-level iPad + smart cover). A Galaxy Tab 10.1 is about $30 cheaper on Amazon than the newest iPad, and comes with double the gigabytes in storage (32GB vs. 16GB on the iPad). A Galaxy Tab 10.1 is also thinner and lighter than the newest iPad (1.25 pounds and .34 inches thick vs. the iPad's 1.44 pounds and .37 inches of thickness). The newest Transformer Prime, on the other hand, starts at $600, a full $100 more than the lowest-rung iPad, but for that you get a quad-core Tegra 3 beast.
Conclusion
In conclusion, while Apple's newest iPad may look like only a minor upgrade, it's still comes out as quite competitive compared to the Androids on the market. You might find a better deal on an Android tablet, or a faster processor, but you probably won't find both in one device. Still, we'll have to wait and test 'em all to say anything for sure.
Here's a full comparison chart: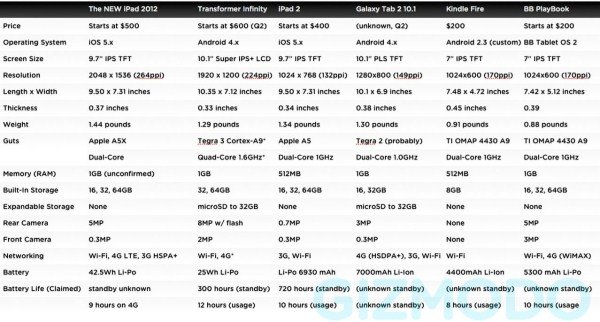 (Click for larger view)